Medically Reviewed by M Thiviya, R.N.
With Singapore's ageing population, an increasing number of older adults are at risk of dementia. However, this is not a problem that's exclusive to Singapore, but a global phenomenon affecting countries around the world including Australia, Japan and Germany. 
What is dementia?
Dementia is a degenerative disease that affects one's cognitive functions brought about by abnormal protein growth around the brain cells, damage to protein structures in the brain or lost connection between brain cells. 
While many people confuse dementia with Alzheimer's, dementia is actually the general or umbrella term used to describe a group of symptoms that commonly include problems regarding memory, thinking, problem-solving, perception and language. Alzheimer's is a type of dementia among many others. 
Dementia in Singapore
In Singapore, dementia affects 5.2 per cent of Singaporeans aged 60 years and above. It was projected by local health organisations including the Ministry of Health and the Health Promotion Board that 53,000 of Singaporeans would have dementia by this year, and this figure is expected to increase to 187,000 by 2050. Fortunately, the Singapore government takes these alarming statistics seriously and has various care programmes in place for persons with dementia all over the country. 
Get Your Free Dementia E-Book Today
Managing a new dementia diagnosis can be an intimidating process for every caregiver.
We've curated a dementia e-book to bring you through some things to expect as a caregiver as well as the different caregiving options available.
Access the FREE guide today!
> Download Dementia E-Book Now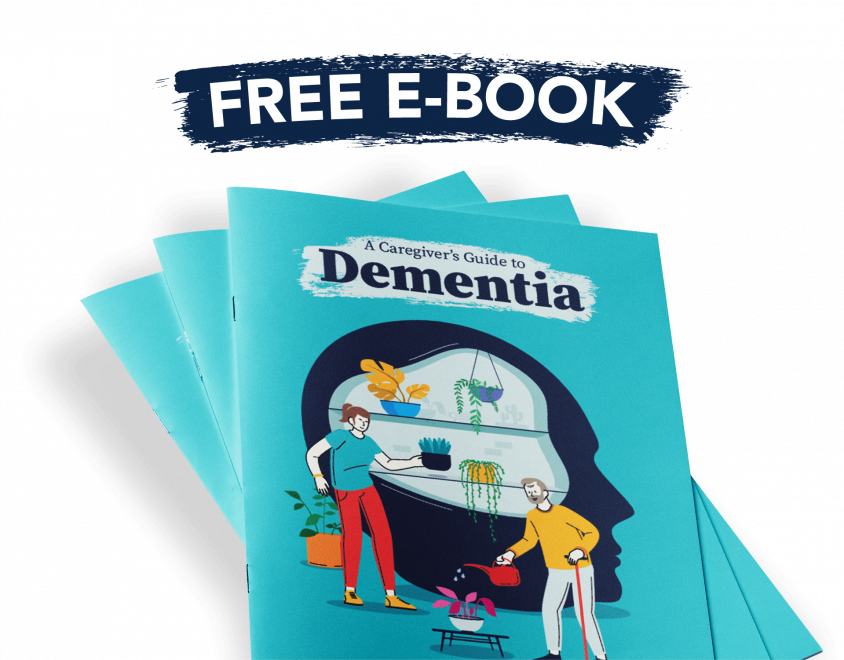 How is dementia diagnosed?
There is not one singular test to identify whether someone has dementia. Instead, there are various medical assessments that are used by healthcare professionals. Dementia is also not diagnosed as one singular disease but is usually classified into various types depending on the cause, and in stages depending on its severity. 
Cognitive and Neuropsychological Tests
Cognitive and neuropsychological tests are used to assess one's memory, thinking and language skills, reasoning and judgement, as well as orientation. Neuropsychology looks at how your brain health affects your behaviour and thinking skills, and the overall relationship between brain and behaviour. 
These tests are most suitable for candidates who are already experiencing symptoms or have complaints with regards to their memory or cognitive functions. This may include a shift in a range of factors including concentration, reasoning, memory, perception, coordination, personality, and even language. 
Brain Scans
Apart from identifying changes in the brain's function and structure, brain scans can also spot strokes and tumours, which is one of the causes of dementia. Brain scans are also useful in identifying changes in the brain's function and structure. Some of the most common scans include: 
Genetic Tests
While it is a rather uncommon cause, dementia can still be passed down through gene defects. In these cases, genetic tests will be conducted to help people find out if they are at risk for dementia. If you have any immediate family members who have dementia or had it previously, a genetic test may be recommended for you. It is important to note that while your genetic risk may be high, adopting a healthy lifestyle is associated with lower risk of dementia. 
Laboratory Tests
During a physical examination, lab tests may be conducted to look for signs of medical problems that can cause dementia. These tests include blood tests, thyroid hormone tests, and  lumbar punctures, which allow doctors to check the levels of various chemicals, vitamins, and hormones. This can help to rule out other causes of dementia-like symptoms. 
Other routine laboratory tests that may be conducted include: 
Chemistry screens to check the kidney's function and the level of electrolytes in the blood

Glucose test to check the sugar level in the blood

Toxicology screen to examine the blood, urine, and hair for drugs that could be causing problems

Lead tests to identify heavy metals in the blood

HIV testing to check for AIDS
Psychiatric Evaluation
This method is generally known to be used for diagnosing mental health conditions such as depression, schizophrenia, anxiety, bipolar disorder, and addiction. However, it is also used to diagnose any problems in relation to memory, behaviours, and thought processes, which explains why it can be useful for persons with dementia as well. Furthermore, people with mental conditions are at a higher risk of developing dementia. Therefore, it is crucial that these psychiatric conditions are evaluated and managed early.
Once the evaluation is over, the health professional can identify whether any other mental health condition is contributing to your symptoms. 
The 7 Stages of Dementia
While there are various scales to successfully measure the progression of dementia, the most common scale is the Global Deterioration Scale for Assessment of Primary Degenerative Dementia (GDS), which is also known as the Reisberg Scale. 
According to this scale, there are seven stages of dementia that can be further categorised into four levels: no dementia, early-stage dementia, mid-stage dementia, and late-stage dementia. 
No Dementia
Stage 1: No cognitive decline
In Stage 1, there are no signs of dementia based on the doctor's clinical interview. Individuals are mentally healthy and able to function normally. There are no symptoms or signs indicating behavioural problems, memory loss, or other factors associated with dementia. 
Stage 2: Very mild cognitive decline
At this stage, individuals may begin to experience mild forgetfulness, which is a normal sign of ageing among older adults. The most common symptoms in stage 2 include forgetting where one has placed familiar objects and forgetting names one formerly knew well. 
These symptoms may not be evident to doctors and loved ones just yet, but caregivers may start to notice early signs of memory deficit. When in doubt, always display appropriate concern with respect to the individual's symptomatology. 
Stage 3: Mild cognitive decline 
This is the last stage of this category where individuals will experience mild cognitive decline. In comparison to stage 2, the symptoms are slightly more severe and include a wider range of signs like mild difficulty in concentrating, decreased work performance, verbal repetition, getting lost more frequently, and having trouble finding the right words when communicating. 
The average duration of this stage ranges anywhere from two to seven years, and it is crucial for caregivers to identify the signs at this stage for diagnosis and early intervention.  
Early-Stage Dementia
Stage 4: Moderate cognitive decline 
Early-stage dementia only has one stage and can be described as moderate cognitive decline. Unlike the first three stages of dementia where no evidence of memory deficit is detected in clinical interviews, signs of stage 4 dementia can be distinguished through various examinations. People in this stage will experience a range of cognitive issues such as: 
Increased difficulty in concentrating on everyday tasks 

Misplacing items often 

Losing track of the date and time

Having trouble remembering the names of new people  

Forgetting recent events and happenings

Withdrawal from other people or activities  

Exhibiting some forgetfulness on one's personal history

Unable to manage finances 

Unable to travel to new places all alone 
The average duration for stage 4 is two years. 
Denial is a dominant defence mechanism for people with stage 4 dementia, which is why family members and caregivers need to be careful about how they tackle bringing up dementia in conversations. 
Mid-stage dementia 
Mid-stage dementia comprises two main stages: stage 5 (moderately severe cognitive decline) and stage 6 (severe cognitive decline), also known as middle dementia. 
Stage 5: Moderately Severe Cognitive Decline
Lasting for a period of one and a half years, this stage is crucial as individuals can no longer function and perform the basic activities of daily living (ADL) without some level of assistance. 
In stage 5, the symptoms are easier to identify and are more apparent. In addition to the symptoms mentioned above, patients will also experience greater memory deficiencies such as frequent disorientation to time and the inability to recall important aspects in their current lives like telephone numbers and addresses. 
Stage 6: Severe Cognitive Decline (Middle Dementia)
In stage 6 of dementia, an individual's communication is severely affected and they can no longer carry out basic ADLs without help. In contrast to stage 5, the symptoms are much more drastic and include: 
Forgetting both recent and past events in their lives

Forgetting names of family members  

Increased sleeping problems such as insomnia and frequent changes in sleeping pattern

Increased unawareness of their surroundings including the year, the season, etc.  

Difficulty counting down from ten 

Loss of bladder control

Increased irritability and aggression 
Individuals with stage 6 dementia will also experience emotional and personality changes like delusional behaviour, anxiety, and obsessive symptoms, which can be harmful to the people around them if not treated immediately. On average, this stage typically lasts for two and a half years. 
Late-stage dementia
Stage 7: Very Severe Cognitive Decline (Late Dementia)
Late-stage dementia includes just one stage, but is also the most crucial one out of all seven. Stage 7, also known as late dementia, is where all verbal abilities are lost and only unintelligible utterances are spoken. Other symptoms of late dementia include: 
Difficulty eating and swallowing 

Inability to walk 

Urinary incontinence 

Considerable weight gain or weight loss 

Loss of motor skills 

Gradual loss of speech 

Restlessness and outbursts due to confusion 
In this stage that usually lasts from one and a half to two and a half years, caregivers need to focus on providing comfort and increasing the quality of life of the affected individual as most of their physical and cognitive abilities have diminished. 
Why is it useful to know the different stages of dementia? 
While the GDS is only one of many scales used to identify the dementia stages, this particular screening tool helps healthcare professionals and caregivers alike to determine the severity of an individual's dementia and assess their future expectations based on their current cognitive status. 
Understanding the various signs and symptoms at every stage of dementia aids communication between doctors and caregivers and can help doctors determine the best course of treatment for each individual. This also helps them make a clearer diagnosis, benefitting both the affected individual and their family members.
Caregiving Through the Stages of Dementia
If you begin to notice any sudden changes in your elderly loved one's behaviours or mannerisms, it may be time to seek professional help. In Singapore, families of individuals with dementia can look into elderly day care centres or nursing homes that specialise in dementia care, where they focus on creating a nurturing environment where seniors can receive the necessary help they need and feel empowered despite their condition all at the same time. 
Alternatively, you can also seek treatment at home if you prefer a more private setting. It can sometimes be difficult to get a person with dementia to leave the comfort and familiarity of their home. Thankfully with Homage, you can receive dementia care support at home at every stage of dementia in just three simple steps. 
Once you schedule your free Care Consult with our Care Advisors, you will be able to share your loved one's care needs and learn more about how our Care Professionals can assist you. Afterwards, we will then create a personalised Care Plan according to the recipient's health status, needs, and preferences. When all is said and done, your loved one will be matched with a suitable caregiver and will receive care at your doorstep in no time.
---
If you or your loved one need dementia care support, our Care Professionals can help.