Effective Arthritis Treatment & Care at Home in Singapore
Learn about arthritis treatment and how you can manage the condition at home. From pain management and medication to physiotherapy and lifestyle changes, Homage can support you in your rheumatoid arthritis (rheumatism) treatment and more in the comfort of your home.
Get a Free Care Consult
An Introduction to Arthritis
Arthritis refers to an inflammation of the joints. There are over 100 types of arthritis, including osteoarthritis, rheumatoid arthritis and gout. Many people may think of arthritis as a disease of the elderly, but this is not true. While it is more common among older adults, arthritis can also develop in children, youth, and younger adults.
Arthritis Is among the Top 5 Causes of Disability in Singapore
Arthritis is the most common joint disease in the world. Individuals with arthritis often experience joint pain or stiffness, a limited range of movement, and swelling and redness. The most commonly affected joints are in the hands, spine, knees and hips.
Managing Arthritis at Home
While no cure is available for arthritis currently, there are several things we can do to manage its symptoms and reduce the impact it has on our lives.
Besides medication and surgery, maintaining a healthy weight, adopting a healthy diet and exercising regularly can help to reduce inflammation and keep joints flexible. A physiotherapist can advise you on the exercises that are most suited for you to keep fit and healthy while reducing the stress on your joints.
We're Here For You
Learning that you'll have to deal with arthritis for the rest of your life can be hard to accept. However, with the right treatment, the symptoms of arthritis do not have to be debilitating.
Our Care Professionals are experienced with caring for individuals with arthritis and undergo training to better understand, support and care for you and your loved one. We understand that different individuals may need different forms of care support. Here are some of the ways our Care Professionals can help.
Home Medical
Seek medical advice, get a health screening and simple medical procedures from the comfort of home.
Home Therapy
Alleviate symptoms and improve bodily functions through prescribed treatment plans.
Personal Care
Assist with the activities of daily living (ADLs) – eating, bathing, getting dressed, toileting, transferring, and continence.
Staying Active
Keep the mind and body active and alert with physical exercises and stimulating brain activities.
Medication Reminders
No more missed doses. Our caregivers can help to remind your loved one to take their pills at the allotted time.
Post-Surgery
Focus on recovery and leave the complex nursing care in the hands of our experienced nurse Care Pros
Daily Living Care
from
By local trained caregivers
Nursing Care
from
By local qualified nurses
Home Medical
from
By local licensed doctors
Home Therapy
from
By local certified therapists
Speak to a Care Advisor
Call us at 6100 0055 or request a callback from our friendly Care Advisory team. Learn more about our range of services and find out how Homage Care Professionals can help.
Make a Care Plan together
We will work with you to develop a personalised Care Plan based on your loved one's health status, care requirements, and additional preferences.
Your personalised care begins
Together we will match you and your loved ones with an exceptional Care Professional. Stay up to date after every appointment with detailed reports on the Homage app.
Homage gave many seniors and their families peace of mind...
PM Lee Hsien Loong, National Day Rally
In partnership with
Hospitals




Community Providers



Government Organisations

Corporates

Top questions about Arthritis Treatment
Can arthritis be cured?
There is no cure for arthritis currently. However, with the right treatment and management, arthritis does not have to be debilitating.
What foods make arthritis worse?
For individuals with arthritis, having the right diet can prevent inflammation and help to reduce swelling, pain and stiffness in the joints.
Here's some food that you should avoid if you have arthritis:

Sugar, such as soda, candy and ice cream

Processed food and meat

Red meat

Alcohol

Gluten

Vegetable oils

Salt
Meanwhile, you should increase your intake of anti-inflammatory food such as:
Fatty fish

Garlic

Ginger

Broccoli

Nuts, such as walnuts

Berries

Dark leafy greens, such as spinach

Grapes

Olive oil

Dairy

Green tea
What arthritis care packages do you offer?
From ad-hoc to round-the-clock care support, we have short- and long-term care packages tailored to different care durations and for varied care needs, so that you and your loved one can find one that best fits your care arrangements.
Reach out to our Care Advisors at 6100 0055 for more details.
How fast can I receive care support for arthritis?
Once you have confirmed that you will like to engage a Homage Care Professional for arthritis treatment and care support, we can match you or your loved one with a suitable Care Professional as fast as within 24-48 hours.
Who are the Homage Care Professionals?
Homage Care Professionals are individuals who are passionate and dedicated to delivering care to families and care recipients. 100% local, they are trained caregivers, qualified nurses, certified therapists and licensed doctors, each with a unique set of skills, experiences and specialisations.
What is the minimum duration for a care visit?
The duration of a Homage Care Visit starts from just one hour, depending on the families preferences and the loved one's needs.
Are there subsidies available for Homage arthritis care services?
Yes. If you meet the eligibility criteria, you can apply for financial subsidy under the Home Caregiving Grant to defray the cost of caregiving services.
Learn more about the eligibility criteria and application process via the Agency for Integrated Care website.
Does Homage provide live-in or 24-hour home care services?
We currently provide 24-hour home care services but not live-in caregiving.
For our 24-hour home care service, two Homage Care Professionals will be scheduled for the visits. Care will be split into 12-hour shifts to support you and your loved one around-the-clock each day.
More services like Arthritis Treatment
Great help to me in my time of need
My mum's helper was hospitalised suddenly and I needed urgent help to take care of my mum who has advanced dementia. Homage was able able to find caregivers for my mum within a very short notice. The caregivers possessed the skill sets that I had requested and were of great help to me in my time of need. Thank you Homage!
Bernice Loh, Google review
Professional service
Homage CP render their professional service to my dad who is a dialysis patient. CP assigned to wheel my dad to & fro from Dialysis Center within 300m walking distance. They are capable to load & unload my dad from wheelchair independently. They are friendly too. I'm looking forward to their next visit.
James, Google review
Doctor is qualified, friendly
Had a good experience with Homage's teleconsultation. The doctor is qualified, friendly and guided me on examination. She also explained my symptoms to me in detail, which is useful. The report provided has detailed information, and medicine was delivered to me on the same day even though my appointment was in the evening.
Victoria Chwa, Google review
Physiotherapist assigned is professional
Response from Homage is fast. And the physiotherapist assigned is professional in assessing and guiding my mom in her session.
Brenda Koh, Facebook review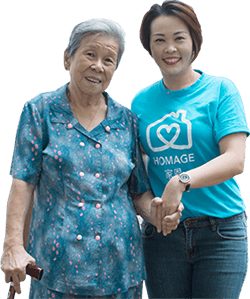 Make Home Care Personal To Your Loved One
Get started with a free consultation today, and learn why thousands of Singaporeans trust Homage to deliver the best care in their homes.
Get a Free Care Consult