Medically Reviewed by M Thiviya, R.N.
With an ageing population, we see a rise in demand for palliative care. In fact, the need for palliative care is projected to double from 2013, to reach 10,000 patients annually by 2020. However, research by Lien Foundation found that only 50% of Singaporeans are aware of palliative care and even those who know the term had a limited understanding of what it actually constitutes.
What is Palliative Care?
According to WHO, palliative care is defined as:
an approach that improves the quality of life of patients and their families facing the problem associated with life-threatening illness, through the prevention and relief of suffering by means of early identification and impeccable assessment and treatment of pain and other problems, physical, psychosocial and spiritual.

In short, palliative care is a specialised approach to caring for people battling life-threatening illnesses. A multi-disciplinary team of doctors, nurses, therapists, social workers and counselors work together to deliver holistic care to mitigate the physical symptoms and address the psychological, social and spiritual issues that these individuals and their families may face. 
Does Palliative Care Mean Death?
Oftentimes, we hear people use the terms "palliative" and "end-of-life" care interchangeably. This forms the common misconception that palliative means certain death. While it encompasses end-of-life care or hospice care, palliative care is not only for people who are terminally ill.

Palliative care can be provided regardless of age, stage of illness, and whether the person is receiving medical treatment. Across the different stages of illness, palliative care takes on different forms:
Symptom Management is a form of palliative care that can be conducted in conjunction with curative treatment. This usually takes place when an individual is recovering from the illness and not at a stage where death is imminent. Measures are taken to ensure greater comfort for the individual through their recovery process.
Hospice Care, also known as end-of-life care, happens when the goal is no longer to treat and recover, but rather, to ensure the quality of life for the individual. This form of care is usually delivered during the final months with the aim of supporting the individual to feel as comfortable as possible and live their final days to the fullest.
Bereavement Support takes place upon the death of a loved one. At this stage, the focus is solely on the physical, psychosocial and spiritual needs of families and loved ones to help them cope with the grief of losing a loved one. Bereavement care can include community support groups and counseling.
Benefits of Palliative Care
The main goal of palliative care is to improve the quality of life of people battling life-threatening illnesses and their families by supporting them in various aspects of their lives.
Physical
Palliative care can help to alleviate the physical symptoms of illnesses to provide greater comfort for a person recovering or in their final days. It focuses on the relief of pain and symptoms related to the medical condition(s) and any side effects stemming from the treatment. For example, medication may be used for pain relief and to mitigate any discomfort caused by treatments, such as nausea.
Psychosocial
Being diagnosed with a life-threatening illness is a difficult transition for anyone. From accepting the diagnosis to receiving treatment and battling the disease, the emotional and mental toll on both the individual and their families can be tremendous, especially in the long run.
Having a strong support system in place becomes vital for the patient and their families. For this reason, a palliative care team will often have a psychologist present to counsel the patient and their family to help them cope with the diagnosis and support them through the tough times.
A person in their final days may also have important but unfulfilled personal goals and desires. Some examples of goals and desires are attending a loved ones' wedding in a few months' time or wishing to retain the dignity and independence of being able to walk to the bathroom. In such situations, the palliative care team will often help to make these wishes come true to the best of their abilities. 
Spiritual
Knowing that death is imminent can make one lose all drive and hope in life. Spiritual care aims to bring hope and empower these individuals to live life to the fullest. This process is deeply personal – some may meet with their religious leaders to explore what death means, while for others, art and music therapy may help them cope better and find purpose and closure.
Home Care Solutions At Your Fingertips
Homage is a home-based care solutions platform connecting professional caregivers with families in Singapore. Be it palliative care or respite care, Homage offers various solutions to help your loved ones age and recover in the comfort of their homes.
For more information on Homage services, simply fill up this form to schedule a free consultation with a member of our Care Advisory team.
Costs of Palliative Care
Many Singaporeans perceive palliative care to be expensive, with more than half citing that they will not consider hospice care due to high costs. This reflects the lack of awareness on the true cost of palliative care. Inpatient hospice care is half of the general hospitalisation fees, at $250 to $350 per day, and some even receive home palliative care for free.
Depending on the complexity of care required and the individual's preferences, palliative care can take place in various settings, including acute hospitals, community hospitals, clinics, nursing homes, hospices and even in the individual's own abode.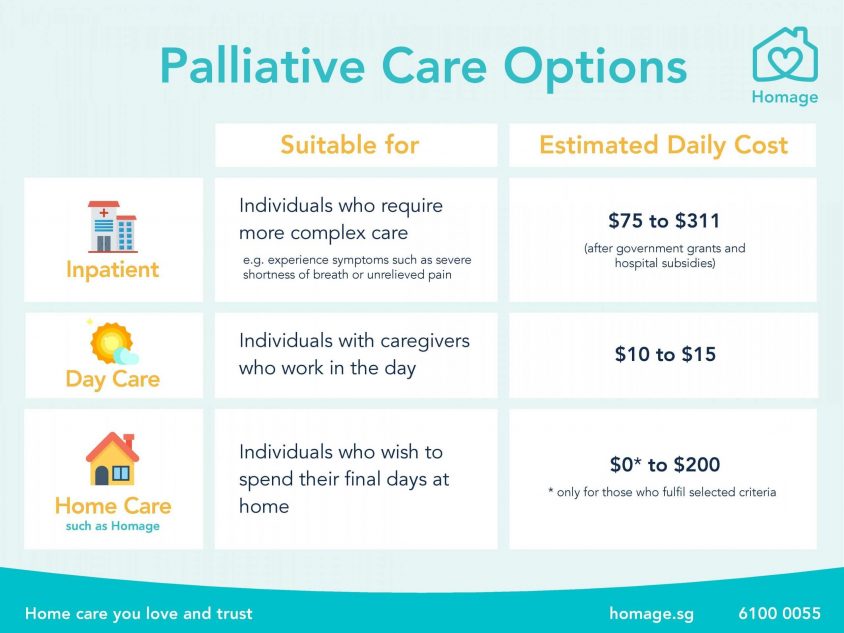 The locations where palliative care take place can be divided into 3 main categories. Each location is designed to suit the care needs of each individual:
Inpatient
For those with more complex care needs, inpatient hospice care at hospices or hospitals is usually recommended. This is to ensure that trained healthcare professionals are always available to care for them 24/7. In-patient hospice care costs between $250 to $350 per day. After government grants and hospital subsidies, the cost can be as low as $75 per day.
Day Care
For working caregivers, daycare is a viable option. Bringing seniors together for a full day of activities, daycare centres aim to improve the physical, social and mental wellbeing of seniors and enhance their quality of life. The cost of such a service ranges from $10 to $15 a day.
Home Care
For people who would like to remain in the comfort of their homes, they can opt for home palliative care services. Such services are usually provided by voluntary welfare organisations such as HCA Hospice Care, Assisi Hospice and Metta Welfare Association for free, excluding the cost of equipment and consumables.
However, to qualify for the free service, you will have to meet certain criteria:
Be referred to the organisation by a doctor

Go through the

means-testing

process

Have a caregiver at home
Besides government grants and subsidies, MediSave can also be used to cover some of the costs associated with palliative care services.
Palliative Care at Home
An overwhelming majority of Singaporeans wish to spend their final days at home surrounded by their loved ones, yet fewer than 1 in 4 were able to do so. With home palliative care, more would be able to get the care they need in the comfort of their home. 
For free home palliative care services, one important point to note is that they require the presence of a caregiver. Working caregivers may consider alternatives such as engaging foreign live-in nurses or local caregivers for home nursing services. At Homage, we do support families with in-home palliative care and provide training for family caregivers as well.
Palliative Care in Singapore
Recognising the increasing need for palliative care services, the government has started to ramp up its efforts to increase the capacity for palliative care services and the number of beds in hospices. Singapore still has a long way to go in terms of public awareness on the topic, but it is comforting to know that more is being done to spark conversations on this taboo topic and improve the quality of life of our citizens.
---
If you are looking for support with palliative or end-of-life care, we can help. Reach out to us at 6100 0055.