What is a community hospital?
Community hospitals are public health institutions that provide medical services and short-term care for patients who have just been discharged. They complement the acute care services provided in general hospitals and work closely with one another to ensure the smooth transition and continuation of treatment for the patient. 
The facilities and environment of community hospitals are designed to aid in the recovery process and allow patients to transition back to their communities and daily lives with ease. Community hospitals are often mistaken for acute hospitals but they both have their distinct differences.
Get Your Free Post-Surgery Care E-Book Today
Have a loved one who has been recently discharged following a surgery? We're here to help.
Access our FREE post-surgery care guide to find out how to provide the best care for your loved one.
> Download Post-Surgery Care E-Book Now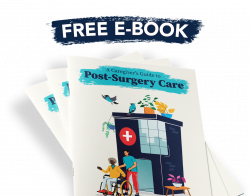 What is the difference between general and community hospitals in Singapore?
General hospitals give acute care to patients who need short-term assistance for severe illnesses, medical conditions, and for post-surgery recovery. On the other hand, community hospitals are "institutions that provide medical services for patients who require a short period of continuation of care, usually after they are discharged from the general hospitals", as defined by the Ministry of Health. 
What this means is that community hospitals are the next step for patients who are discharged from acute hospitals to carry on with medical and rehabilitation care. Typically, general and community hospitals work closely together as opposed to being two entirely different medical institutions altogether. Despite the similarities in services provided, they differ largely in cost and the patient's length of stay. 
Cost
Upon discharge, acute patients will be referred to community hospitals to continue receiving care, as continuing treatment in general hospitals is far more costly. Community hospital bills always reflect the overall daily cost, including the full breakdown of expenses that will be incurred, while acute care hospital bills only list ward charges, which is one component of the overall bill. Since it costs more to stay at a general hospital, it makes perfect sense to allow discharged patients to continue their recovery in community hospitals. 
Length of stay
The length of stay at general hospitals is much shorter than that of community hospitals. Once you've completed your treatment, you are generally only required to stay between 3 to 5 days at an acute care hospital. Afterwards, patients will then be discharged at community hospitals where they will typically stay from a few days up to three weeks for post-treatment recovery, depending on the severity of your condition.
What are the services provided at community hospitals? 
Community hospitals specialise in therapy and nursing care activities. In other words, acute care hospitals are more focused on treatment and surgery while community hospitals are geared towards nursing and rehabilitation after the procedure. Their inpatient services can be categorised into two groups: rehabilitative care and sub-acute care.
Rehabilitative Care
If you have experienced past strokes, fractures, head injuries, and other neurological conditions, rehabilitative care would be most suitable for you. Depending on your needs, you will be provided with physiotherapy, occupational therapy, and other forms of therapy in order to improve post-illness impairment and maximise your physical function. 
Sub-acute Care
Sub-acute care is suitable for individuals who have more complex medical conditions and require advanced nursing and medical assistance. Nursing care is often provided at a lower intensity compared to general hospitals but is just as effective. Examples of conditions that require sub-acute care in community hospitals include ischaemic heart diseases, pneumonia, congestive heart failure, kidney failure, and other chronic illnesses. Similar to rehabilitative care, sub-acute care may also offer physiotherapy and occupational therapy services if needed. 
Palliative Care
On top of rehabilitation and nursing intervention, some community hospitals also provide palliative and dementia care for the elderly. Palliative care is focused providing a personalised care programme for patients with life-threatening illnesses and end-of-life conditions; while dementia care is strictly for patients with active behavioural and psychological symptoms of dementia who need customised activity-based care to improve their well-being and slow the progress of the condition.
How to apply for admission to a community hospital in Singapore?
Since community hospitals are considered the next step for patients coming from general hospitals, a referral letter is needed from these hospitals or the Agency for Integrated Care (AIC) in order for the transfer to be processed. The community hospital will then be in touch and will provide you with updates on the transfer. 
Admission to these institutions is strictly by referral only and patients are not allowed to apply directly.
Community Hospitals in Singapore
Ang Mo Kio-Thye Hua Kwan Hospital 
Established in 1993, Ang Mo Kio-Thye Hua Kwan Hospital is one of the oldest community hospitals and providers of rehabilitation and geriatric care in Singapore. Despite mainly providing specialised care, this hospital also houses Singapore's first acupuncture clinic located within a hospital. Beyond inpatient care services, they also expanded their services to include transitional care and home care services as well. 
Bright Vision Hospital 
After being taken over by the SingHealth cluster in 2011, Bright Vision Hospital became Singapore's first public community hospital. This 317-bedded institution provides holistic healthcare programmes that address one's physical and psychosocial well-being. Some of their key inpatient services include rehabilitation, sub-acute, palliative and long-term care. Other community hospitals under the Singhealth cluster include Sengkang Community Hospital and Outram Community Hospital. 
Jurong Community Hospital
Along with various community hospitals in Singapore, Jurong Community Hospital is also part of an integrated healthcare development with Ng Teng Fong General Hospital. These developments are specifically designed for the sole purpose of organising healthcare efforts around people and their communities as opposed to the diseases themselves. They were awarded the Green Mark Platinum Award by the Building Construction Authority of Singapore in 2013 for its environmentally sustainable design features, made to allow patients to re-adapt to daily living gradually. 
Outram Community Hospital
Located within the Singapore General Hospital campus is the Outram Community Hospital, which was officially opened in December 2019. Despite being located in a rather urban area in Central Singapore, this hospital was designed to emulate the environment of a public estate so patients can adapt more easily after they return to their respective homes. 
Ren Ci Community Hospital 
With a strong collaboration with Tan Tock Seng Hospital, the Ren Ci Community Hospital was set up as a charity healthcare institution primarily providing affordable healthcare and rehabilitation services for elderly persons in the community. Besides their community hospital, they also have other facilities and establishments designed specifically for seniors such as nursing homes, Senior Activity Centres (SACs), chronic sick units, and short stay units. 
Sengkang Community Hospital
Having only opened in August 2018, Sengkang Community Hospital is one of the newest community hospitals in the country to date, which is also part of an integrated healthcare development that includes the Sengkang General Hospital. Together, both institutions make up one of the largest regional hospitals in all of Singapore. Offering a wide range of medical and rehabilitation aid, patients can expect a smooth transition from initial diagnosis to follow-up care. 
St. Andrew's Community Hospital 
Founded in 1992, St. Andrew's Community Hospital was the first community hospital set up in Singapore with the aim of providing medical care to Singaporeans. They are highly specialised in rehabilitation and sub-acute care for elderly, adults, and children, including those who need palliative care. They also have their own Day Rehabilitation Centre and Dialysis Centre to top it all off.
Yishun Community Hospital
With over 400 beds, Yishun Community Hospital is the largest community hospital in the country and is also part of an integrated healthcare development along with Khoo Teck Puat Hospital. With an extensive network of healthcare professionals and treatment plans, Yishun Community Hospital's aim is to give patients a hassle-free and healing experience as they recover and regain their strength. 
What happens after your loved one leaves the community hospital?
While most patients return straight to their homes after receiving inpatient treatment at community hospitals, there are a few that still require follow-ups and assisted outpatient care. These patients can acquire for outpatient care at Day Rehabilitation Centres (RDC) or opt for Home Care Services (HCS). 
Day Rehabilitation Centres generally focus on providing rehabilitation services for those who require additional therapy after being discharged. These therapy treatments include physiotherapy, occupational therapy, and even outpatient speech therapy on some occasions depending on which institution you applied for. Those with limited mobility or who need support getting to and fro these appointments can consider engaging a medical escort.
For patients having trouble accessing outpatient services due to mobility issues, home care is a viable option. Under this programme, caregiver training for healthcare professionals will be provided before they are dispatched, where they will assist with various Activities of Daily Living (ADL) like feeding, showering, and grooming. This helps home-bound patients receive the same care that they would at a public institution without leaving the comfort of their home.
Here is a side-by-side comparison of community hospitals and home care so you can make an informed decision:
If you have a loved one who needs care support for activities of daily living or rehabilitation services post-discharge, our Care Pros can help.