Caregiver jobs in Singapore that suit your schedule
Take control of your time and do meaningful work that matters. Whether you're an experienced caregiver or new to the industry, you can deliver dedicated home care by being a caregiver with Homage.
Apply Here
Make a difference in your community
At Homage, we believe care should be personal, empathetic, and holistic.
Whether you're a student looking for a part-time job in healthcare, a housewife looking for a side hustle, or a working professional looking to do a career switch to healthcare, Homage's flexible work arrangement allows you to build a meaningful career in your own time.
Being a Homage caregiver is not about having the right formal qualifications. What's important is having the right heart and a dedicated attitude to help others with their daily living tasks and self-care needs.

We work with a diverse and dedicated team of doctors, nurses, therapists, and caregivers who strive to deliver quality care to families in our community.

Keen to join us? We're always looking for dedicated caregivers to join our team. 

You will help families with
Companionship
Check-in visits
Showering and toileting
Transport / Medical escort
Medication reminders
Groceries and cooking
Exercises
Night care
Choose from a variety of caregiver roles
| | Freelance | Short-Term | Full-Time |
| --- | --- | --- | --- |
| Employment Period | Flexible | Up to 6 months | More than 6 months |
| Working Hours | Flexible | Fixed roster | According to employer |
| Earnings | Hourly | Monthly salary | Monthly salary |
| Benefits | Stackable incentives | Discretionary incentives | Discretionary incentives |
| Income Guarantee | No | Yes | Yes |
| Insurance Coverage | Yes | Yes | Yes |
| Training and Development | Yes | Yes | Yes |
Why join us as a Homage Caregiver?
Flexible Work Arrangement
Choose from freelance, short-term, or full-time employment according to what suits you best
Attractive Earnings
Earn competitive rates across our positions, coupled with attractive job bonuses and incentives
Supportive Culture
Your well-being and needs will be prioritised as a Care Pro. We provide holistic and specialised caregiver training so that you can carry out your home visits confidently
Insurance Coverage
Professional indemnity for all care visits. Enjoy peace of mind while you deliver care
Start Immediately
Fast approval rate of 1-2 days. No prior experience is required to apply as a caregiver
Beyond Just Homes
Gain exposure to caregiving across a variety of settings including daycare centres, nursing homes and hospitals
How to become a Homage Caregiver?
You do not need to have a medical background or healthcare experience to be a non-medical professional caregiver in Singapore. 
1. Submit your application 
Take one minute to fill up this form and let us know more about you and your availability
2. Schedule and attend a phone interview
Our team will call you for a short 30-minute interview. You may be required to submit some necessary documents after the call
3. Training and onboarding
Undergo training to obtain any necessary certifications. Once you've submitted your required certifications, you'll be able to carry out your first home care visit as a Homage Care Pro
Hear from our caregivers
Bernice Soh
Professional Caregiver, Ex-Banking and Finance Professional

"Being a professional caregiver allows me to interact with the elderly and relive the fond memories I had with my late parents. It is an honour to be given that trust to better a person's life and journey through every failure and win with them."

Christina Quah
Professional Caregiver, Ex-Auditor 
"What I really love about being a Care Pro is being able to make an impact on the lives of these seniors. Witnessing their condition improve every visit and seeing the smiles on their faces motivate me to keep doing my best to help as many seniors as I can."
Chew Zhan Eng
Professional Caregiver, Student

"Recalling how devastated I once felt when undergoing a personal health issue alone, I am thankful to have had the opportunities to serve, motivate and journey with many clients through their times of vulnerability as a Care Pro."
Ash (Asy'ari Asni)
Professional Caregiver, Homage Care Support Team Lead
"I've learnt a lot over the years while delivering care through Homage, but one of my most significant learning points is to keep quiet when necessary and to listen to their story."
Still unsure if you should be a caregiver? 
Find out more from our Homage Care Pros on their career transition to caregiving and get a better understanding of the job with our resources below.
A career switch at 45: Why Christina, an ex-auditor, joined Homage as a Care Pro
How a banking & finance professional transitioned into professional caregiving in her 40s
Meet former Air Force engineer turned Professional Caregiver, Jonathan
Useful Resources
Want to find out more? Submit your application below and our Care Professional team will reach out to you to answer any questions. 
Frequently Asked Questions for Caregiver Jobs in Singapore
How much does a professional caregiver make in Singapore?
As a non-medical professional caregiver with Homage, you can expect to earn up to $19 per hour.

Rates differ depending on the time of day (day or night), and whether the visit is on a weekday, weekend, or public holiday.
You can also stand to receive Care Pro Bonuses, which allow you to earn more as you deliver more care. Some of our Care Professionals earn over $4,000 every month!
Do I need any experience to be a professional caregiver in Singapore?
No, we accept people from different backgrounds who have a heart to make a difference to the lives of those in our communities. Necessary training will be provided for new Care Professionals. 
What certifications do I need to be a professional caregiver?
As a Homage Care Professional, you are required to present a valid CPR/AED or BCLS/AED certification, and a valid caregiver training certification before you can take on any assignments. 
Care Professionals without the certifications will undergo a caregiver training course, where they will pick up the necessary skills needed for the job.
I am a foreigner based in Singapore. Can I apply to be a Homage caregiver?
We currently only have job openings available for Singaporeans and PRs. 
What is the job scope of a professional caregiver?
Caregivers provide company for those who need it, and services that improve their living environment and make them feel comfortable at home. 
They provide personal care, night care, meal assistance, showering and toileting, transportation, medication management, and other health care duties as and when required.
Does professional caregiving pay more than other part-time jobs in Singapore?
Homage provides competitive rates up to $19/hour, with stackable monetary incentives depending on the assignments. 
Depending on how you plan your time and schedule, you can earn up to $4,000/month as a Homage Care Professional. 
Do I have to attend the caregiver training course? How much is it?
You will have to present a valid CPR/AED or BCLS/AED certification, and a valid caregiver training certification before you take on any caregiving visits. If you don't have the certifications stipulated above, you will have to attend the caregiver training course. 
Should I apply to be a caregiver or nurse?
To be a Homage nurse, you will need to have the right set of qualifications and experience to apply. Learn more about our nursing roles available and requirements via our website.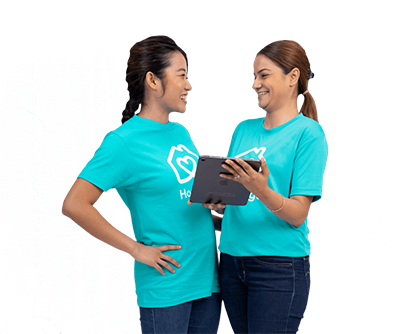 Join us as a Homage Care Pro today!
Deliver dedicated home care, nursing care and therapy to more in the community.
Become a Care Pro