Seniors' Mobility and Enabling Fund
Seniors' Mobility and Enabling Fund (SMF)
The Seniors' Mobility and Enabling Fund (SMF) provides subsidies to Singapore seniors who require assistive devices or home healthcare items to help them live better in the community. 
Assistive Devices 
The SMF can be used for items that help an elderly person move around. This includes a walking stick, wheelchair, pushchair, commode, pressure relief cushions, and hospital bed. You may also use the SMF for items such as spectacles and hearing aids. 
Home Healthcare Items 
Seniors supported by home care services like Homage can get access to subsidies for home healthcare items, such as the cost of catheters, milk supplements, thickeners, adult diapers, nasal tubings and wound dressings. 
You may order these subsidised items via the Vertis online shop. 
Want to know if you're eligible for MediSave Care? Take our self-assessment quiz to find out!
Benefits
Eligible seniors who meet the criteria for the SMF can receive subsidies for assistive devices or home healthcare items to help them age in place with more ease — physically and financially.

The exact amount of subsidy you will receive depends on the outcome of your means-testing assessment, but in general, you will receive up to 90% subsidy for the cost of the mobility aid or 90% of the maximum device subsidy cap, depending on which is lower. 
Assistive Devices
Seniors who are supported by the SMF need to take note that repeat applications for the same device category are not allowed. Reimbursement for any purchase made prior to the approved application is also prohibited.
The types of assistive devices covered by SMF subsidies include 
Basic wheelchair/pushchair 

Commode/shower chair 

Geriatric chair

Hearing aids

Hospital bed

Motorised wheelchair/scooter 

Pressure relief cushion 

Pressure relief mattress

Spectacles

Walking aids 

Other special equipment like suction pumps, transfer boards, or oxygen concentrator     
Home Healthcare Items  
Elderly persons in Singapore who choose to stay at home instead of a nursing home or can receive subsidies for various home healthcare items and services that will allow them to age in place comfortably and conveniently.
The types of home healthcare items that SMF subsidies can cover include: 
Adult diapers 

Catheters and catheter sets 

Milk feeds

Nasal tubing  

Nasogastric tubes

pH indicator test strips 

Thickeners 

Wound dressings 
Find out more about existing government grants and subsidies you can get via our Policy Summary Page.
Eligibility
If you are a needy Singaporean aged 60 years and above, you can apply for the Senior Mobility Fund. You will need to go through the following process: 
Go through a financial assessment. To be eligible for the grant, your monthly household income per person should be $2,000 and below. For households with no income, your Annual Value (AV) of residence should be below $13,000

Go through a clinical needs assessment to find out the types of mobility aids suitable for you before the assessor prescribe the devices

Pass the means-testing under the Ministry of Health's SMF Assistive Device or Consumables Subsidy framework
How to use the Senior Mobility Enabling Fund
You may use SMF subsidies to defray the cost of Home Care and Home Nursing services at Homage. 
For example, if your loved one requires professional help for wound care and dressing, you may engage a nurse from Homage to conduct the nursing procedure for your loved one. Should you require home healthcare items such as wound dressings, gauze, iodine solutions or disinfectant sprays, you may get them at a subsidised rate (up to 90% subsidy) for the items that you need. 
Should our Care Professionals recommend assistive devices such as a wheelchair, hospital bed, or commode that will help with your loved one's recovery, you may get these too at a heavily subsidised rate if your loved one qualifies for the Senior Mobility Fund. 
How to apply
If you have upcoming appointments with any hospitals, senior care centres, day rehabilitation centres or any Active Aging Centres, the best way is for you to approach them for assistance as they are familiar with your medical history. They may go on to conduct an assessment and order the device for you once the application is approved.
Alternatively, you may apply for the SMF directly via the Agency of Integrated Care. Fill up this form and submit it with the following supporting documents: 
Completed application form 

Copy of Applicant's NRIC (front and back) or image copy of Digital NRIC through SingPass mobile app

Medical reports, if applicable (e.g. Discharge summary, doctor's memo describing applicant's medical condition)

Financial assistance documents, if applicable (e.g. Public Assistance Card, Medifund, MSF ComCare Short-to-Medium Term Assistance or Medical Fee Exemption Card )

Copies of financial assistance documents, if available (e.g. Public Assistance Card, Medifund, Medical Fee Exemption Card or MSF ComCare Short-to-Medium Term Assistance) 
You can mail the form to AIC at the following address: 
​​Seniors' Mobility and Enabling Fund (SMF)
No. 7 Maxwell Road #04-01
MND Complex Annex B
Singapore 069111
You may contact AIC for referral if you are not known to any hospitals or care providers.
More useful resources on SMF
A Guide to Seniors' Mobility and Enabling Fund (SMF) in Singapore
Financial Assistance Schemes for the Elderly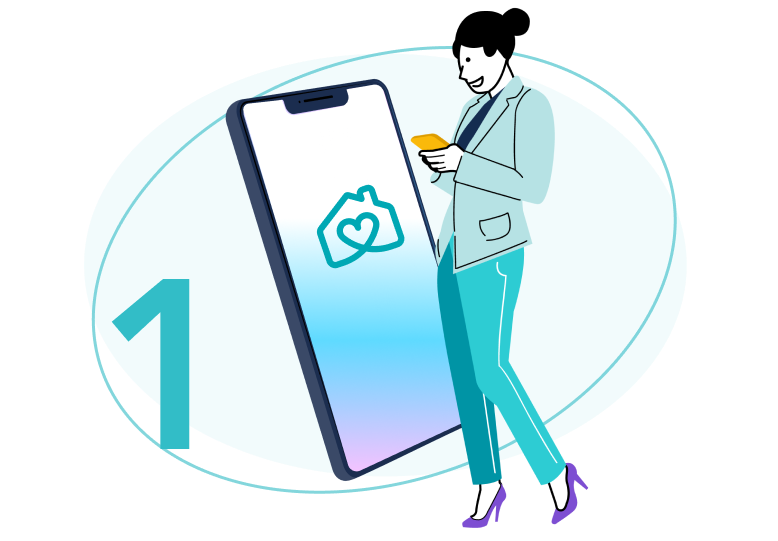 Download the Homage mobile app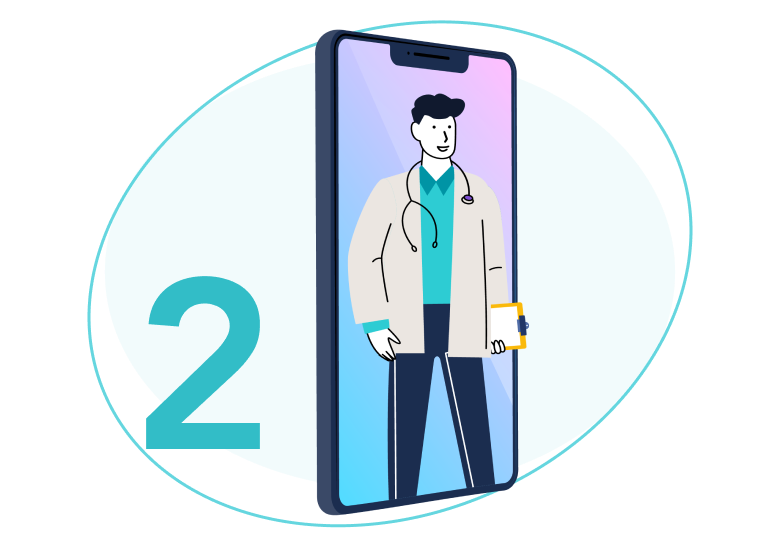 Set up a care plan and get matched to a Care Pro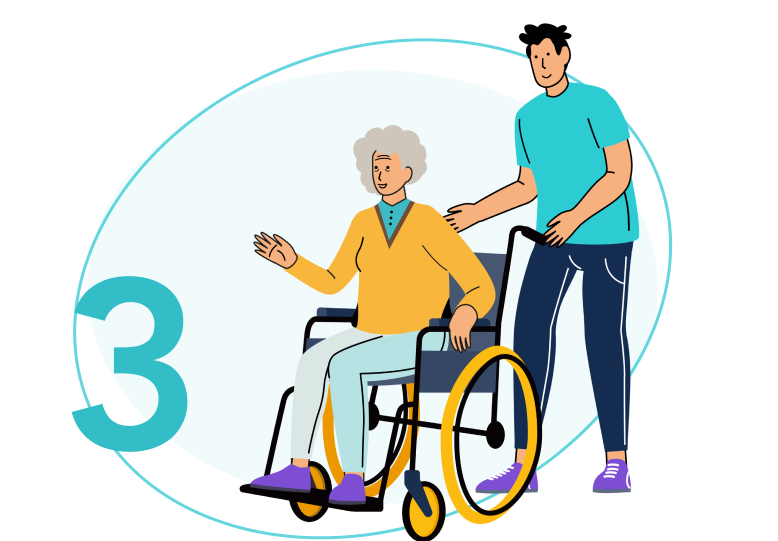 Receive care from our Care Pros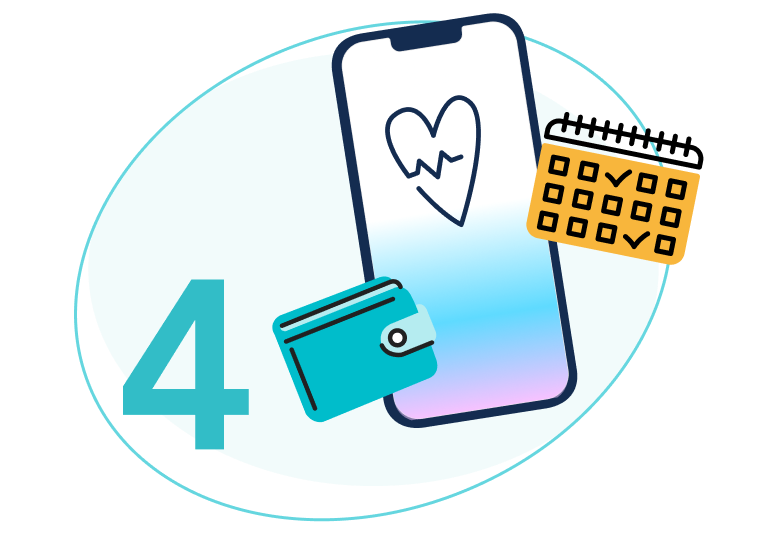 Book, manage and pay for visits all in one place
Homage gave many seniors and their families peace of mind...
PM Lee Hsien Loong, National Day Rally
In partnership with
Hospitals

Community Providers


Government Organisations

Corporates

Great work homage
Right from the start from signing up for an account, to making a booking on the app, to the confirmation of a Care Asst and to the whole visit concluding, its all a seamless and worry free process. Loved this service and would recommend it to anyone who requires the extra pair of hands and legs
Ben See, Google Review
Wonderful app wonderful service
Have been using this for a year to help my grandfather who frequently gets aspiration pneumonia and has difficulty leaving the house. The app is so easy to use, and the cherry on top is the wonderful service behind the app. Had some difficulty finding a doctor recently and Hakim called me back personally twice to ensure a doctor was found. Thank you so much, cannot recommend this app more.
Ichannie, App Store
Responsive App
Very responsive app, with options to chat with caregiver, review reports and contact support team for assistance.
Nizam Mohd, App Store
Great help to me in my time of need
My mum's helper was hospitalised suddenly and I needed urgent help to take care of my mum who has advanced dementia. Homage was able able to find caregivers for my mum within a very short notice. The caregivers possessed the skill sets that I had requested and were of great help to me in my time of need. Thank you Homage!
Bernice Loh, Google review
Professional service
Homage CP render their professional service to my dad who is a dialysis patient. CP assigned to wheel my dad to & fro from Dialysis Center within 300m walking distance. They are capable to load & unload my dad from wheelchair independently. They are friendly too. I'm looking forward to their next visit.
James, Google review
Doctor is qualified, friendly
Had a good experience with Homage's teleconsultation. The doctor is qualified, friendly and guided me on examination. She also explained my symptoms to me in detail, which is useful. The report provided has detailed information, and medicine was delivered to me on the same day even though my appointment was in the evening.
Victoria Chwa, Google review
Physiotherapist assigned is professional
Response from Homage is fast. And the physiotherapist assigned is professional in assessing and guiding my mom in her session.
Brenda Koh, Facebook review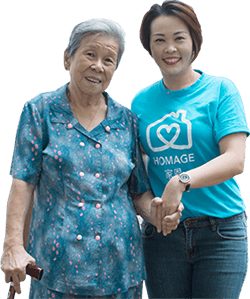 Make Home Care Personal To Your Loved One
Get started with a free consultation today, and learn why thousands of Singaporeans trust Homage to deliver the best care in their homes.
Get Care Now