MediShield Life
Find out more about MediShield Life below.
What is MediShield Life?
MediShield Life is a basic health insurance plan which helps to pay for large hospital bills and selected outpatient treatments, such as dialysis and chemotherapy for cancer.
It is structured so that patients will use less of their own cash and MediSave funds to pay for healthcare in Singapore. 
MediShield Life provides lifelong coverage for all Singaporeans, regardless of your age or pre-existing/existing health condition.
Benefits
MediShield Life's coverage is designed to cover treatment at public hospitals' B2 and C wards, as well as subsidised outpatient or day surgery treatments in public hospitals.
For those who would like to stay in Class A/B1/B2+ wards or seek treatment at private hospitals, MediShield Life will cover a smaller portion of the bills, and you will have to pay for the rest of the bill either through MediSave, cash, or your private insurance.
There is a claim limit of $150,000 per year.
In general, MediShield Life covers 3 main aspects of your healthcare needs: 
Hospitalisation or day surgery

Reduce your cash outlay for large hospital bills

Outpatient treatment

Including expensive, recurring outpatient treatments, such as kidney dialysis, chemotherapy, and radiotherapy

Long-term care

Covered for costs incurred in community hospitals and inpatient palliative care services
Full breakdown of MediShield Life benefits
MediShield Life Benefits
Claim limits
Inpatient/Day Surgery
Daily Ward and Treatment Charges¹
- Normal Ward
$800/day*
- Intensive Care Unit Ward
$2,200/day*
*An additional claim limit of $200/day applies for the first 2 inpatient days
- Psychiatric (Up to 60 days per policy year
$160/day
- Community Hospital (Rehabilitative)²
$430/day
- Community Hospital (Sub-acute)²
$250/day
- Inpatient Palliative Care Service (Specialised)
$350/day
Surgical Procedures
A
B
C
- Table 1 A/B/C (less complex procedures)
$240
$340
$340
- Table 2 A/B/C
$580
$760
$760
- Table 3 A/B/C
$1,060
$1,160
$1,280
- Table 4 A/B/C
$1,540
$1,580
$1,640
- Table 5 A/B/C
$1,800
$2,180
$2,180
- Table 6 A/B/C
$2,360
$2,360
$2,360
- Table 7 A/B/C (more complex procedures)
$2,600
$2,600
$2,600
Implants
$7,000/treatment
Radiosurgery
$10,000/treatment course
Continuation of Autologous Bone Marrow Transplant Treatment for Multiple Myeloma
$6,000/treatment
¹Includes meal charges, prescriptions, professional charges, investigations and other
miscellaneous charges
²Claimable only upon referral from a hospital after an inpatient admission or from a public
hospital's emergency department for further medical treatment.
Outpatient Treatment
Chemotherapy for Cancer
$3,000/month
Radiography for Cancer
- External (Except Hemi-Body)
$300/treatment
- Brachytherapy
$500/treatment
- Hemi-Body
$900/treatment
- Stereotactic
$1,800/treatment
Kidney Dialysis
$1,100/month
Immunosuppressants for Organ Transplant
$550/month
Erythropoietin for Chronic Kidney Failure
$200/month
Long-term Parenteral Nutrition
$1,700/month
Maximum Claim Limit
Per Policy Year
$150,000
Lifetime
No Limit
Eligibility
Every Singaporean Citizen and Permanent Resident (PR) is automatically enrolled in MediShield Life. All pre-existing conditions are covered under MediShield Life, with Singaporeans covered from birth. 
MediShield Life is compulsory for all Singaporeans.
How to make a MediShield Life claim?
You can do a MediShield Life claim under two scenarios:
If you have an Integrated Shield Plan*
If you have no Integrated Shield Plan*
Reach out to your private insurer or insurance agent and they will make the claim on your behalf, including the MediShield Life portion of the bill.

It is good to let your insurer know about your circumstances prior to going to the hospital if that is possible, as certain shield plans require you to visit hospitals under the insurer's panel list, or a pre-authorisation. Speak to your insurer agent for more information regarding this.

If there is an outstanding bill after deductions, you may settle the remainder of the bill via MediSave or cash.

When at the hospital or clinic, inform the attending nurse that you would like to make a MediShield Life claim.

The medical institution will submit the claim on your behalf, and you may settle the remaining amount via cash or your MediSave account.
How to apply
There's no need to apply for MediShield Life. If you are a Singaporean or PR, you would automatically be enrolled into MediShield Life. 
You will have to pay for your MediShield Life premiums. You can fully pay your annual premiums using your MediSave, or a family member's MediSave. You may find out how much premiums you have to pay via the CPF website.
More useful resources on MediShield Life
Health Insurance for Seniors
How to Use Medisave to Cover Your Outpatient Costs?
CPF MediShield Life: Premium, Benefits, Coverage & Claims
Speak to a Care Advisor
Call us at 6100 0055 or request a callback from our friendly Care Advisory team. Learn more about our range of services and find out how Homage Care Professionals can help.
Make a Care Plan together
We will work with you to develop a personalised Care Plan based on your loved one's health status, care requirements, and additional preferences.
Your personalised care begins
Together we will match you and your loved ones with an exceptional Care Professional. Stay up to date after every appointment with detailed reports on the Homage app.
Homage gave many seniors and their families peace of mind...
PM Lee Hsien Loong, National Day Rally
In partnership with
Hospitals




Community Providers



Government Organisations

Corporates

Great help to me in my time of need
My mum's helper was hospitalised suddenly and I needed urgent help to take care of my mum who has advanced dementia. Homage was able able to find caregivers for my mum within a very short notice. The caregivers possessed the skill sets that I had requested and were of great help to me in my time of need. Thank you Homage!
Bernice Loh, Google review
Professional service
Homage CP render their professional service to my dad who is a dialysis patient. CP assigned to wheel my dad to & fro from Dialysis Center within 300m walking distance. They are capable to load & unload my dad from wheelchair independently. They are friendly too. I'm looking forward to their next visit.
James, Google review
Doctor is qualified, friendly
Had a good experience with Homage's teleconsultation. The doctor is qualified, friendly and guided me on examination. She also explained my symptoms to me in detail, which is useful. The report provided has detailed information, and medicine was delivered to me on the same day even though my appointment was in the evening.
Victoria Chwa, Google review
Physiotherapist assigned is professional
Response from Homage is fast. And the physiotherapist assigned is professional in assessing and guiding my mom in her session.
Brenda Koh, Facebook review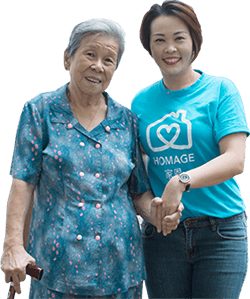 Make Home Care Personal To Your Loved One
Get started with a free consultation today, and learn why thousands of Singaporeans trust Homage to deliver the best care in their homes.
Get a Free Care Consult