MediSave
Find out all you need to know about MediSave below.
What is MediSave?
MediSave is a personal healthcare savings account that helps to pay for the healthcare needs of you and your loved ones. For working adults, you will save between 8-10.5% of your monthly salary in your MediSave. This helps defray healthcare costs over your lifetime.
Basic Healthcare Sum
The Basic Healthcare Sum (BHS) is the estimated amount of savings that you need for your basic healthcare needs when you retire. It is the maximum amount you can have in your MediSave account. This amount is adjusted annually until you reach 65, and will remain fixed for the rest of your life. Any savings you may have above the BHS will be transferred to your Special Account of Retirement Account to supplement your retirement savings. Here is the BHS amount in recent years:
| If you or your loved one turned age 65 in... | Basic Healthcare Sum |
| --- | --- |
| 2022 | $66,000 |
| 2021 | $63,000 |
| 2020 | $60,000 |
| 2019 | $57,200 |
| 2018 | $54,500 |
| 2017 | $52,000 |
| 2016 or earlier | $49,800 |
Benefits
MediSave can be used for your medical expenses and those of your loved ones.
You can use your MediSave for yourself or your family members. This includes your spouse, children, parents, grandparents, or siblings.
They can be of any nationality, except for grandparents and siblings, who must be Singapore Citizens or Permanent Residents.
What can I use MediSave for?
MediSave Uses
General wellbeing
Recommended screenings, vaccinations, and chronic disease treatments
For surgery or hospitalisation
Inpatient treatment at the hospital for you and your dependents
For long-term care
MediSave Care $200/month withdrawal for those severely disabled
Giving birth
Treatments to help with conceiving, pregnancy and delivery expenses
Repeated treatment
Renal dialysis, cancer treatments and more
Pay insurance premiums
For MediShield Life, CareShield Life and Integrated Shield Plans
Medical scans
CTs and MRIs are claimable under MediSave
Rehabilitation and recovery
Stays at community hospitals or rehabilitation centres
Outpatient treatments
Flexi-MediSave for outpatient treatments for those aged 60 and above
End of life care
Palliative care at a hospice or at home in the company of your loved ones
You may find an extensive list of the uses of MediSave via the MOH website.
Homage services applicable for subsidies
Homage is an official government provider for Interim Caregiver Services in Singapore. Services applicable under the MediSave Care scheme include: 
Home Care
Assistance with activities of daily living (ADLs) such as eating, bathing, getting dressed, toileting, transferring and continence.
Home Nursing
Our home nursing services range from private nursing, IV drip, wound dressing, NGT feeding, urine bag drainage and more.
Home Therapy
To support your rehabilitation and recovery efforts through personalised exercise and therapy treatment sessions.
Specialised Care
From Dementia Care to Cancer Care, get the most relevant care support in response to your medical condition.
How to apply
For Singaporeans and PRs, you should already have a MediSave account. You may check your MediSave account balance via the CPF website.
How to use MediSave to pay for medical fees
Here's an example of how MediSave can be used to pay for your medical and hospitalisation fees: 
Chloe recently rushed her mother to the hospital due to a UTI infection. Her mother was experiencing a high fever and was at risk of being in septic shock, so she had to be hospitalised and put under a dose of antibiotics. 
When settling her mother's hospital bills, Chloe informed the hospital that she would like to use her mother's MediSave to help defray the hospitalisation costs. Given her situation, she is able to tap on her mother's MediSave for certain inpatient care costs. 
The hospital then presents Chloe with a Medical Claims Authorisation Form (MCAF). Signing the MCAF authorises the hospital to check how much Chloe can utilise her own or her mother's healthcare plans. Once the authorisation has been approved, the hospital will submit a claim on the patient's behalf. 
When Chloe's mother's treatment is over, the hospital will submit the medical claim on their behalf. Payment from MediSave will be made directly to the hospital, and the relevant parties will be informed accordingly. Using MediSave, Chloe saves the trouble of dealing with a hefty upfront payment of hospital bills, as a portion of the bills can be covered by MediSave. 
Should Chloe's mother suffer from a disability as a result of her illness, Chloe may tap on MediSave payouts to engage home care and specialised care services for her mother to aid in her recovery. 
Using MediSave to reimburse medical expenses
In some cases where you have an Integrated Shield Plan, or other company benefits, you may get insurers/your company to reimburse your medical expenses via MediSave. 
To do so, you will need to apply for a MediSave reimbursement. You will need to submit relevant documents such as the finalised medical bill, healthcare payments and claims statement and/or MediSave transaction statement to your employer or insurer before they can reimburse your MediSave. 
More details on reimbursement can be found via the CPF website. 
More useful resources on MediSave
How to Use Medisave to Cover Your Outpatient Costs?
MediSave: All You Need To Know
How to Claim MediSave When Visiting a Polyclinic?
Speak to a Care Advisor
Call us at 6100 0055 or request a callback from our friendly Care Advisory team. Learn more about our range of services and find out how Homage Care Professionals can help.
Make a Care Plan together
We will work with you to develop a personalised Care Plan based on your loved one's health status, care requirements, and additional preferences.
Your personalised care begins
Together we will match you and your loved ones with an exceptional Care Professional. Stay up to date after every appointment with detailed reports on the Homage app.
Homage gave many seniors and their families peace of mind...
PM Lee Hsien Loong, National Day Rally
In partnership with
Hospitals




Community Providers



Government Organisations

Corporates

Great help to me in my time of need
My mum's helper was hospitalised suddenly and I needed urgent help to take care of my mum who has advanced dementia. Homage was able able to find caregivers for my mum within a very short notice. The caregivers possessed the skill sets that I had requested and were of great help to me in my time of need. Thank you Homage!
Bernice Loh, Google review
Professional service
Homage CP render their professional service to my dad who is a dialysis patient. CP assigned to wheel my dad to & fro from Dialysis Center within 300m walking distance. They are capable to load & unload my dad from wheelchair independently. They are friendly too. I'm looking forward to their next visit.
James, Google review
Doctor is qualified, friendly
Had a good experience with Homage's teleconsultation. The doctor is qualified, friendly and guided me on examination. She also explained my symptoms to me in detail, which is useful. The report provided has detailed information, and medicine was delivered to me on the same day even though my appointment was in the evening.
Victoria Chwa, Google review
Physiotherapist assigned is professional
Response from Homage is fast. And the physiotherapist assigned is professional in assessing and guiding my mom in her session.
Brenda Koh, Facebook review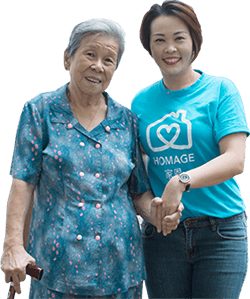 Make Home Care Personal To Your Loved One
Get started with a free consultation today, and learn why thousands of Singaporeans trust Homage to deliver the best care in their homes.
Get a Free Care Consult