Home Caregiving Grant
Get $200 monthly cash payout to Singaporeans to help families care for their loved ones experiencing moderate to severe disabilities.
Home Caregiving Grant (HCG)
The Home Caregiving Grant (HCG) gives a $200 monthly cash payout to Singaporeans to help families care for their loved ones experiencing moderate to severe disabilities. 
This grant replaces the Foreign Domestic Worker (FDW) Grant. 
From early-2023, the $200/month cash payout will be increase up to $400/month.
Benefits
Receive $200/month cash payout to care for your loved one. You may use the payouts for the following services:

Home Care 

Specialised Care Services 

Home Nursing Procedures 

Home Therapy Sessions 

Hiring a Foreign Domestic Worker 

Other eldercare costs 
Find out more about existing government grants and subsidies you can get via our Policy Summary Page.
Eligibility
To be eligible for HCG, the care recipient must meet the following criteria:
Be a Singapore Citizen or

Permanent Resident (with a parent, child or spouse who is a Singapore Citizen)

Live in Singapore

Means Tested

Household monthly income per person is $2,800 or less; or

Annual value of property for household without income is $13,000 or less

Not in a residential long-term care institution (e.g. nursing home)

Care recipient require some assistance with at least 3 of the 6 Activities of Daily Living.

Washing
Dressing
Feeding
Toileting
Mobility
Transferring
How to use the Home Caregiving Grant
Homage offers a wide range of interim caregiving solutions, including cancer care, dementia care and end-of-life care, so that your loved ones can get access to the care they need in the comfort of their homes. 
You may use the Home Caregiving Grant to purchase professional home care services from Homage. Here's a list of home care services offered by Homage that's eligible for subsidy: 
Homage services applicable for subsidies
Homage is an official government provider for Interim Caregiver Services in Singapore. You may use MediSave for the following Homage services, under the Home Caregiving Grant scheme: 
Home Care
Assistance with activities of daily living (ADLs) such as eating, bathing, getting dressed, toileting, transferring and continence.
Home Nursing
Our home nursing services range from private nursing, IV drip, wound dressing, NGT feeding, urine bag drainage and more.
Home Therapy
To support your rehabilitation and recovery efforts through personalised exercise and therapy treatment sessions.
Specialised Care
From Dementia Care to Cancer Care, get the most relevant care support in response to your medical condition. 
Maximise your Home Caregiving Grant by purchasing Homage's prepaid packages at a discounted rate. With a monthly payout of $200 -$400, you may purchase the following services:

10-Hour Prepaid Home Care Package ($220) 

10-Hour Nursing Care Package ($270)

Home Therapy Sessions ($180/session) 

In-Person Care Assessment ($60/session)
How to apply
Step 1: Undergo disability assessment
Visit a General Practitioner (GP) to obtain a Functional Assessment Report (FAR) *. The cost of an assessment varies, so do contact your preferred assessor for more information.
 If you have applied for other severe disability schemes such as IDAPE/ElderFund, CareShield Life and MediSave Care, you do not need to obtain the FAR. Instead, contact an MOH-accredited severe disability assessor. 
Step 2: Apply online via the AIC website
Login to AIC's website with your Singpass or email them at [email protected]. You may also walk in to their office to request a hardcopy application form. If you are applying on behalf of a loved one who lacks mental capacity, you mayrefer to this website for more details.
More useful resources on Home Caregiving Grant
Financial Assistance Schemes for the Elderly
Speak to a Care Advisor
Call us at 6100 0055 or request a callback from our friendly Care Advisory team. Learn more about our range of services and find out how Homage Care Professionals can help.
Make a Care Plan together
We will work with you to develop a personalised Care Plan based on your loved one's health status, care requirements, and additional preferences.
Your personalised care begins
Together we will match you and your loved ones with an exceptional Care Professional. Stay up to date after every appointment with detailed reports on the Homage app.
Homage gave many seniors and their families peace of mind...
PM Lee Hsien Loong, National Day Rally
In partnership with
Hospitals




Community Providers



Government Organisations

Corporates

Great help to me in my time of need
My mum's helper was hospitalised suddenly and I needed urgent help to take care of my mum who has advanced dementia. Homage was able able to find caregivers for my mum within a very short notice. The caregivers possessed the skill sets that I had requested and were of great help to me in my time of need. Thank you Homage!
Bernice Loh, Google review
Professional service
Homage CP render their professional service to my dad who is a dialysis patient. CP assigned to wheel my dad to & fro from Dialysis Center within 300m walking distance. They are capable to load & unload my dad from wheelchair independently. They are friendly too. I'm looking forward to their next visit.
James, Google review
Doctor is qualified, friendly
Had a good experience with Homage's teleconsultation. The doctor is qualified, friendly and guided me on examination. She also explained my symptoms to me in detail, which is useful. The report provided has detailed information, and medicine was delivered to me on the same day even though my appointment was in the evening.
Victoria Chwa, Google review
Physiotherapist assigned is professional
Response from Homage is fast. And the physiotherapist assigned is professional in assessing and guiding my mom in her session.
Brenda Koh, Facebook review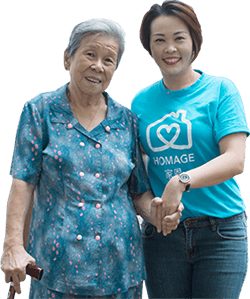 Make Home Care Personal To Your Loved One
Get started with a free consultation today, and learn why thousands of Singaporeans trust Homage to deliver the best care in their homes.
Get a Free Care Consult