Enhancement for Active Seniors (EASE)
Find out the benefits, eligibility criteria, and how to apply for the Enhancement for Active Seniors programme below.
Enhancement for Active Seniors
To reduce fall risk among seniors and to help you or your loved one to move around safely at home, you may now install mobility tools around your home to make it safer for you and your loved ones. 
The HDB EASE programme aims to provide safer and more comfortable homes for the elderly. This includes installing handlebars, anti-slip mats and ramps in the home.
Benefits
This is what you can install in your flat via the HDB EASE programme:
Slip-resistant treatment to floor tiles in up to two bathrooms or toilets

Grab bars in the flat (eight or 10 grab bars for the first toilet, and six grab bars for the second toilet)

Up to five ramps in the flat, and/or at the main entrance — if possible to construct
Singapore Citizen Households
Flat Type
1/2/3-Room
4-Room
5-Room
Executive
We Pay
$125 (5%)
$187.50 (7.5%)
$250 (10%)
$312.50 (12.5%)
Government Pays
$2,375 (95%)
$2,312.50 (92.5%)
$2,250 (90%)
$2,187.50 (87.5%)
Source: Housing Development Board (HDB)
Eligibility
You must be a Singaporean flat owner, with a member of your family living with you who is 65 years and older.
OR
You must be a Singapore flat owner, with at least one household member between the ages of 60 and 64, who needs help with one or more of the six Activities of Daily Living:

Washing
Dressing
Feeding
Toileting
Mobility
Tranferring
How to choose the right assistive device for your home with EASE
Not sure where's the best place to put a handlebar or a ramp in your home? 
Make sure that you're putting assistive devices in your home by going through an In-Person Care Assessment (IPCA) with Homage! 
Conducted by our in-house Care Specialist with at least 30 years of nursing experience, IPCA provides a holistic assessment of your loved one's living environment, as well as their cognitive and mobility skills. 
During the care assessment, areas that your loved one will be assessed include
Mobility status

Communication ability

Cognitive function

Any special needs

Living environment
During the IPCA, we will discuss any care-related concerns, plan the best care arrangements for your loved ones, and recommend mobility aids and improvements to enhance the safety of the care environment. 
An In-Person Care Assessment costs $60 per session. After the assessment, you can get ramps, handlebars and your slip-resistant flooring installed based on the recommendations by the Care Specialist. 
How to apply
Method 1 
If your block of flats is undergoing HDB's Home Improvement Programme (HIP), you can apply for EASE through this programme. Note that in this case, residents do not need to meet the age criteria to be eligible for the upgrades.
Method 2 
Visit HDB's EASE (Direct Application) e-Service
Download and complete the

forms

provided on the EASE (Direct Application) e-Service webpage

Complete this

Assessment Report

and get a doctor to endorse this report

Submit a direct application via the website
More useful resources on EASE
A Complete Guide to Enhancement for Active Seniors (EASE)
In-Person Care Assessment: What Is It and Why It Is Important
Speak to a Care Advisor
Call us at 6100 0055 or request a callback from our friendly Care Advisory team. Learn more about our range of services and find out how Homage Care Professionals can help.
Make a Care Plan together
We will work with you to develop a personalised Care Plan based on your loved one's health status, care requirements, and additional preferences.
Your personalised care begins
Together we will match you and your loved ones with an exceptional Care Professional. Stay up to date after every appointment with detailed reports on the Homage app.
Homage gave many seniors and their families peace of mind...
PM Lee Hsien Loong, National Day Rally
In partnership with
Hospitals




Community Providers



Government Organisations

Corporates

Great help to me in my time of need
My mum's helper was hospitalised suddenly and I needed urgent help to take care of my mum who has advanced dementia. Homage was able able to find caregivers for my mum within a very short notice. The caregivers possessed the skill sets that I had requested and were of great help to me in my time of need. Thank you Homage!
Bernice Loh, Google review
Professional service
Homage CP render their professional service to my dad who is a dialysis patient. CP assigned to wheel my dad to & fro from Dialysis Center within 300m walking distance. They are capable to load & unload my dad from wheelchair independently. They are friendly too. I'm looking forward to their next visit.
James, Google review
Doctor is qualified, friendly
Had a good experience with Homage's teleconsultation. The doctor is qualified, friendly and guided me on examination. She also explained my symptoms to me in detail, which is useful. The report provided has detailed information, and medicine was delivered to me on the same day even though my appointment was in the evening.
Victoria Chwa, Google review
Physiotherapist assigned is professional
Response from Homage is fast. And the physiotherapist assigned is professional in assessing and guiding my mom in her session.
Brenda Koh, Facebook review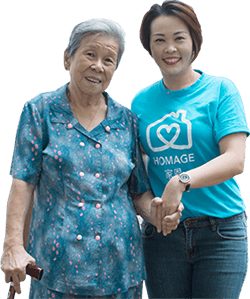 Make Home Care Personal To Your Loved One
Get started with a free consultation today, and learn why thousands of Singaporeans trust Homage to deliver the best care in their homes.
Get a Free Care Consult