Receive Wound Care & Treatment at Home in Singapore
Need treatment for an open wound? Top nurses and doctors at Homage can help with wound care and treatment in the comfort of your home, anywhere in Singapore.
Get Care Now
An Introduction to Open Wounds
An open wound refers to any cut or opening which goes through the skin, exposing the deeper layers of the skin or tissues beneath.
Homage can help the care and treatment of various wounds, including:
Bed or pressure sores
Diabetic wounds
Surgical incisions
Burns
The Importance of Wound Care
Proper wound care can help to promote quicker healing and minimise scarring. Most importantly, it reduces the risk of infection. An infected wound can make someone unwell and severe infections can lead to sepsis, which is life-threatening.
While swelling and redness around a wound when it is healing is natural, but it's important to watch out for signs of infection:
Excessively swollen
Hot to the touch
Smelly
Wetter, particularly if it is exuding pus
Exceptionally red, especially if it is spreading
If a wound is causing concerns, have it assessed by a medical professional immediately.
The Basics of Wound Care & Treatment
Choosing the right dressings can create the best environment for healing. It's also important to stay hydrated and follow a healthy diet to help your body heal itself, especially when fluid loss from wounds can contribute to dehydration and loss of electrolytes and protein.
Minor wounds can be managed at home with simple dressings and medication for pain if necessary. More serious, deep or dirty wounds should be assessed by a professional. Chronic wounds – those that take a long time to heal – may need to be dressed regularly by nurses or trained caregivers. This can be done in hospitals, clinics or at home.
The best course of treatment differs for different types of wound, so it's always best to consult a medical professional.
Need support with wound care at home? Homage can help.
Qualified nurses at Homage can provide holistic care to you and your loved ones. You can save up to 20% with our care packages for multiple sessions too. Get connected with our Care Advisors to find out more.
Get Care Now
* Rates reflected have no hidden base fees, only transparent transport and PH surcharges. Specific terms and conditions apply.
Nursing Care
from
By local qualified nurses
* Rates reflected have no hidden base fees, only transparent transport and PH surcharges. Specific terms and conditions apply.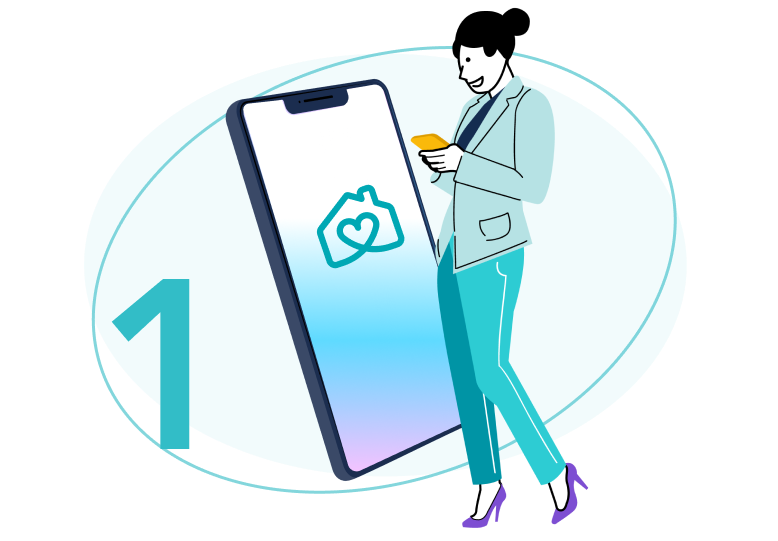 Download the Homage mobile app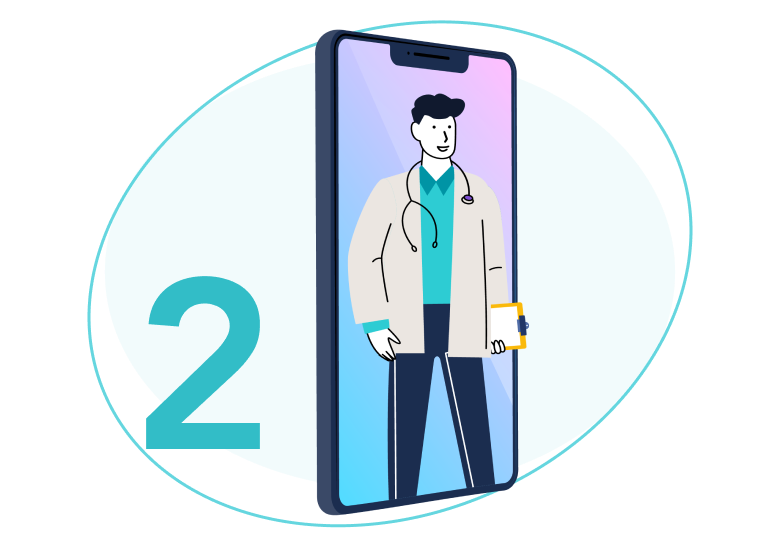 Set up a care plan and get matched to a Care Pro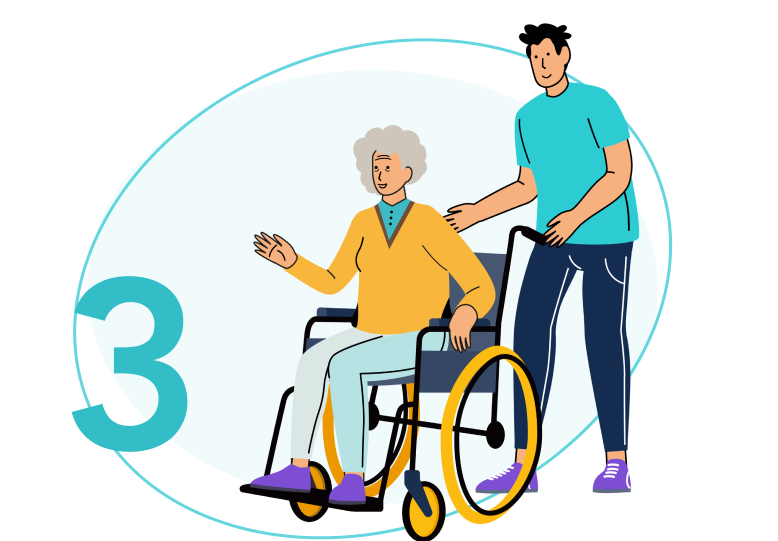 Receive care from our Care Pros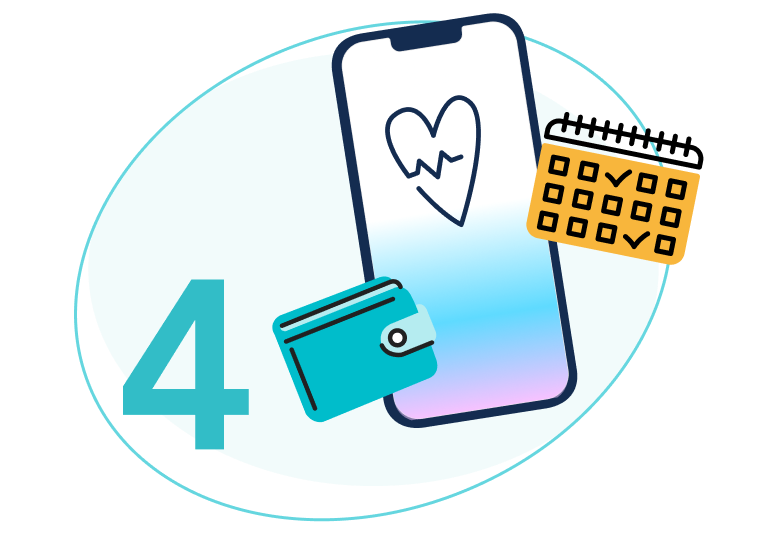 Book, manage and pay for visits all in one place
Homage gave many seniors and their families peace of mind...
PM Lee Hsien Loong, National Day Rally
In partnership with
Hospitals

Community Providers


Government Organisations

Corporates

Top questions about Wound Care
What is the fastest way to heal an open wound?
Proper wound care can speed up healing and reduce scarring. There is no one-size-fits-all solution — different wounds require different types of treatment and care.
In general, maintaining a moist, clean environment is best for wound healing. Minor wounds can usually be managed at home with simple dressing and medication for pain (if necessary). More complex wounds may require specialised treatments such as surgical debridement, draining, vacuum (suction) or VAC dressings, or even hyperbaric oxygen therapy.
It is also important to get enough rest and have a healthy, balanced diet.
How do you treat a wound at home?
Minor wounds can usually be treated with home remedies.
You should first wash and disinfect the wound, then use pressure and elevation to reduce the bleeding and swelling. Depending on the size of the wound, it can help to wrap it with a sterile wound dressing.
If the wound is not healing or seems to be getting worse, consult a doctor.
What are the 4 types of wounds?
Most wounds fall into 1 of the 4 broad categories:
Laceration: any 'cutting' or 'slicing' type of wound
Puncture: wounds caused by a sharp, pointed object (usually has minimal skin loss, but can go very deep)
Abrasion: superficial and shallow wound caused by skidding, grazing or scraping
Avulsion: serious traumatic wound where skin and subcutaneous tissue are town away or apart
Who are the Homage Care Professionals?
Homage Care Professionals are Singaporeans (and permanent residents) who are passionate and dedicated to delivering care to families and care recipients. 100% local, they are trained caregivers, qualified nurses, certified therapists and licensed doctors, each with a unique set of skills, experiences and specialisations.
Are there subsidies available for Homage IV drip treatments?
How can Homage help with wound care?
Experienced nurses at Homage can visit your home to help assess and provide the appropriate care and treatment for your wound. Besides changing wound dressing, they can also advise you on what to look out for and share tips on how you can speed up healing.
While minor wounds can usually be managed with home remedies, more serious, deep or dirty wounds should be assessed by a nurse or doctor. Chronic wounds — those that take a long time to heal — may also need to be dressed regularly by nurses or trained caregivers.
Common types of wounds that Homage nurses can help with include bedsores, diabetic wounds and surgical incisions.
More services like Wound Care
Great work homage
Right from the start from signing up for an account, to making a booking on the app, to the confirmation of a Care Asst and to the whole visit concluding, its all a seamless and worry free process. Loved this service and would recommend it to anyone who requires the extra pair of hands and legs
Ben See, Google Review
Wonderful app wonderful service
Have been using this for a year to help my grandfather who frequently gets aspiration pneumonia and has difficulty leaving the house. The app is so easy to use, and the cherry on top is the wonderful service behind the app. Had some difficulty finding a doctor recently and Hakim called me back personally twice to ensure a doctor was found. Thank you so much, cannot recommend this app more.
Ichannie, App Store
Responsive App
Very responsive app, with options to chat with caregiver, review reports and contact support team for assistance.
Nizam Mohd, App Store
Great help to me in my time of need
My mum's helper was hospitalised suddenly and I needed urgent help to take care of my mum who has advanced dementia. Homage was able able to find caregivers for my mum within a very short notice. The caregivers possessed the skill sets that I had requested and were of great help to me in my time of need. Thank you Homage!
Bernice Loh, Google review
Professional service
Homage CP render their professional service to my dad who is a dialysis patient. CP assigned to wheel my dad to & fro from Dialysis Center within 300m walking distance. They are capable to load & unload my dad from wheelchair independently. They are friendly too. I'm looking forward to their next visit.
James, Google review
Doctor is qualified, friendly
Had a good experience with Homage's teleconsultation. The doctor is qualified, friendly and guided me on examination. She also explained my symptoms to me in detail, which is useful. The report provided has detailed information, and medicine was delivered to me on the same day even though my appointment was in the evening.
Victoria Chwa, Google review
Physiotherapist assigned is professional
Response from Homage is fast. And the physiotherapist assigned is professional in assessing and guiding my mom in her session.
Brenda Koh, Facebook review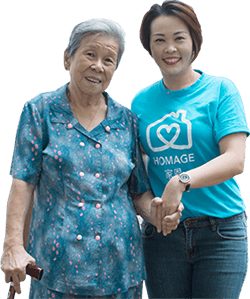 Make Home Care Personal To Your Loved One
Get started with a free consultation today, and learn why thousands of Singaporeans trust Homage to deliver the best care in their homes.
Get Care Now