Consult a Doctor Online in Singapore, 24/7
Our team of local licensed doctors at Homage are available to attend to your medical needs through a video call 24/7, anywhere in Singapore.
Book A Consultation
Why We Need Teleconsultations & Online Doctors in Singapore
While Singapore may be geographically small with a well-connected transport system, travelling to and fro home and clinics or hospitals may still be an issue for those with limited mobility.
Furthermore, visiting a doctor at the clinic can be a costly and time-consuming affair, which is another reason why many of us choose to skip the trip and self-medicate instead.
For minor ailments like the common cold, taking over-the-counter drugs and getting sufficient rest may be a viable solution. However, some symptoms could be an indication of underlying health problems and putting off the doctor's visit can lead to late detection and reduce survival rates.
Sometimes, all we need is a simple consultation with a qualified doctor to put our mind at ease and medication to manage the symptoms and feel better, and teleconsultation can do just that.
Conditions Our Online Doctors Can Treat
Cold and Flu
Digestive Problems
Migraine
Sinus Infection
Allergies
Skin Conditions
Chronic Conditions
Medical Care by Licensed Doctors Online 24/7, Anywhere in Singapore
Feeling unwell but dread the long queues at the doctor's? Have a loved one who needs medical care but is immobile or unwilling to step out of home? Need to see a doctor but can't find the time to make a visit to the clinic? Looking for a specialist referral or need a medical certificate?
With teleconsultations, you and your loved ones can get the medical care you need wherever and whenever. Save time and cost on transportation and skip the queues at hospitals and clinics.
In less than 30 minutes, get connected to a Singapore-licensed medical doctor online in the comfort of your home. Prescribed medication will also be delivered to your doorstep within the same day.
Whether you need medical attention for an acute illness or follow-up consultation for a chronic condition like diabetes, qualified doctors can help.
Getting quality medical care in Singapore has never been more convenient.
Cost of Telemedicine in Singapore
On average, consulting a doctor online costs approximately $20 to $25 in Singapore, but subsidies and insurances are available to offset some or all of the cost.
Book A Consultation
Note: if you have a life-threatening condition or experience symptoms such as acute/severe chest or abdominal pain, bleeding or deep wounds, breathing difficulties, a fit and/or epileptic seizure, sudden numbness or weakness, or slurred speech, please visit the A&E immediately or dial 995.
Speak to a Care Advisor
Call us at 6100 0055 or request a callback from our friendly Care Advisory team. Learn more about our range of services and find out how Homage Care Professionals can help.
Make a Care Plan together
We will work with you to develop a personalised Care Plan based on your loved one's health status, care requirements, and additional preferences.
Your personalised care begins
Together we will match you and your loved ones with an exceptional Care Professional. Stay up to date after every appointment with detailed reports on the Homage app.
Homage gave many seniors and their families peace of mind...
PM Lee Hsien Loong, National Day Rally
In partnership with
Hospitals




Community Providers



Government Organisations

Corporates

Top questions about Online Doctors
How much does an online consultation cost?
The prices for a basic consultation with our online doctors start from $20/session onwards. Each consultation will take up to 30 minutes.
What do I need to prepare prior to a consultation?
Make sure that you have the Homage app installed on your smartphone and have your NRIC at hand as you need to show it at the start of the consultation for verification.
In addition, it will be good to have your vital sign readings ready to facilitate the consultation.
How long is the wait to see a doctor online?
The average waiting time for the next available consultation would be 20-30 minutes. You may also schedule an appointment with our doctors in advance at your preferred timing.
Who are Homage's doctors?
All our doctors are 100% Singaporeans and registered with the Singapore Medical Council (SMC). Each individual undergoes stringent background and qualification checks, in addition to a face-to-face interview before joining Homage.
Can I cancel or reschedule my booking?
You can cancel your booking. However, there may be a cancellation fee involved.
To cancel or reschedule, please contact our Care Advisory at 6100 0055 or [email protected].
If I miss an appointment, will I still be charged?
Yes. If you miss your scheduled consultation time, you will be charged a no-show fee.
What conditions can be treated by a doctor online?
Our telemedicine service is suitable for mild, common symptoms and follow-up consultations for chronic conditions. Here is a list of conditions that our doctors can treat online:
Cold and flu
Sinus infection
Headaches and migraines
Digestive problems
Simple respiratory problems
Skin conditions
Allergies
Other non-severe conditions
If you have a life-threatening condition or exhibit emergency symptoms such as acute chest pain or severe abdominal pain, please visit the A&E department or dial 995 immediately.
Is consulting an online doctor safe?
Your privacy and confidentiality are important to us.
Video consultations will take place in our Homage app fully developed in-house, so you can rest assured that no third-party will have access to your personal, medical and payment information.
What should I do if my internet gets disconnected mid-consultation?
You will be able to reconnect and enter your video consultation room as long as it is within the consultation time limit. Should you experience difficulty connecting during a teleconsultation, please contact our Care Advisors at 6100 0055 or [email protected].
More services like Online Doctors
Great help to me in my time of need
My mum's helper was hospitalised suddenly and I needed urgent help to take care of my mum who has advanced dementia. Homage was able able to find caregivers for my mum within a very short notice. The caregivers possessed the skill sets that I had requested and were of great help to me in my time of need. Thank you Homage!
Bernice Loh, Google review
Professional service
Homage CP render their professional service to my dad who is a dialysis patient. CP assigned to wheel my dad to & fro from Dialysis Center within 300m walking distance. They are capable to load & unload my dad from wheelchair independently. They are friendly too. I'm looking forward to their next visit.
James, Google review
Doctor is qualified, friendly
Had a good experience with Homage's teleconsultation. The doctor is qualified, friendly and guided me on examination. She also explained my symptoms to me in detail, which is useful. The report provided has detailed information, and medicine was delivered to me on the same day even though my appointment was in the evening.
Victoria Chwa, Google review
Physiotherapist assigned is professional
Response from Homage is fast. And the physiotherapist assigned is professional in assessing and guiding my mom in her session.
Brenda Koh, Facebook review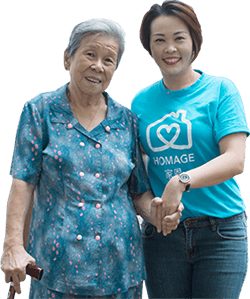 Make Home Care Personal To Your Loved One
Get started with a free consultation today, and learn why thousands of Singaporeans trust Homage to deliver the best care in their homes.
Get a Free Care Consult