Stoma Bag Change in Singapore
A stoma bag is commonly used for collecting waste for individuals with obstruction to the bladder or bowel. Need help to change a stoma bag? Book a Homage nurse to perform the procedure at home today!
About Stoma & Stoma Bags
A stoma is an opening on the abdomen that is connected to your digestive or urinary system to allow waste (urine or faeces) to be diverted out of your body. It looks like a small, pinkish, circular piece of flesh that is sewn to your body. It may lie fairly flat to your body or protrude out. Your stoma has no nerve endings so you should feel no pain from it.
A stoma bag, also known as a colostomy bag, is a medical device that fits securely around the stoma. It provides a means for the collection of waste and is made from a breathable material and fixes to the skin using medical grade adhesives.
Who Needs a Stoma Bag?
Stomas can be temporary or permanent. Usually, those with obstruction to the bladder or bowel will require a stoma.
Stoma Bag Change Procedure
Items Needed
Stoma wafer: brand, type and size
Stoma bag: brand, type and size
Stoma adhesive paste, strip or powder (if required)
Latex gloves
Gauze, wet wipes, tissue and alcohol swabs
Skin barrier films
Scissors
Requirements
Ensure that you have the items above at home

1 way taxi fare will be required for our nurse to purchase the consumables if needed
Cost of Stoma Bag Change Procedure in Singapore
Our nurses are equipped with the skills to change stoma bags. Rates for the procedure can be seen below
Get a Free Care Consult
* An additional $30 surcharge applies for urgent requests within 24hrs. Procedure is NOT included in the ADL & simple nursing package rates.
* An additional $30 surcharge applies for urgent requests within 24hrs. Procedure is NOT included in the ADL & simple nursing package rates.
Speak to a Care Advisor
Call us at 6100 0055 or request a callback from our friendly Care Advisory team. Learn more about our range of services and find out how Homage Care Professionals can help.
Make a Care Plan together
We will work with you to develop a personalised Care Plan based on your loved one's health status, care requirements, and additional preferences.
Your personalised care begins
Together we will match you and your loved ones with an exceptional Care Professional. Stay up to date after every appointment with detailed reports on the Homage app.
Homage gave many seniors and their families peace of mind...
PM Lee Hsien Loong, National Day Rally
In partnership with
Hospitals




Community Providers



Government Organisations

Corporates

Top questions about Stoma Bag Change
What's the difference between a stoma and colostomy bag?
A stoma bag is a general term that refers to the bags that collects stool, gas and urine via a stoma. A colostomy bag is a subset of stoma bags, referring to the bag that collects stools and gas from a stoma that is connected to the large intestine.
How long can you leave a stoma bag on for?
Stoma bags are designed to be worn for between three to seven days, under normal circumstances. Changing the bag too frequently can cause skin irritation problems as can leaving the bag on for too long.
Date the tape on the pouch or mark your calendar to remind you when the pouch was last changed. If you feel itching or burning on the skin around the stoma (where the colostomy enters your body), change the pouch promptly. These sensations may be signs of a leak.
Who are the Homage Care Professionals?
Homage Care Professionals are Singaporeans (and permanent residents) who are passionate and dedicated to delivering care to families and care recipients. 100% local, they are trained caregivers, qualified nurses, certified therapists and licensed doctors, each with a unique set of skills, experiences and specialisations.
Are there subsidies for Homage's stoma bag change services?
Yes. If you meet the eligibility criteria, you can apply for financial subsidy under the
Home Caregiving Grant
 to defray the cost of caregiving services.
How fast can I receive care by Homage?
Once you have confirmed that you would like to engage a Homage Care Professional for urine bag drainage, we can match you or your loved one with a suitable Care Professional as fast as within 24-48 hours.
Urgent cases that require care within 24 hours will be matched on a best effort basis. Do take note that a $30 surcharge applies for urgent cases.
More services like Stoma Bag Change
Great help to me in my time of need
My mum's helper was hospitalised suddenly and I needed urgent help to take care of my mum who has advanced dementia. Homage was able able to find caregivers for my mum within a very short notice. The caregivers possessed the skill sets that I had requested and were of great help to me in my time of need. Thank you Homage!
Bernice Loh, Google review
Professional service
Homage CP render their professional service to my dad who is a dialysis patient. CP assigned to wheel my dad to & fro from Dialysis Center within 300m walking distance. They are capable to load & unload my dad from wheelchair independently. They are friendly too. I'm looking forward to their next visit.
James, Google review
Doctor is qualified, friendly
Had a good experience with Homage's teleconsultation. The doctor is qualified, friendly and guided me on examination. She also explained my symptoms to me in detail, which is useful. The report provided has detailed information, and medicine was delivered to me on the same day even though my appointment was in the evening.
Victoria Chwa, Google review
Physiotherapist assigned is professional
Response from Homage is fast. And the physiotherapist assigned is professional in assessing and guiding my mom in her session.
Brenda Koh, Facebook review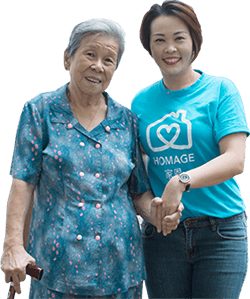 Make Home Care Personal To Your Loved One
Get started with a free consultation today, and learn why thousands of Singaporeans trust Homage to deliver the best care in their homes.
Get a Free Care Consult