Book a Private Ambulance for Non-Emergencies in Singapore
If your loved one with limited mobility needs support with commute, we can help. Book a private ambulance for non-emergency situations in as quick as 2 hours, islandwide.
Get a Free Care Consult
Over 10,000 of 995 Calls Were Non-Emergency Cases in 2018
The ambulance service in Singapore not only serves as patient transport, but importantly, it's an emergency medical service with highly trained paramedics and equipment. Calling 995 for non-emergencies means fewer resources are available for real emergencies and may cost lives. As of 2017, the Singapore Civil Defence Force (SCDF) has also decided to stop ferrying non-emergency cases.
However, this is not to say that situations that are not immediately life-threatening do not deserve medical attention. Those with conditions such as pneumonia and serious skin infections must still to get to a hospital as soon as possible for treatment, but there are many ways to do so besides calling 995.
In non-urgent situations, most of us are able to make our way to the clinic or hospitals on our own using public transport, taxis or private-hire cars, sometimes with the help of a family member, friend or medical escort. Unfortunately, those who are bedridden, have limited mobility, or require support equipment such as oxygen and IV drip during transport, may still face difficulty getting to medical facilities.
Non-Emergency Ambulances Can Help With
Slight abdominal pain
Chronic pain
Hospital discharge and admission
Medical appointment
Transfer
Therapy and dialysis appointment
Quick, Fuss-free Ambulances for Non-Emergency Cases
Thankfully, private ambulance services are available in Singapore if you need medical attention for a non-life-threatening condition and support getting to a medical or care facility. Ambulances typically arrive within 2 hours or less and are able to provide necessary care and equipment (such as oxygen) should you require specialised care on the way to the hospital.
Those with limited mobility or require support equipment during transport can now access medical care and travel safely in a stretcher accompanied by trained medical professionals. Available on-demand, private ambulance services ensure that everyone, regardless of mobility, can have easy and convenient access to medical care and travel to and fro hospital and home, fuss-free.
Cost of Non-Emergency Ambulance & Medical Escort Services in Singapore
Calling an ambulance is free for medical emergencies, but SCDF charges an ambulance fee of $274 for non-emergency cases. If you need a private ambulance for non-emergencies, Homage can help. We work with partner organisations to provide non-emergency ambulance services for a holistic care experience.
Get a Free Care Consult
One-way Non-emergency Ambulance
from
By a licensed medical team
Two-way Non-emergency Ambulance
from
By a licensed medical team
Medical Escort
from
By a trained Care Professional
* Additional surcharges may apply for non-emergency ambulance services depending on weight, location, pick-up timing, lift accessibility and additional equipment requirements.
Speak to a Care Advisor
Call us at 6100 0055 or request a callback from our friendly Care Advisory team. Learn more about our range of services and find out how Homage Care Professionals can help.
Make a Care Plan together
We will work with you to develop a personalised Care Plan based on your loved one's health status, care requirements, and additional preferences.
Your personalised care begins
Together we will match you and your loved ones with an exceptional Care Professional. Stay up to date after every appointment with detailed reports on the Homage app.
Homage gave many seniors and their families peace of mind...
PM Lee Hsien Loong, National Day Rally
In partnership with
Hospitals




Community Providers



Government Organisations

Corporates

Top questions about Non-Emergency Ambulance
Is ambulance free in Singapore?
If you are facing an emergency, the SCDF emergency ambulance that conveys you to a hospital will be free. However, for non-emergency cases, SCDF charges $274.
For non-emergency ambulances in Singapore, you can call 1777. Charges apply and usually varies according to your needs, such as whether you need a wheelchair, stretcher or additional attendants.
How can I call an ambulance?
What happens if you call 911 in Singapore?
Understanding that many people are used to calling 911 in an emergency, all 911 calls using an international phone will be automatically routed to 999 in Singapore.
Can I call an ambulance if it's not an emergency?
What is considered an emergency?
You should only call 995 when faced with a life-threatening emergency that may result in death or serious complication if not treated immediately. This includes:
Drowsiness or unconsciousness
Difficulty breathing or choking
Sudden or severe chest pain
Sudden or severe abdominal pain that will not go away
Dislocated or broken bones
Head injuries that are followed by drowsiness, vomiting, bleeding or unusual behaviour
Injuries to the chest, abdomen, pelvis or spine
Fall from heights
Poisoning, such as drug overdose or inhalation of toxic gases
Crushed injuries
Severe allergy
Drowning
Deep burns and scalds with white or charred skin, covering a large area bigger than the size of a hand, or covering the face
Burn caused by electric shock or lightning
Non-emergencies include situations such as:
Toothache
Slight abdominal pain
Slight fever or cough
Common cold
Aches or pains which have been present for a long time
Minor bruises, cuts or broken skin
Slight burns or scalds
Mild vomiting, diarrhoea or constipation
Medical check-up or hospital follow-up
For non-emergency, you can contact us at 6100 0055 to arrange suitable transport for you, on-demand.
Why would a private ambulance be called?
Those who are bedridden, have limited mobility and/or require support equipment such as oxygen and IV drip during transport can find it difficult to access medical care at hospitals and facilities. A non-emergency ambulance can provide a safe mode of transportation to and fro medical and dialysis appointments, treatment facilities, rehabilitation therapy, and for hospital discharge and admission, all while accompanied by trained medical professionals and with the necessary equipment.
Are private ambulance services available 24/7?
Homage's non-emergency ambulance services are available daily from 9 am to 5 pm. Early pick-up before 9 am may be possible with advance booking, but additional charges may apply.
How fast can I get a private ambulance?
Non-emergency ambulances can arrive within 2 to 3 hours, but it is recommended that bookings be made 1 to 2 days in advance.
More services like Non-Emergency Ambulance
Great help to me in my time of need
My mum's helper was hospitalised suddenly and I needed urgent help to take care of my mum who has advanced dementia. Homage was able able to find caregivers for my mum within a very short notice. The caregivers possessed the skill sets that I had requested and were of great help to me in my time of need. Thank you Homage!
Bernice Loh, Google review
Professional service
Homage CP render their professional service to my dad who is a dialysis patient. CP assigned to wheel my dad to & fro from Dialysis Center within 300m walking distance. They are capable to load & unload my dad from wheelchair independently. They are friendly too. I'm looking forward to their next visit.
James, Google review
Doctor is qualified, friendly
Had a good experience with Homage's teleconsultation. The doctor is qualified, friendly and guided me on examination. She also explained my symptoms to me in detail, which is useful. The report provided has detailed information, and medicine was delivered to me on the same day even though my appointment was in the evening.
Victoria Chwa, Google review
Physiotherapist assigned is professional
Response from Homage is fast. And the physiotherapist assigned is professional in assessing and guiding my mom in her session.
Brenda Koh, Facebook review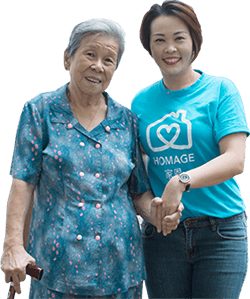 Make Home Care Personal To Your Loved One
Get started with a free consultation today, and learn why thousands of Singaporeans trust Homage to deliver the best care in their homes.
Get a Free Care Consult