Medication Administration at Home in Singapore
Need help with medication administration? Besides oral or topical medication, our team of home nurses at Homage can help with medication administration through various routes (including injections), anywhere in Singapore.
Get a Free Care Consult
An Introduction to Medication Administration
When we think of medication, tablets, pills and syrup that we get from general practitioners often come to mind. However, there are many other routes to administer medication. One common example is insulin injection.
While it may seem like a simple process, it's extremely important to get it right. Medical professionals are encouraged to aim for the following guideline when administering medication to avoid error: the right patient, the right drug, the right dose, the right route, and the right time.
Common Issues with Medication Administration
For most of us, medication administration through oral and topical routes is quite manageable. We just have to make sure we take or apply the correct dosage — which is often indicated on the label attached — at the correct time.
However, certain groups of people may need additional support and reminders. For example, an individual with dementia may forget to miss their medication or take an extra dosage because they forgot that they've taken it before. Seniors with multiple chronic illnesses may also find it hard to keep track of their complicated medication schedule.
Injections, on the other hand, can be tricky to administer. Insulin injections are simple enough to administer but have to be taken at the right times, usually multiple times a day. Those undergoing regular IV therapy such as chemotherapy or sustained courses of antibiotics may also require professional assistance.
Medication Administration at Home
Pillboxes are one way to organise your medication, especially for seniors with multiple chronic conditions. For seniors with dementia, it will be best to have a dedicated caregiver to look after them and make sure they take the correct dosage at the correct time and frequency. Those who need help with injections and IV drip treatments can consider engaging home nurses.
If you need support, our multi-disciplinary team of caregivers, nurses, doctors and therapists at Homage can help to develop personalised holistic care and medication management plan for your unique care needs.
Need support with medication administration at home? We can help.
Get a Free Care Consult
* Rates reflected have no hidden base fees, only transparent transport and PH surcharges. Specific terms and conditions apply.
Nursing Care
from
By local qualified nurses
* Rates reflected have no hidden base fees, only transparent transport and PH surcharges. Specific terms and conditions apply.
Speak to a Care Advisor
Call us at 6100 0055 or request a callback from our friendly Care Advisory team. Learn more about our range of services and find out how Homage Care Professionals can help.
Make a Care Plan together
We will work with you to develop a personalised Care Plan based on your loved one's health status, care requirements, and additional preferences.
Your personalised care begins
Together we will match you and your loved ones with an exceptional Care Professional. Stay up to date after every appointment with detailed reports on the Homage app.
Homage gave many seniors and their families peace of mind...
PM Lee Hsien Loong, National Day Rally
In partnership with
Hospitals




Community Providers



Government Organisations

Corporates

Top questions about Medication Administration
What are the different ways to administer medication?
Common ways of medication administration include:
Intravenous or IV (into a vein)
Oral (by mouth)
Intramuscular (IM) injection (into a muscle)
Subcutaneous (SC) injection (under the skin)
Intrathecal Therapy (within the spinal canal)
Rectal administration (through the anus)
Topical administration (applied to a particular place on or in the body)
Who are the Homage Care Professionals?
Homage Care Professionals are Singaporeans (and permanent residents) who are passionate and dedicated to delivering care to families and care recipients. 100% local, they are trained caregivers, qualified nurses, certified therapists and licensed doctors, each with a unique set of skills, experiences and specialisations.
Are there subsidies available for Homage's services?
How fast can I receive care by Homage?
Once you have confirmed that you would like to engage a Homage Care Professional for catheter care, we can match you or your loved one with a suitable Care Professional as fast as within 24-48 hours.
More services like Medication Administration
Great help to me in my time of need
My mum's helper was hospitalised suddenly and I needed urgent help to take care of my mum who has advanced dementia. Homage was able able to find caregivers for my mum within a very short notice. The caregivers possessed the skill sets that I had requested and were of great help to me in my time of need. Thank you Homage!
Bernice Loh, Google review
Professional service
Homage CP render their professional service to my dad who is a dialysis patient. CP assigned to wheel my dad to & fro from Dialysis Center within 300m walking distance. They are capable to load & unload my dad from wheelchair independently. They are friendly too. I'm looking forward to their next visit.
James, Google review
Doctor is qualified, friendly
Had a good experience with Homage's teleconsultation. The doctor is qualified, friendly and guided me on examination. She also explained my symptoms to me in detail, which is useful. The report provided has detailed information, and medicine was delivered to me on the same day even though my appointment was in the evening.
Victoria Chwa, Google review
Physiotherapist assigned is professional
Response from Homage is fast. And the physiotherapist assigned is professional in assessing and guiding my mom in her session.
Brenda Koh, Facebook review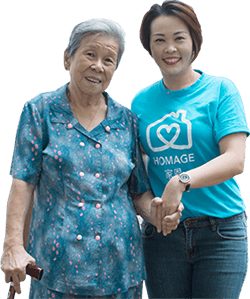 Make Home Care Personal To Your Loved One
Get started with a free consultation today, and learn why thousands of Singaporeans trust Homage to deliver the best care in their homes.
Get a Free Care Consult