Cough Medicine Delivery Anywhere in Singapore
Need cough medicine? With Homage's medicine delivery service, you can now have cough medicine delivered to your doorstep, anywhere in Singapore.
Get Care Now
Cost of Cough Medicine Delivery
Cough medicine delivery will only be available after a consultation with our doctor online.
Get Care Now
Teleconsultation
from
By local licensed doctors
Homage gave many seniors and their families peace of mind...
PM Lee Hsien Loong, National Day Rally
In partnership with
Hospitals

Community Providers


Government Organisations

Corporates

Top questions about Cough Medicine
What other medicine can Homage deliver?
Homage's medicine delivery services are available after a consultation with our doctor online. This means that the medications we deliver are for conditions that can be diagnosed and treated online.
Generally, our teleconsultation services are suitable for mild, common symptoms and follow-up consultations for chronic conditions.
Here is a list of conditions that our doctors can treat online and prescribe medications for:
Asthma, including inhalers
Hypertension or high blood pressure
Diabetes, including insulin
Digestive problems

Simple respiratory problems

Skin conditions

Allergies


Other non-severe conditions
If you have a life-threatening condition or exhibit emergency symptoms such as acute chest pain or severe abdominal pain, please visit the A&E department or dial 995 immediately.
I have a prescription. Can I skip the consultation?
We only deliver medication that is prescribed by our doctors to ensure the safety and wellbeing of families under our care.
Who are Homage's doctors?
All our doctors are 100% Singaporeans and registered with the Singapore Medical Council (SMC). Each individual undergoes stringent background and qualification checks, in addition to a face-to-face interview before joining Homage.
What do I need to prepare prior to a consultation?
Make sure that you have the Homage app installed on your smartphone and have your NRIC at hand as you need to show it at the start of the consultation for verification.
In addition, it will be good to have your vital sign readings ready to facilitate the consultation.
Can I obtain medication from other pharmacies with Homage's prescription?
Yes. With a valid prescription from Homage's doctors, you can choose to have your medicine directly delivered to your doorstep or obtain your medication from other pharmacies or clinics.
More services like Cough Medicine
Great work homage
Right from the start from signing up for an account, to making a booking on the app, to the confirmation of a Care Asst and to the whole visit concluding, its all a seamless and worry free process. Loved this service and would recommend it to anyone who requires the extra pair of hands and legs
Ben See, Google Review
Wonderful app wonderful service
Have been using this for a year to help my grandfather who frequently gets aspiration pneumonia and has difficulty leaving the house. The app is so easy to use, and the cherry on top is the wonderful service behind the app. Had some difficulty finding a doctor recently and Hakim called me back personally twice to ensure a doctor was found. Thank you so much, cannot recommend this app more.
Ichannie, App Store
Responsive App
Very responsive app, with options to chat with caregiver, review reports and contact support team for assistance.
Nizam Mohd, App Store
Great help to me in my time of need
My mum's helper was hospitalised suddenly and I needed urgent help to take care of my mum who has advanced dementia. Homage was able able to find caregivers for my mum within a very short notice. The caregivers possessed the skill sets that I had requested and were of great help to me in my time of need. Thank you Homage!
Bernice Loh, Google review
Professional service
Homage CP render their professional service to my dad who is a dialysis patient. CP assigned to wheel my dad to & fro from Dialysis Center within 300m walking distance. They are capable to load & unload my dad from wheelchair independently. They are friendly too. I'm looking forward to their next visit.
James, Google review
Doctor is qualified, friendly
Had a good experience with Homage's teleconsultation. The doctor is qualified, friendly and guided me on examination. She also explained my symptoms to me in detail, which is useful. The report provided has detailed information, and medicine was delivered to me on the same day even though my appointment was in the evening.
Victoria Chwa, Google review
Physiotherapist assigned is professional
Response from Homage is fast. And the physiotherapist assigned is professional in assessing and guiding my mom in her session.
Brenda Koh, Facebook review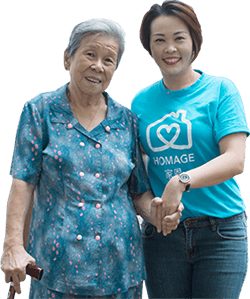 Make Home Care Personal To Your Loved One
Get started with a free consultation today, and learn why thousands of Singaporeans trust Homage to deliver the best care in their homes.
Get Care Now