Chinese New Year is around the corner, which means it's that time of year to stock our pantries with our favourite Chinese New Year goodies. Most of us might be familiar with the tried and tested classics like pineapple tarts, love letters and nian gao (New Year's sticky rice cake). This year, why not spice up your Chinese New Year with some unconventional treats instead? 
We have curated some of the best places you can get unique Chinese New Year snacks that are sure to delight your friends and relatives below. If you find that these snacks may not be suited for your relatives' palate, why not try your hand at creating your own unique goodies? Make your snacks healthier and less sinful by deciding what goes into your bakes! Read on for some recipes you can try your hand at – if they are handmade lovingly by you, we are sure your loved ones will definitely appreciate them.
What to take note of when snacking during Chinese New Year
Many Chinese New Year snacks can be high in calories and eating more than the recommended amount of calories in a day can cause us to gain weight more easily. Moderating the calories you consume is important for people with conditions like diabetes, as maintaining one's weight can prevent diabetes-related complications like kidney disease or stroke.
Most of the calories we consume come from carbohydrates and refined sugars, which are found in many common Chinese New Year snacks. Making your own snacks using recipes can be good in controlling calories as you can control the portion sizes you use in your baking. We have included recipes along with store-bought recommendations so you can take more control of your caloric intake this Chinese New Year. 
5 Unique Chinese New Year Goodies to Snack On This New Year
Butter Studio's lychee kueh bangkit
Source: Butter Studio
Many Singaporeans would be familiar with eating kueh bangkit coconut cookies during Chinese New Year. Kueh bangkit is also one of the healthier Chinese New Year snacks with the least calories, making it a healthier snack choice. Instead of getting the usual kueh bangkit, why not try them with a unique lychee twist? Butter Studio's bestselling lychee kueh bangkit comes in a vivid rose pink and each piece is individually moulded by hand. They are also halal-certified, which means that you will also be able to share them with your Muslim friends and loved ones this Chinese New Year!
Price: $22.80 per box
Promotions: You can get one of their Chinese New Year bundles which includes the Fortune Trio Cookie set consisting of sea salt almond cookies, lychee kueh bangkit and yuzu pineapple tarts ($72.00). You can also select the Golden Bundle Trio of salted egg fish skins, curry crab sticks and arrowhead root chips ($60.70) or the Prosperity Cupcakes Box ($24.00 for 6 pcs). Order and collection of all Chinese New Year seasonal items ends on 31 January 2022. 
Butter Studio also has its own rewards program where you can get 5% cashback from store purchases, birthday vouchers and other exclusive deals. You can sign up for the Butter Studios loyalty program through the QR code that will pop up on their homepage. 
Contact details: Website | Facebook | Instagram
If you are looking for caregiving services during the Chinese New Year holidays, our friendly Care Pros and Advisors are more than happy to help lighten your load so you can spend more quality time with your loved ones. 
Some of our services include:
Find out how Homage can help with your caregiving needs by filling up this form or reach out to our Care Advisors at 6100 0055.
Ding Bakery's charcoal pineapple balls
Source: CNY Goodies
Don't underestimate these charcoal pineapple balls by Ding Bakery – behind its unique black coat lies a luxurious filling of pineapple that is sure to delight your tastebuds. Not only that, its charcoal* crust comes with great health benefits as well such as detoxification and the balls do not come with any preservatives or artificial flavourings, so you can be assured that you are consuming goodies made with fresh ingredients. Other unique seasonal items to try include their matcha pineapple balls and pumpkin seed florentines.
*If you are on prescription medication, note that consuming activated charcoal might make your medication less effective. Consult with your healthcare provider to know if it is safe to consume foods containing activated charcoal. 
Price: $36.50 per box (390gm)
Promotions: Delivery is free for purchases above $100. Deliveries are 24/7 so you can have the pastries delivered from their bakery to your doorstep at any time of the day. Ding Bakery also offers $5 for every review left on their Google Business listing. The promotion is only available to customers who have spent more than $120 at their store. 
Contact details: WhatsApp | Website 
Old Seng Choong's ginger black tea cookies
Source: Old Seng Choon
Among Old Seng Choong's seasonal lineup is their ginger black tea cookies. Made with bergamot oil and black tea leaves, these cookies offer a refreshing taste similar to ginger snaps. Ginger is known to have several health benefits, including easing nausea and soothing the digestive system. They also have a wide lineup of other unique snacks based on traditional Singaporean desserts including goreng pisang, kueh kosui (steamed glutinous rice cake with tapioca starch and gula melaka) and even laksa-flavoured cookies. 
Price: $22.80 per tin (140gm)
Promotions: You can order a Festive Gift Set where you can mix and match two different seasonal items in an intricately decorated red or beige tin. The items can be any combination of their yuzu or original pineapple tarts and their black truffle, original or yuzu bak kwa. Seasonal items are available for collection until 29 January 2022. 
Contact details: Old Seng Choong has three outlets at Kampong Ampat, Marina Bay Sands, Clarke Quay Central. Contact details for each of their outlets can be found on their website. 
Starter Lab Cafe's cacio e pepe cookies
Starter Lab is a bakery that focuses on making pastries and loaves that are naturally fermented using wild yeast. If you are looking for a less sweet option for Chinese New Year, try their cacio e pepe cookies. With its name meaning "cheese and pepper" in Italian, these savoury cookies are made with spices and seeds. While it may not be a conventional Chinese New Year snack, it can be a good option for people with diabetes who need to cut back on their sugar intake. 
Price: $11.55 for bag of 10 cookies 
Promotions: Starter Lab Bakery does not currently have any ongoing promotions. 
Contact details: Website | Facebook | Instagram | Tel
The Living Cafe's pineapple chips
Source: The Living Cafe
We may be familiar with pineapple balls and pineapple tarts, but what about pineapple chips? With these snacks consisting of only two ingredients, pineapple and Himalayan salt, The Living Cafe's stands to be a healthier low-calorie option this Chinese New Year. All of their snacks are made without preservatives or artificial colourings and many of them are also gluten-free while being rich in plant-based ingredients. This makes them a great choice for your friends and loved ones who are vegetarian or vegan. 
Price: $4.00 per bag
Promotions: Let your loved ones enjoy some healthy breakfast food with The Living Cafe's breakfast boxes. Options for the boxes include gluten-free banana brownies or maple toasted buckwheat granola, activated almonds, and powerballs that come in apricot, spirulina mint and cacao goji flavours.First-time customers enjoy $5 off with a minimum of $60 spent. 
Contact details: Website | Facebook | Instagram | Tel 
5 Unique Chinese New Year Recipes to Make at Home
Black truffle chocolate pecan cookies
Give a luxurious twist to your standard chocolate cookies with this black truffle chocolate pecan cookie recipe. Choose dark chocolate to reduce the amount of sugar that you consume and for added health benefits like natural antioxidants.
Cheese pineapple tarts
Source: What To Cook Today
Pineapple tarts are typically sweet, but how about giving it a savoury taste by adding some cheese? You can make this recipe with hard cheeses like Gouda or Parmesan. You can substitute the milk powder with fresh milk or non-dairy alternatives like soy milk powder.
Pandan love letters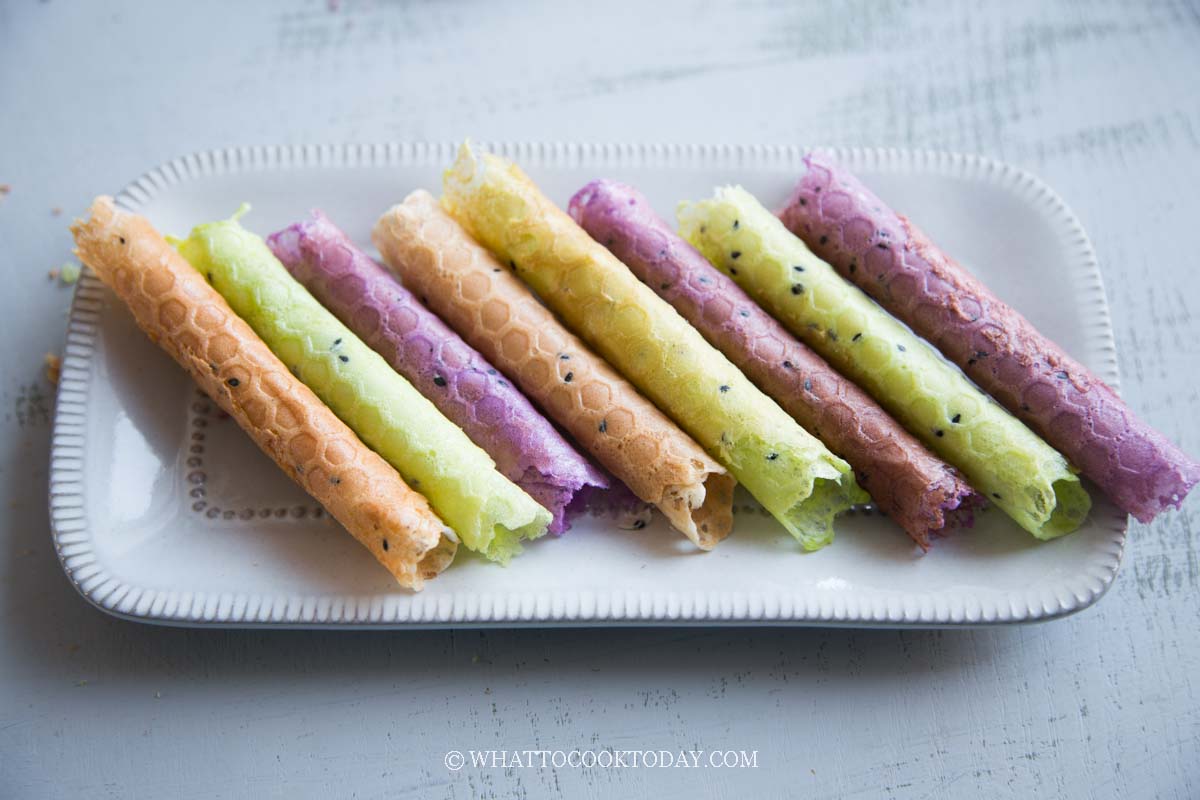 Source: What To Cook Today
We may be used to love letters, also known as kueh kapit, being a reddish-brown colour. Make your plate more eye-catching this Chinese New Year with this recipe for pandan love letters. If you grow your own edibles, this recipe would be a great way to make use of this local plant which is commonly grown in Singaporean gardens. You can even choose to dye your love letters purple with yam extract to add more colours to the festive platter!
Osmanthus sencha cookies
Source: Gryphon Tea Company
Put a twist on your standard cookie recipes this Chinese New Year by trying this recipe for osmanthus sencha tea cookies from Gryphon Tea Company. Sencha is a type of green tea, which is known to have health benefits like preventing cardiovascular disease and reducing bad breath.
Zodiac animal macarons
Source: Yoyo Chinese
Last but not least, how about making cute zodiac animal-shaped macarons to ring in the new zodiac animal of the Chinese New Year? For a healthier option you can replace the sugar with stevia which is a natural sweetener.
Need care during the festive period?
During the festive period, it can be difficult to get the healthcare that you need especially in urgent situations. Homage is here to help – our Care Pros are certified doctors and nurses who are available to assist even during the hectic festive season.
We are able to provide night care to help you look after family members round the clock, and respite care so that you can get some much-needed time to recharge especially if you are a caregiver for dependent family members. 
Provide the best care to your loved one today!  Fill up the form below for a free consultation with our Care Advisory team.