Been a while since you stepped back into the office? 
Maybe you've taken time off to focus on your family. Perhaps you're transitioning back into the workforce after a well-deserved period of rest and relaxation. No matter the circumstances, returning to the workforce after a career break can feel daunting for many of us, whether we're still searching for a job, preparing for an interview, or in the midst of adjusting back to working life. That, however, doesn't mean we must allow ourselves to be intimidated. Here in this guide, we have some simple tips to help you in your return to work. 
10 ways to ease your return to work
1. Be open about your career break
No matter the reason for your career break, it's best to be honest and open about it with recruiters and employers. If you're able to include it in your resume break and explain how your experiences during the break have contributed to your growth and fits the new role you're looking for, you may even score additional points with your potential employer.

2. Reconnect and touch base

Rejoining the workforce can also mean reintegrating yourself back into social networks and communities within your industry. As you make your comeback, it would be wise to reconnect with past colleagues, supervisors and acquaintances in the industry to catch up and look out for developments during your time away. 
3. Networking

Source: Unsplash
While you don't have to be a social butterfly, networking as you return to the workforce helps you build up your professional contacts and networks, allowing you to tap onto them for resources and expertise when you need them.
4. Practice for interviews

Interviews can be daunting for those of us who've spent a long time away from professional environments. Be sure to practice  your interview skills beforehand to make the best impression possible in your job search.

5. Be kind to yourself and others

As you search for a job or start your new role, it's important to remember to be kind to yourself and others. Frustration can easily build up over teething difficulties or obstacles in landing your dream job. Being kind to yourself and others helps to lessen your stress and adjust to your new life goals or professional environment better.

6. Create new routines
Creating new routines and sticking to them can help you adjust to the new rhythm of your work, once you start your new role.
7. Plan ahead

Source: Unsplash
Be proactive with your tasks and schedules and plan ahead. This will help you to maintain a healthy work-life balance and ensure that you're not overwhelmed by your new role. 

8. Keep an open mind

Things may have changed a lot in the time since you've taken a break from the industry, and you may find yourself learning from those who have had less experience than you but are more up-to-date on current industry developments. Keep an open mind and being humble as you learn will help in adjusting you to a new role and environment.

9. Make time for yourself

In the excitement of starting your new role, you may have been overzealous and overcommitted to learning as much as possible by taking on too much responsibility. While this is not necessarily a bad thing, remember to make time for yourself and the activities you enjoy to avoid burning out.
10. Focus on what's enjoyable

Source: Unsplash
Finding a new role and growing into it can be very fulfilling as you figure out new life goals and rediscover a sense of purpose in your professional development. Focus and reflect on what you find enjoyable and take pride and joy in it.
Jobs in Singapore to take on after a career break
1. Freelance Caregiver (Homage)
According to a Channel News Asia article, the demand for specialised care services for the elderly have been on the rise in Singapore. Apart from providing companionship and assisting with seniors' daily activities, caregivers can also choose to specialise in caring for those with specific conditions such as dementia, diabetes, or those who have suffered from a stroke.
Being a freelance caregiver with Homage means that you can control your working hours and work as little or as much as you'd like without any minimum commitment and enjoy insurance coverage. Plus, as training and development courses will be provided, you do not require prior experience to become a caregiver with us.

Find out more here. 
💰 Earn over $5,000 per month as a Homage Care Professional
Are you interested in joining the private home care sector? Control your working hours with Homage by choosing between freelance, part-time and full-time opportunities — even if you have no experience, there are also paid opportunities for you to assist the elderly with their
daily living activities
. 
Find out the benefits of being a Homage Care Pro here and join us in making a difference today!
2. Freelance/Contract nurse (Homage)
If you have nursing qualifications and are looking to return to the workforce as an enrolled nurse or staff nurse, Homage's short-term contract jobs may be perfect for you. You'll get to work on a fixed or flexible schedule depending on your preference. Short-term opportunities ranging from 3 to 6 months are available at community hospitals and nursing homes in Singapore. Monthly payouts are guaranteed for such roles. Additionally, short-term contract work could be a great way for you to ease yourself back into a routine. Alternatively, you may consider joining Homage as a freelance or part-time nurse as well.

For more information on our nursing roles, click here.

3. Personal Assistant 

Personal assistants generally handle administrative work and logistical arrangements for executives, such as managing and coordinating appointments. While being a personal assistant requires you to be detail-oriented and quick to adapt to changes, the work will become much more manageable as you learn about the workings of the organisation.
4. Administrative Assistant

Doing clerical work, answering phone calls and emails, as well as bookkeeping, are part and parcel of the role. As such, time management and organisation skills are important for Administrative Assistants. Administrative roles typically require proficiency in Microsoft Office tools. If you are looking for online resources to get you familiarised with Microsoft tools again, various tutorial videos are available on Microsoft 365 Training.
5. Teacher/Tutor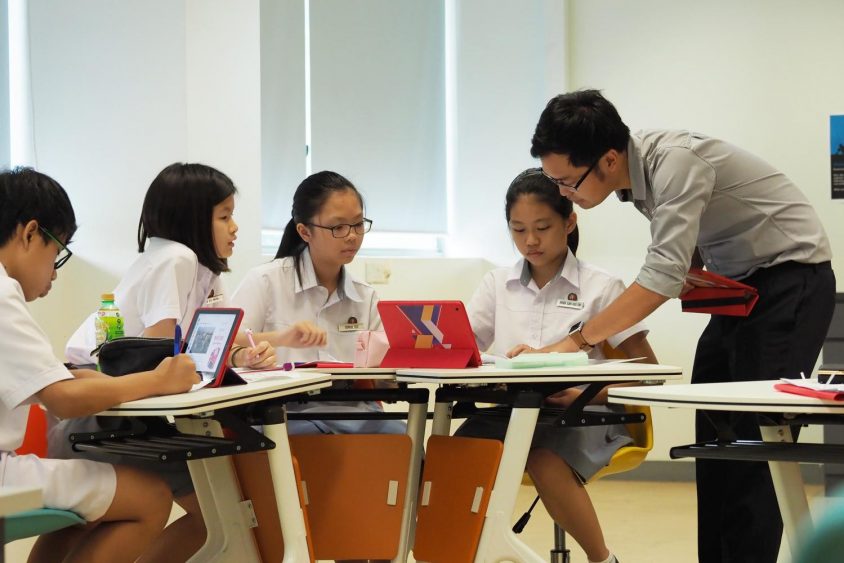 Source: TODAY 
If you're passionate about working with kids, then why not consider being a teacher or tutor? Teaching may be slightly challenging for those without prior experience, but it will be undoubtedly fruitful and satisfying once you've gotten the hang of it. You may consider being an adjunct or relief teacher on a short-term contract, or apply for a mid-career entrant programme with the Ministry of Education. 

6. Promoter

Promoters depend on salesmanship and other soft skills to represent brands and sell products. Formal qualifications are not as important as your ability to relate to others, how well you can communicate with them, and your knack for persuasion. This might be a good role for you if you're looking for something new and fun with opportunities to meet lots of different people.

7. Accountant

Accountant roles require highly specialised skills with proper accreditation. However, it can be a good option for you if you are looking to expand your skillsets and pursue a niche skillset and intensive career development. Learn more about the Singapore Chartered Accountant Qualification Foundation Programme and how you can take your first step towards a career in accounting. 

8. Return-to-Work Professional Programmes

Many organisations also offer tailored Return-to-Work professional programmes, designed to help mid-career switchers or career returnees. The SGUnited Mid-Career Pathways Programme attacheds mid-career employees to organisations relevant to their industry to boost their employability, while WSG's Career Conversion Programmes resells Singaporeans and train them for new capabilities. You may also consider picking up new skills under the Singapore Workforce Skills Qualifications (WSQ) with your SkillsFuture credit. 
For a more extensive list of such programmes, click here.
Coming back to the workforce? Consider a career with Homage.

We hope that this guide has been useful for you as you plan your return to work.
If you are interested in joining the healthcare industry and making an impact on the lives of others, but have no prior healthcare experience, being a caregiver is a great way to start and boost your resume.
⏰ Flexible work schedules, better work-life balance
---