Caregiving can be a difficult responsibility to take up. Whether you are a primary caregiver who is responsible for attending to a family member's needs most of the time, or are helping to look after a loved one occasionally, you are likely to have to prioritise your loved one's needs before your own. Over time, your risk of burnout may increase, especially if you do not have enough time and energy to look after your own well-being.
In this case, short-term relief care, also known as respite care, can help to lift the weight of caregiving off your shoulders temporarily. 
What is respite care?
Respite care refers to care that allows primary caregivers, like you, to take a break and step away from your care duties for a short while.
Respite care can be helpful in multiple ways, and one way is to arrange for someone to support you in tending to your loved one's care needs for the long term. For instance, you may be a primary caregiver to an elderly loved one, such as your grandparent, when you are working from home from Mondays to Fridays. However, you would like to hire extra help to look after your grandparent during the weekends. This would allow you to attend to other responsibilities, run errands, catch up on rest, or simply have time to take care of yourself for one or two days. 
Respite care can also look like intensive care support over a shorter period of time. Such arrangements can be helpful if you are unavailable—if you are going overseas for a work or family trip for a few weeks, for instance. In other cases, short-term but intensive care arrangements can be useful when you want to step away from your caregiving responsibilities completely. 
Why is respite care important?
As mentioned above, respite care can free up your time and energy if you need to take time off to attend to your errands or want a break for any reason. More importantly, asking for help can help you to lessen your risk of caregiver burnout in the long term.
Source: Pexels
You might notice yourself exhibiting these symptoms of caregiver burnout, which stems from the state of chronic stress that many caregivers experience:
Feeling unhappy, more irritable, anxious, or snappy

Avoiding or neglecting other activities, such as social activities

Tendency to feel physically tired more easily than before

Difficulties with falling asleep
For tips on navigating caregiver burnout, do read our guide here.
Unfortunately, the reality of caregiver burnout is that it can negatively affect your own physical and emotional health.
Apart from allowing you to have a breather, respite care options can help to ensure that your loved one continues to receive sufficient attention and a good level of care from trained and trusted professionals.
Respite care can allow you and your loved one to have a better experience—for you, as a caregiver, and for them, as the care recipient. 
What can our Care Pros help you with?
Did you know that our pool of over 10,000 Care Professionals are trained caregivers, with many of them having previous work experiences as nurses? Here are examples of what our Care Pros can do during home visits:
1. Accompanying and assisting your loved one with daily activities
Your loved one may require extra support when getting around the house, such as needing to be held by the waist when they are walking or requiring someone to push their wheelchair. They might also need help with other activities of daily living (ADLs), such as relieving themselves in the washroom, changing their clothes, or eating and drinking.
Our Care Pros can also look after your loved ones with dementia, helping them carry out their daily routines and making sure that they stay safe while doing so. Take Care Pro Christina, a dementia-trained caregiver who struck up a special bond with her care recipient, Madam Ganesiah, over their shared interest in art and handicrafts.
Read how our caregivers like Christina can make a difference and give your family peace of mind here.
2. Nursing care and procedures
Source: iStock
If your loved one has just been discharged from the hospital after a stay or a surgical operation, you may need some time to familiarise yourself with the know-how of cleaning wounds, wrapping bandages, or helping your loved one with an IV drip, a catheter, and tube feedings.
Even with instructions from nurses and doctors, carrying out these procedures at home and on your own may be intimidating. Homage's trained and trusted private nurses can help you and your loved one with such procedures, as well as other procedures like injections.
3. Palliative care and end-of-life care
Caring for a loved one during the end of their life is never easy and can take a huge emotional and psychological toll on you. However, having the guidance and experience of a trained professional during this time can make it easier for you and your family.
4. Night care 
Research has shown that providing care at night lowers your sleep quality. In fact, the effects of night caregiving are more adverse if are looking after a loved one who stays in the same household and has life-limiting conditions, such as dementia or cancer.
Being a primary caregiver, you may find yourself waking up more often at night as you anticipate that your loved one might need your care or assistance. In other cases, you may not want your loved one to remain awake alone when they are unable to sleep. In any case, looking after someone at night can be challenging and harm your health in the long term.
Planning your loved one's care session with a Care Pro
You may be wondering: How exactly can Homage's Care Pros support you and your family with your loved one's care?
Your loved one's care plan, including the length and frequency of care sessions, can be customised to fit your and your family's schedule. Furthermore, you can tailor your care sessions to not just cater to your loved one's care needs, but what they wish to do as part of their daily routine.
Here's an example of what a session with Homage might look like for you and your loved one: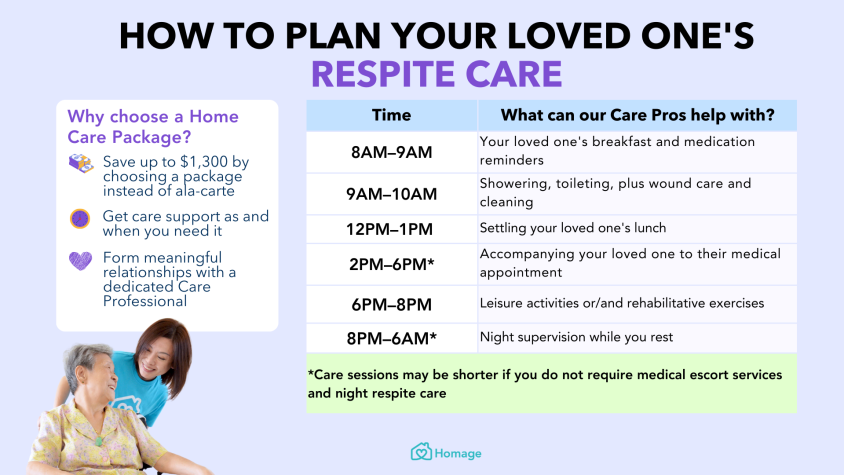 8AM–9AM: Breakfast and medication reminders
Our Care Pro can arrive at your home after purchasing breakfast for your loved one. After that, they can remind them to take their daily medication.
We understand that you may need an additional pair of hands to help with transferring your family member to a wheelchair. In this case, our Care Pros are able to assist you so that you do not hurt yourself in the process. 
Even if you have to leave the house to go to work or attend to your tasks, your loved one will have company and will receive the support they need. 
9AM–10AM: Helping your loved one stay comfortable and clean
Depending on your loved one's preferences and needs, our Care Pro can attend to your loved one's hygiene needs, including showering or bed sponging them. 
Should your loved one have just had surgery, our Care Pros are also able to dress and dry their wounds, as well as keep the surgical area clean. 
12PM–1PM: Lunch and simple housekeeping
While our Care Pros are able to cook simple meals for your loved one, you can also request for them to purchase additional food for your loved one's lunch before starting the visit in the morning.
Thereafter, our caregivers can assist your loved one with light housekeeping duties, such as washing your loved one's dishes or making their bed.
2PM–6PM: Accompanying your loved one to a medical appointment
Your family member may have a recurring medical appointment that they need to attend and need additional help with getting to the clinic or the hospital. In this case, our Care Pros will be able to arrange for your loved one's transport. They can accompany your loved one if they wish to take public transport, or arrange for private transport options such as wheelchair-accessible taxis and ensure that your loved one gets to their appointment safely.
Plus, our Care Pros can also help with relaying any information from doctors, nurses, or therapists to you, so that you are kept informed about your family member's health condition and medication details.
During these appointments, our Care Pros can also help with translation if necessary, so that your loved one can better communicate with their doctor.
6PM–8PM: Leisure activities and rehabilitative exercises
After dinner, you can request for the Care Pro to plan activities for your loved one, such as simple arts & crafts, jigsaw puzzles, or bringing your loved one to a nearby park for a walk. Alternatively, our Care Pro can help with light stretching and rehabilitative exercises in the comfort of your loved one's home. 
If your loved one requires care only when your family is working during the day, our Care Pros will be able to stay with your loved one until you or your family members return home.
8PM–6AM: Getting your loved one ready for bed and night supervision
If your loved one needs round-the-clock care, another Care Pro will be taking over the night shift. Do note that our Care Pros can only take on a maximum of 12 hours per shift for 24-hour care. 
Alternatively, you can also plan for care visits at night if you require only respite care during nighttime.
You can request that the Care Pro help with transferring your loved one to their beds, and they can make sure that your loved one is comfortable before they go to sleep.
If your loved one wakes up in the night, our Care Pros can also attend to their needs, whether it be assisting them to get to the washroom or the commode, helping them change to a fresh diaper, or staying with them if your loved one is unable to fall back asleep. 
Alternative respite care options in Singapore
1. Senior daycare centres
Daycare centres in your neighbourhood, many of which cater to those who have specialised care needs such as dementia, can provide respite care during the day.
These daycare centres can be a great option if you need care support only during the day. However, if your loved one has special and complex care needs, or needs supervision at night, daycare centres may not be the best option for your family. 
2. Nursing homes
With their team of healthcare professionals, nursing homes can be a great option if your loved one has specific care needs, such as wound cleanings and dressings, NGT tube feeding, stoma management, or need extra attention at night.
However, while nursing homes in Singapore do extend their care to families who need respite, this option may not be suitable if you are looking for flexible care or need long-term help. This is because respite care services by nursing homes are available for a minimum of 7 days per stay, and your loved one cannot stay for more than 30 days per year.
What this means is that if you need respite care for only a few hours a day, or any period that is fewer than 7 days and more than 1 month, this option may not be best for you.
Respite care providers
Cost per month
NTUC Health Nursing Homes
- $700 to $2,600 per month, depending on means testing and qualifications for government subsidies
- $4,500 per month if private rates
Senior daycare centre
- From $1,400 without subsidies
- Subsidies depend on means-testing
Dementia-specialised daycare cenyre
- From $1,740 without subsidies
- Subsidies depend on means-testing
Click here to learn more about the various eldercare options in Singapore.
How much does respite care usually cost in Singapore? 
The cost of respite care in Singapore is heavily dependent on your loved one's qualification for government subsidies and grants, as well as the type of service that you hope to engage.
Costs may also vary depending on whether your loved one stays in a single-bedder or regular room at a nursing home.
---
With Homage's respite care options, you can have time to rest – whether it's taking a few weeks off your caregiving duties completely, or getting professionals to step in on a regular basis so that you have time and energy to attend to your other obligations.
From night care to specialised dementia care, our trained Care Pros are able to support your family with flexible, short-term care options.
If you'd like to find out more about our care services and how you can get support with looking after your loved one, fill in the form below and our Care Advisory Team will be in touch shortly.
References
Caregiving at night: Understanding the impact on carers (2011). Retrieved from https://www.sciencedirect.com/science/article/abs/pii/S0890406510000836. Journal of Aging Studies.