As time goes by, we get older, and so do our parents and grandparents. For our elderly loved ones, mobility issues that affect their day-to-day life only become more common as they get on in years. 
To stay healthy in our golden years, we need to maintain optimal mobility — in other words, retain the ability to move freely and easily while going about our daily lives. Taking part in daily physical activity as well as having a balanced and healthy diet both contribute to healthy joints and muscles. However, a decrease in mobility is only natural with age, so sometimes a little help is needed.
Here's a guide to everything you need to know about mobility aids and how they can assist your elderly loved ones as they take on the day.
Who Needs Mobility Aids?
Many Singaporean seniors seem to have aged healthily — statistics from the Ministry of Social and Family Development (MSF) in 2013 show that 97.5% of Singaporeans between 65 and 74 years of age were able to walk on their own. 
However, about 9.5% of Singaporeans aged 75 and above require walking aids or some form of physical assistance. As our ageing population grows, the number of Singaporeans who need mobility aids will only increase. 
You might want to consider looking into mobility aids if your elderly loved one (or you) have experienced:
Falls or almost-slips while standing or walking

Dizziness from medication

Injuries that have caused stance imbalances

Weakening in lower body strength

Getting fatigued on outings that require walking or standing

Pain when walking or standing
Note: Mobility aids aren't just for the elderly. Younger individuals who have experienced falls, got into an accident, or are disabled might require a temporary or permanent mobility aid. But for the purpose of this guide, the information will be tailored to mobility aids for the elderly. 
What Are the Benefits of Mobility Aids?
Many seniors may be reluctant to admit that they need a mobility aid due to the negative perception and stigma associated with it. In fact, you might be able to spot some elderly folks using an umbrella instead as a makeshift walking cane when they are out and about. 
However, this is not a replacement for a proper mobility aid — and can actually be dangerous. Umbrellas are not built to support weight, so they run the risk of bending or breaking, which could result in injury from a fall. Additionally, most do not have rubber stoppers that provide grip on the ground. 
For elderly individuals who have started experiencing a decline in their mobility affecting how they get around, a suitable mobility aid can greatly reduce the risk of falls and injury, while helping them find the confidence to move around by themselves. 
Picking the Right Mobility Aid
Recognising the need for a mobility aid is a big first step. The next important step is to find the right one — not all mobility aids are made equal in respect to each individual's needs. 
A senior physiotherapist at Tan Tock Seng, Ms Natalie Yee, shared: "A walking aid that is not appropriate for an individual's specific needs – for instance, using a walking aid at an incorrect height or using a walking cane instead of a walking frame – may increase his risk of falls." 
If in doubt, do consult a healthcare professional (such as a physiotherapist) on which aid would be most suitable — this will help you make the best choice. 
6 Types of Mobility Aids for the Elderly
1. Walking Canes
Walking canes offer the least amount of support out of the six and are designed to assist with balance or to decrease weight from an affected leg. These are suitable for individuals who only need a bit of support. 
A walking cane is handy for short distances and crowded spaces, where using a walking frame may be a challenge. These canes are easy to tuck out of sight and transport when not in use — especially if you get a foldable one. 
Walking cane handles come in many shapes and sizes, from the classic crook to contoured ergonomic handles. Look for a walking cane with a comfortable ergonomic handle — which are designed with comfort and support in mind — and a sturdy tip.
To determine which walking cane height is best, place the tip of the walking cane about 15cm away from the outside of the foot while gripping the handle. If you can stand upright while maintaining a slight bend of the elbow (about 15 to 30 degrees), then that height should be good for you. 
2. Quad Sticks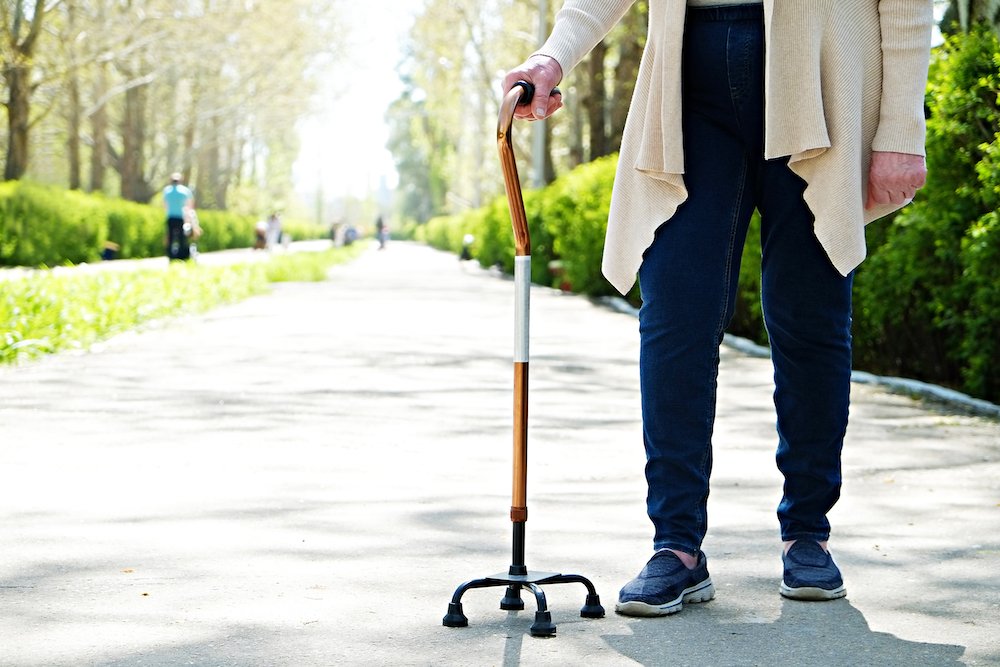 As opposed to the single point walking cane, a quad stick has a metal base on the bottom with four small rubber-capped feet extending from the base. They come in two types, narrow and broad-base, and are generally more stable compared to walking canes. 
Other than that, the same principles as walking canes apply when choosing and using a quad stick. Make sure that all four points of the quad stick are in contact with the ground when using it, and be careful while using it around kerbs and on stairs. 
3. Walking Frames
Walking frames have a lightweight metal body with four rubber-capped legs. They offer support for those who are less steady on their feet and require more support on both sides. Walking frames transfer about 64% of the user's weight through their arms, making them more stable and comfortable compared to crutches and walking canes.
If you are considering a walking frame, be sure that the individual using it is able to lift their mobility aid while moving around.
4. Rollators
For seniors who do not have the strength to lift a walking frame while moving or have issues with their cardiovascular endurance, a rollator would be a more suitable option. 
A rollator typically has four wheels and can also double up as a seat when the person using it needs a rest. The wheels also mean that it works better on uneven terrain outdoors, compared to a walker that may get stuck. Several rollators come with an attached bag, which can be pretty handy. 
There are also three-wheeled rollators that are narrower and more manoeuvrable in tight spaces. This type may be more suitable for those who are able to walk faster and do not need the in-built seat. 
5. Standard Wheelchairs
Walking aids that provide support to the lower body and enable one to move around independently plays a crucial role in preserving mobility. However, there may come a point in time when walkers or rollators just aren't enough.
Even with a walking aid, some people may still experience falls, rapid fatigue or pain when getting around. For this group, it may be good to consider using a wheelchair. In addition, for those who experience a sudden loss of mobility due to conditions such as a sudden onset of stroke or heart attack, walking aids may not be sufficient and wheelchairs may be required instead. 
It can be mentally and emotionally challenging for someone to transition from moving around by themselves to using a wheelchair, as they may feel trapped by their increasing lack of independence. Rather than switch completely from a walker to a wheelchair, you can ease into the transition by using the walker in situations where it's safe to do so, and then use a wheelchair when needed.
6. Mobility Scooters and Electric Wheelchairs
For those who are not able to use standing mobility aids or a manual wheelchair, Personal Mobility Aids (PMAs) such as mobility scooters and electric wheelchairs are available.
Unlike electric scooters, mobility scooters do not have to fulfil the weight (max 20kg) and width (max 70cm) criteria. They are also not required to register and comply with UL2272 safety standards. 
To use a PMA, the individual has to be able to get in and out of the device safely and must be able to operate the controls themselves. In Singapore, the use of mobility scooters in public paths are regulated by the Active Mobility Act (see below).
LTA Regulations on Personal Mobility Aids (PMA)
The use of mobility scooters (or PMAs) on public paths is governed by the Active Mobility Act (AMA), which came into effect in 2018. Mobility scooters can be used on pedestrian-only paths, footpaths, shared paths and cycling paths, but cannot be driven on the road.
Following the news of some vendors converting electric scooters into PMAs, the LTA implemented the criteria that from Feb 1 2019, all Personal Mobility Aids (PMAs) such as mobility scooters and motorised wheelchairs will need to have a maximum speed of 10km/h. This is to ensure that individuals with real mobility issues such as seniors and people with disabilities are kept safe. 
Which Type of Mobility Aid Is Best?
There is no one-size-fits-all solution when it comes to mobility aids. You have to choose the most suitable option depending on your loved one's needs and preferences. Here are the pros and cons of the different types of mobility aids for you to compare and figure out which is best for your loved one, and make an informed decision.
Purchasing Mobility Aids in Singapore
When it comes to purchasing mobility aids, the cost can be a concern for many, especially when taking into consideration the other healthcare needs of our elderly loved ones. 
Thankfully, subsidies such as the Seniors' Mobility and Enabling Fund (SMF) and Assistive Technology Fund (ATF) can help to offset some of the costs involved in the purchasing of mobility aids. If cost is a concern, you can also consider purchasing second-hand mobility aids or renting one.
If you are wondering where you can get your hands on these mobility aids, here are the top places to get elderly care products, from mobility aids and wheelchairs to adjustable hospital beds, at affordable prices in Singapore.