For many years, the government has worked hard to ensure that healthcare remains affordable for Singaporeans through various schemes and grants. These heavy government subsidies cover a wide range of services such as general medical care, provision of assistive devices and home healthcare items for the elderly, and even caregiver training. 
But MediSave is still one the most effective avenues that can help families to pay for medical expenses that can be quite costly. 
Read on to learn more about the scheme and how you and your family can benefit from it. 
2023 Update on MediSave: MediSave Subsidies can be used for palliative care from July 2023, home care from October 2023 
According to an update on The Straits Times, Singaporeans who are being medically cared for at home will be allowed to use their MediSave account to pay for home medical and nursing services from October 1 2023.
The Ministry of Health (MOH) will allow medical service providers funded and supported by MOH to submit claims for their homebound clients, allowing them to tap on the national medical savings scheme MediSave. This expansion in subsidy is part of a larger effort to encourage older Singaporeans to live at home instead of in an assisted living facility, making it better for their emotional and medical well-being.
MediSave subsidies will also be extended to video consultations for home palliative care services from 1 July 2023. This will support telehealth providers, which is a useful tool for community care providers.
You may find out more about the new MediSave updates in this article.
What is MediSave?
MediSave is Singapore's national medical savings scheme that helps Singapore Citizens and Permanent Residents set aside a portion of their monthly income to pay for their own or their immediate family's medical care expenses. This includes hospitalisation fees, outpatient or day surgery expenses, and even healthcare needs for the elderly. 
Unlike other financial assistance schemes in Singapore that require applicants to apply to receive aid, MediSave works in a slightly different way. As long as you are already a CPF member, you automatically contribute a part of your salary to your MediSave Account (MA) each month. This works in the same way as your CPF contributions, where a percentage of your salary is immediately deducted monthly and deposited into your CPF accounts. 
The withdrawal limits under this scheme have been set carefully to safeguard the savings of each individual and ensure that they still have a sufficient amount in their accounts for their basic healthcare needs in old age. Generally, the withdrawal limits are sufficient to cover the medical fees incurred for outpatient treatments and subsidised inpatient wards.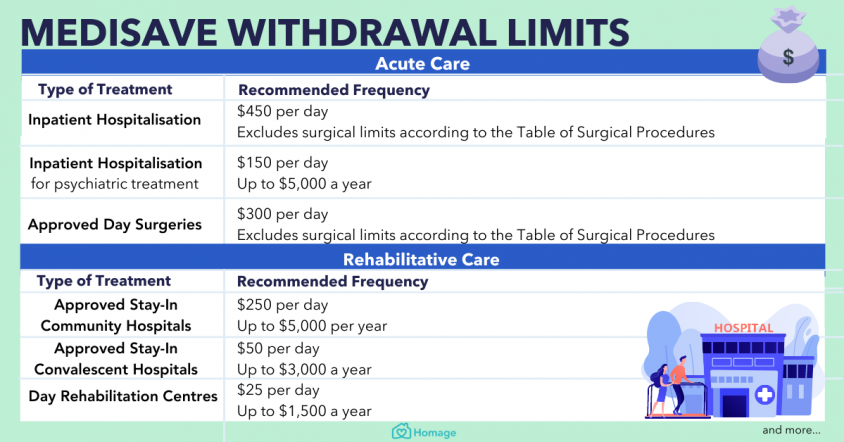 Where can I use my MediSave?
MediSave can be used almost anywhere in Singapore. You can use it at all public healthcare institutions, approved medical clinics and private hospitals. This includes day surgery centres, dental day surgery centres, government-funded community hospitals, convalescent hospitals, dialysis centres, oncology clinics and clinical laboratories, colonoscopy centres, and day rehabilitation centres for the elderly. 
Click here to view the full list of healthcare institutions in Singapore participating in the Medisave Scheme. 
What can Medisave be used for?
Unlike other government subsidies that can only be used for specific individuals and medical care needs, MediSave can be used to cover a variety of areas regarding medical care including acute care, rehabilitative care, end-of-life care, outpatient treatments, and even medical insurance premiums. 
Acute Care
Acute care services cover everything from inpatient hospitalisations and approved day surgeries. This is usually a form of short-term treatment that involves several healthcare functions such as trauma care, emergency medicine, pre-hospital emergency care, acute care surgery, and critical care. 
Here are the MediSave withdrawal limits for the various types of treatments covered under Acute Care: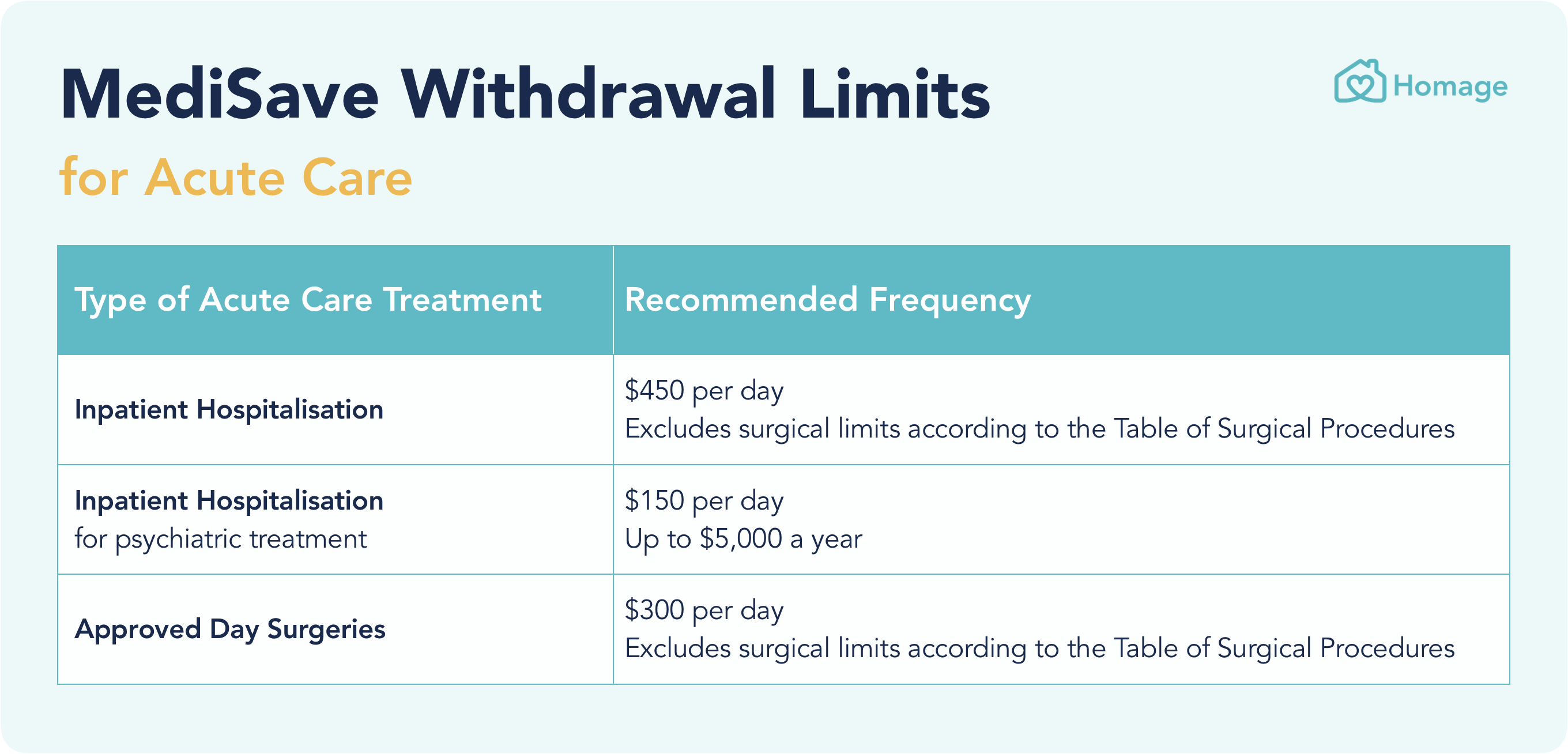 Rehabilitative Care
Rehabilitation care services focus on helping individuals regain their physical, mental, or cognitive abilities as a result of injury, disease or treatment. This enables them to function with ease once again and allow them to return to their daily lives. 
Certain hospitals and rehabilitation centres in Singapore allow patients to make a MediSave claim despite not being admitted overnight. 
These are the MediSave withdrawal limits for the types of treatments covered under Rehabilitative Care:
End-of-life Care
As much as it is difficult to talk about one's life coming to an end, there are treatments catered specifically for elderly persons and patients with critical conditions who are nearing the final stages in their lives. 
Here are the MediSave withdrawal limits for the types of treatments covered under End-of-life Care:
If you are looking for a home palliative care provider, our trained Care Pros experienced in palliative and hospice can help your elderly loved ones age in place with a customised care plan tailored to your needs. 
Outpatient Treatments
Among many Singaporeans, MediSave is most commonly used to cover the costs for outpatient treatments. It also covers a vast range of approved chronic conditions, approved vaccinations, approved health screening, and radiotherapy treatments. 
Click here to view a more in-depth and comprehensive list of approved outpatient treatments and their MediSave withdrawal limits. 
Medical Insurance Premiums
Another way you can use MediSave besides covering your healthcare needs is to pay for health insurance premiums such as MediShield Life, ElderShield, and CareShield Life. These are additional hospitalisation insurance plans that can also help defray your out-of-pocket expenses when dealing with medical emergencies and other treatments. 
Who can I use my MediSave for? 
Apart from your personal healthcare expenses, you can also use your MediSave to pay for your immediate family's medical bills. This includes your spouse, children, parents or grandparents. However, they must be Singapore Citizens or Permanent Residents in order to use your MediSave. 
How do I submit a MediSave claim?
Submitting a MediSave claim is a relatively uncomplicated process. 
First, all you have to do is inform the clinic that you intend to use MediSave as your payment option for your medical bill. This can include any of the areas covered above. From there, the staff will ask you for your NRIC/passport for verification purposes. If you are paying for your approved dependents, you will need to produce their NRIC/passport as well. 
Certain clinics may require information on your current MediSave balance before proceeding to the payment process. The necessary information can easily be accessed by logging in to my cpf Online Services. 
Upon successful verification, a Medical Claims Authorisation Form needs to be signed to allow the clinic to use your MediSave for the payment of bills. If your immediate family member or insurer is using their MediSave account to pay on your behalf, you will need to present a Letter of Guarantee as proof. After these steps have been taken, the staff will begin processing your MediSave claim. 
The Singapore Government has made this process incredibly simple to enable citizens to receive the necessary care and medical attention they need immediately. 
How do I check my MediSave balance?
Similar to how easy it is to make a MediSave claim, checking your MediSave balance is also just as simple. There is no need to visit a physical branch since this can be done online simply by logging in to my cpf Online Services using your SingPass details. From there, you will be able to see the balance you currently have in your MediSave Account (MA) as well as your Ordinary Account (OA) and Special Account (SA) under CPF. 
If you want to go further and check how much is available for chronic diseases and outpatient treatments, you can find the relevant information under the 'My Statement' tab where you will see a section on MediSave. 
How can I top up my MediSave account?
For Salaried Employees 
For salaried employees who receive a regular monthly income, your employer is required to make a deposit at the end of each month into your CPF contributions, which includes your MediSave Account. Once your salary comes in each month, you will be able to see the contributed amount reflected on the CPF portal, which should be 8% of your total salary for that particular month. 
For Self-employed Persons 
Self-employed individuals who do not receive fixed salaries each month must make MediSave contributions as long as they earn more than S$6,000 a year. Each year during tax season, IRAS will send a Notice of Computation specifying the exact amount of contributions you need to make based on your age and income. 
Self-employed persons can use the CPF Board's Self-Employed MediSave Contribution Calculator to determine how much you need to contribute. 
Voluntary MediSave Contributions 
Did you know that CPF holders can also make voluntary contributions to your MediSave Account? Here's a step-by-step guide on how to do so: 
Proceed to the

CPF website and login

with your SingPass details. 

On the homepage, navigate to the 'My Requests' tab. 

Expand the section on 'Building Up My / My Recipient's CPF Savings'. Under the 'Contribute to my Medisave account', click on 'internet banking using e-cashier'.

Select "Contribute to my Medisave" and indicate whether you'll be paying for yourself or another recipient. 

Input the desired amount you wish to contribute into your account 

Finally, confirm your payment request and proceed to make payment online. 
Tap Into Your MediSave 
If you have always been paying medical bills and healthcare expenses out-of-pocket, maybe it is time to make use of your MediSave to take some of the financial burden off your shoulders. At the end of the day, the balance in your MediSave Account is still your hard-earned money. In order to make the most out of it, it pays to use it when you or an immediate family may need it.
To learn more about the different healthcare subsidies and financial assistance schemes available for Singaporeans, have a read at our complete guide to financial assistance schemes for the elderly and caregiver grants created just for you.