There's nothing quite like a new year to make us think of the future and our hopes and dreams. But other than New Year's resolutions, there are also long and sweet holidays coming our way as 2023 ushers in 6 long weekends to grace our calendars! If you're thinking about planning a weekend getaway with your elderly parents or grandparents, then you've come to the right place. Read on for everything you need to know about Homage's guide to 10 elderly-friendly ideas for your long weekend getaway!
How many long weekends are there in 2023?
Six of Singapore's public holidays in 2023 will fall on either a Sunday, Monday, or Friday. 
The six corresponding long weekends are:
New Year's Day (Dec 31, 2022 – Jan 2, 2023)

First & Second Day of Chinese New Year (Jan 21 – Jan 24)

Good Friday (Apr 7 – Apr 9) 

Labour Day (Apr 29 – May 1) 

Deepavali (Nov 11 – Nov 13)

Christmas Day (Dec 23 – Dec 25) 
Feel free to add your own leave days to these dates to stretch your weekends out and start holiday planning! 
Short trips for the long weekends in 2023
For short trips from Singapore, we recommend taking your elderly loved ones to places within the region with short travel times and plenty of natural attractions. 
1. Cameron Highlands, Malaysia
Developed in the 1930s, Cameron Highlands is one of Malaysia's oldest tourist destinations and continues to be a darling holiday spot for many Singaporean holidaymakers. Blessed with a subtropical highland climate, the highland has cool weather all year round, making it a much-welcomed respite from Singapore's humid heat. This also makes it easy to bring your parents and grandparents around without having to grapple with complaints of heat or worries of heat exhaustion. 
Here are some attractions to include in your Cameron Highlands itinerary:
BOH Tea Garden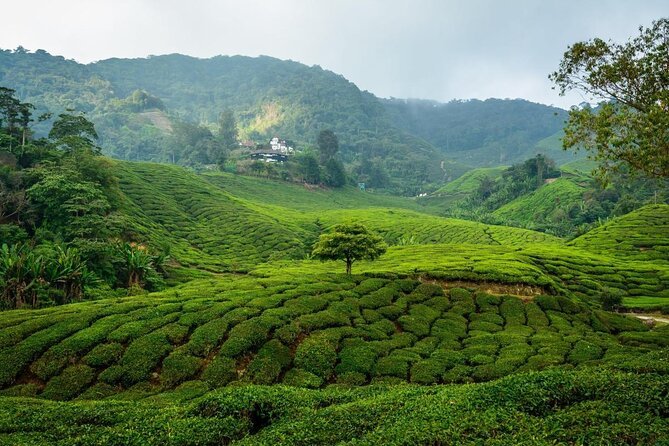 Source: Viator
The BOH Tea Garden's lush and refreshing tea fields are one of Cameron Highlands' most iconic sights to behold. The breathtaking landscape and peaceful scenery will be a sure-fire hit with parents and grandparents. Go for a leisurely stroll among the fields before heading for a tour of the tea factory and then settling down for a delicious afternoon snack at the cafe with panoramic views of the tea fields. 
Strawberry Farms
Strawberry picking is also another one of Cameron Highlands' famed activities. Consider bringing your parents or grandparents around the strawberry farms in Tanah Rata, Brinchang, or Kea Farm. Many of these farms will offer tours and an opportunity to pick your own strawberries or enjoy fresh strawberry products like jams, scones, and ice cream. Popular strawberry farms include 7 Strawberry Farm, Raju's Hill Strawberry Farm, and the Big Red Strawberry Farm.
Golden Hills Night Market  
The Golden Hills Night Market is also another great attraction for our parents and grandparents. Held every Friday and Saturday night from 5pm to 11pm, the pasar malam is immensely popular with tourists hunting for a good buy and delightful dinners or suppers. Bring your parents and grandparents to snack on street food and exercise your haggling chops as you shop for souvenirs and fresh produce and flowers.  
2. Bali, Indonesia
While Bali is revered for its vibrant nightlife scene amongst youths, the island has many unique attractions suitable for our parents and grandparents as well.  Not only does Bali have a culture rich in spirituality and religion, but it also boasts many beautiful temples. Plus, vistas of scenic greenery make it perfect for a relaxing, slow-paced holiday. Bali's famous beaches are also suitable for our parents and grandparents to enjoy a day out by the shore. 
Here are some of Bali's best attractions for your itinerary:
Uluwatu Temple
Source: World Travel Guy
Known to locals as Pura Luhur Uluwatu, the Uluwatu Temple is one of Bali's most spectacular temples as it is perched directly on top of a cliff about 70 metres above sea level.  While it can be a bit of a climb for our seniors, the trick is to take it slow and simply enjoy the oceanic views on your own time and pace. The temple also features a sunset Kecak dance that showcases traditional Balinese dance for tourists. The dance is adapted from the Ramayana and is a great chance for you and your loved ones to immerse yourself in Bali's rich culture and heritage. 
Sacred Monkey Forest Sanctuary
The Sacred Monkey Forest Sanctuary is another one of Bali's most popular tourist attractions and for good reason too. Open daily from 9am to 6pm, the sanctuary features historical 14th-century temples: the Pura Dalem Agung, Pura Beji, and Pura Prajabati. Plan for at least half a day to fully explore the temples yourself. Of course, over a thousand monkeys also live within the sanctuary, ready for unfettered observation in their natural environment. Just don't feed them and be careful of disturbing their peace! 
Pura Tirta Empul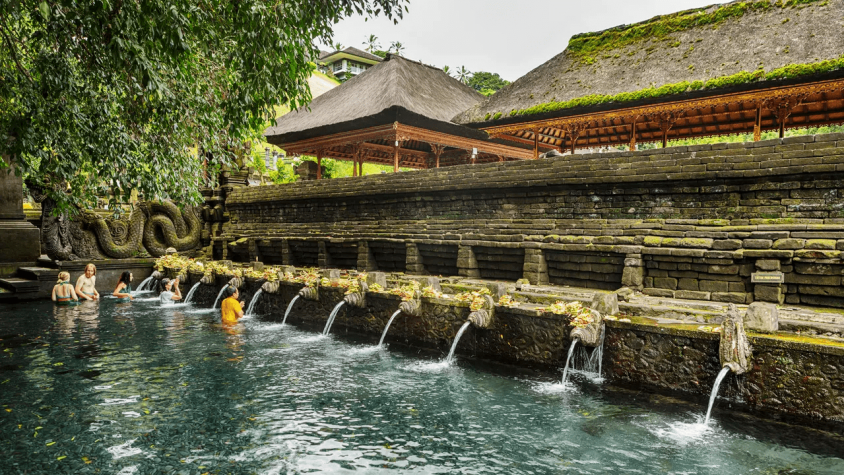 Source: Condé Nast Traveler
If you're using Instagram, then Bali's Pura Tirta Empul might have already popped up on your feed from a friend's travels. Insanely popular with tourists looking for a touch of spirituality and blessings, the Hindu Balinese temple features a ritual water bathing cleanse that you can experience with your parents or grandparents. Be sure to plan your trip around getting wet at the temple! 
3. Hạ Long Bay, Vietnam
Scenic, charming and utterly beautiful with plenty of good food, it's no surprise that Vietnam is consistently one of Singaporeans' favourite holidaymaking choices. Hạ Long Bay in particular is a natural wonder well worth visiting with your parents or grandparents. Thought to have been formed from the teeth of dragons that helped the Vietnamese resist foreign invaders, Ha Long Bay's limestone islands and islets are a wondrous sight to behold. Schedule a cruise to spend a few days cruising in the dreamy landscapes or go island hopping and explore some of the bay's unique caves such as the Virgin Cave, the Pelican Cave, or the Golden Turtle Cave. 
4. Palawan, Philippines
If you're looking for a bit of bona fide island life, then Palawan in the Philippines is the holiday destination for you. Teeming with exotic wildlife, charming fishing villages, and UNESCO World Heritage Sites, Palawan is a veritable paradise for any holidaymaker. Your loved ones will no doubt find the island's scenery tranquil and beautiful and make memories to last!
Here are some of Palawan's best attractions for your itinerary: 
Kayangan Lake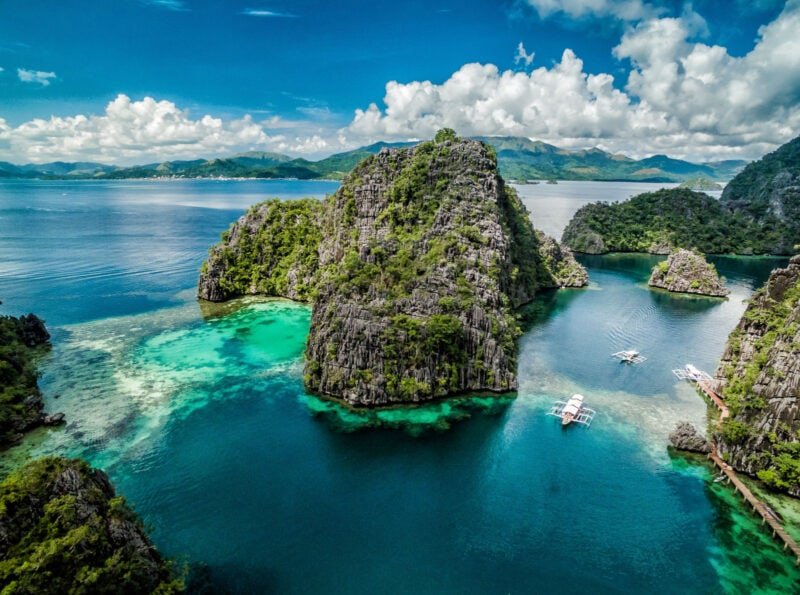 Source: Divergent Travelers
The clean and clear waters of Kayangan Lake on Coron Island draw tourists from all quarters for a dip and to enjoy the wonderful scenery. For elderly folks, casual strolls around the lake are sure to be refreshing and invigorating for the spirit. You can even plan your trip to the lake as part of an island-hopping cruise!
Taytay Fort 
Built in the early 18th century to defend Taytay against invading pirates and slave raiders, the limestone and coral fort is known as Fuerza de Santa Isabel in Spanish and as Taytay Fort among locals. Occupying an outcrop on Taytay Bay the fort offers great scenic views while also offering an opportunity for historical immersion in a bit of Filipino history. 
Puerto Princesa Subterranean River National Park
One of the area's most famous attractions, the Puerto Princesa Subterranean River National Park is home to the Cabayugan River, an underground river that's open for you to explore. Book a local tour to marvel at the subterranean beauty of the river and be sure not to fall in!
5. Phuket, Thailand
An all-time favourite for short getaways, Thailand's Phuket is famous for cheap and good food as well as bargain buys along a beautiful shoreline. If your parents and grandparents get a kick out of haggling, then this is the perfect spot for them to exhibit their verbal sparring!
Here are some of Phuket's most well-loved attractions suitable for your itinerary:
The Big Buddha
The third-tallest statue in Thailand, Phuket's Big Buddha on Nakkerd Hill is a fun spot for your parents and grandparents to explore. At 45-metres tall, the marble white landmark offers spectacular views and great photo opportunities. Once you climb up the statue's 94 steps and explore around it, you'll be able to enjoy scenic views of  Chalong Bay, Kata Bay, and Kata Noi Bay. 
Old Phuket Town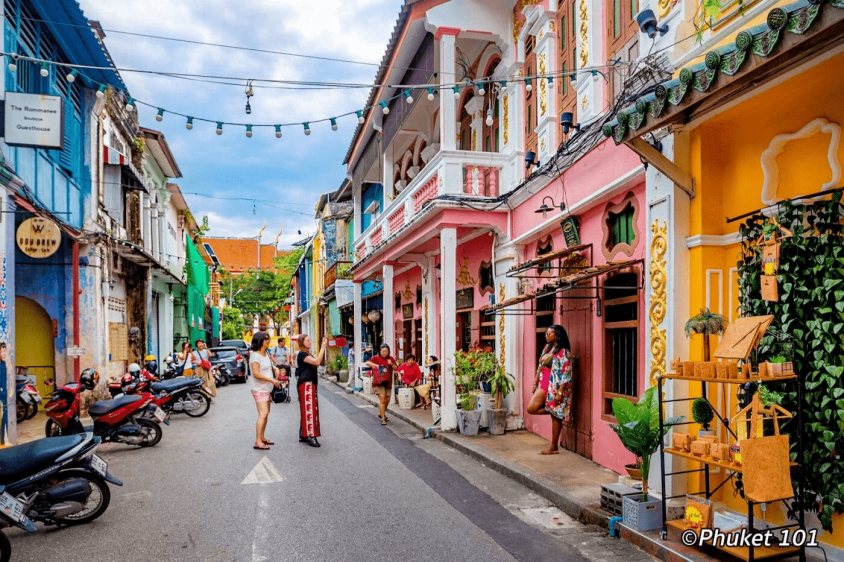 Source: Phuket 101
Phuket's Old Town is renowned for its heritage Sino-Portuguese architecture, local street food and market, as well as museums and shrines. The historic area is also very walkable, making it easy for your elderly loved ones to enjoy and take it slow while indulging in the sights and delicacies. 
Naka Weekend Market 
Located on the southern outskirts of Phuket Town, Naka Weekend Market is a huge night bazaar with plenty of cheap shopping and delicious local foods for your slow enjoyment. Of course, the sometimes dirt-cheap prices of the items on offer aren't an indicator of quality or authenticity. It's best to exercise your own judgement as you haggle and have fun! The market also has a wide variety of local foods for you to snack on as you explore, or to fuel you during quick breaks in between haggling with merchants. 
Longer trips for quality family time
If you're thinking of longer trips that will take you more than a week, we recommend heading out beyond the region to distant but beloved places. 
1. Auckland, NZ
Located on New Zealand's North Island, Auckland is a popular tourist destination known for its warm, coastal weather. With temperatures averaging 23 degrees Celsius during summer and 14 degrees celsius during winter, Auckland will be a true respite from the tropical heat of Singapore.
Here are some attractions for your Auckland itinerary: 
Auckland War Memorial Museum
One of New Zealand's most important history and war heritage sites, the Auckland War Memorial Museum is well-worth having an afternoon stroll through. With collections that span New Zealand's political, natural, and military history, this museum is a wonderful place for discerning tourists to appreciate and understand New Zealand better. 
Auckland Zoo
 If you're interested in checking out New Zealand's unique local fauna, then the Auckland Zoo should be right up your alley and in your itinerary. With over 1400 animals and 135 species, the Auckland Zoo should be a great place to get lost for an afternoon with your loved ones. The zoo's largest exhibition is Te Wao Nui, which showcases flora and fauna native to New Zealand. Other than that, the zoo's also features themed exhibition trails with flora and fauna from the South American Rainforest, South East Asian Jungle, Australia Bush, and Africa Safari.
Sky Tower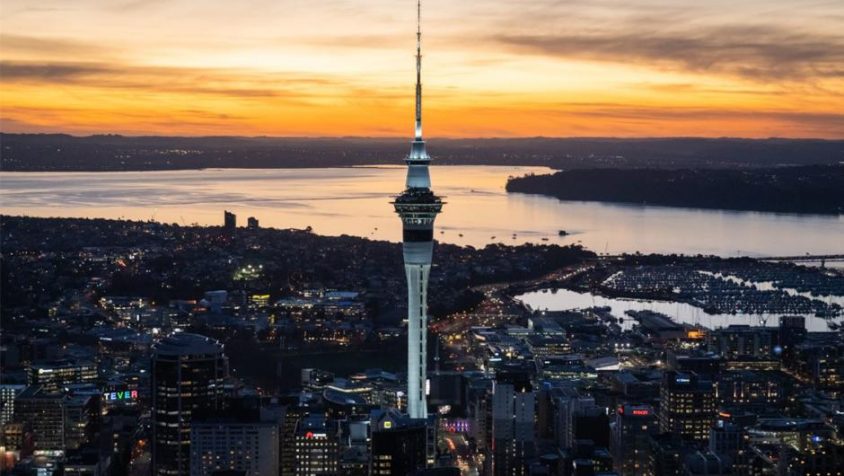 Source: Tourism New Zealand
An iconic landmark of Auckland's skyline, the Sky Tower stands 382 metres tall and offers panoramic views of Auckland city. Located in the Central Business District, the telecommunications and observation tower has several floors that are accessible to the public. Within these floors, you'll find observation decks, a cafe, and restaurants where you can relax and take in the view. If you're adventurous enough, you can even try the tower's bungee jump, the SkyJump!
2. Sapporo, Hokkaido
Sapporo is Hokkaido's capital and the fifth largest city in Japan. One of the few cities in the world to have an abundance of snowfall, the picturesque metropolis is immensely popular with tourists and especially Singaporeans for its pleasant weather and winter activities. The annual Sapporo Snow Festival held in February attracts more than two million revellers from abroad. Sapporo's food, weather and beautiful attractions are bound to spark joy for you and your loved ones. 
Here are some Sapporo attractions you can consider for your itinerary: 
Sapporo Beer Museum
The Sapporo Beer Museum is Japan's only beer museum and one of Hokkaido's recognised heritage sites. Set up in 1987, the museum was adapted from a Sapporo beer brewery that opened at the tail-end of the Meji Period and lasted till the mid-19th century. Tours introducing the history of beer in Japan and the process of beer-making are available for your enjoyment. At the end of the tour, you can head to the museum's Star Hall, a paid tasting corner, to try out the variety of refreshing beer brews. Obviously, the beer museum is a must-visit for beer aficionados and an enjoyable jaunt for the casual drinker. 
Moerenuma Park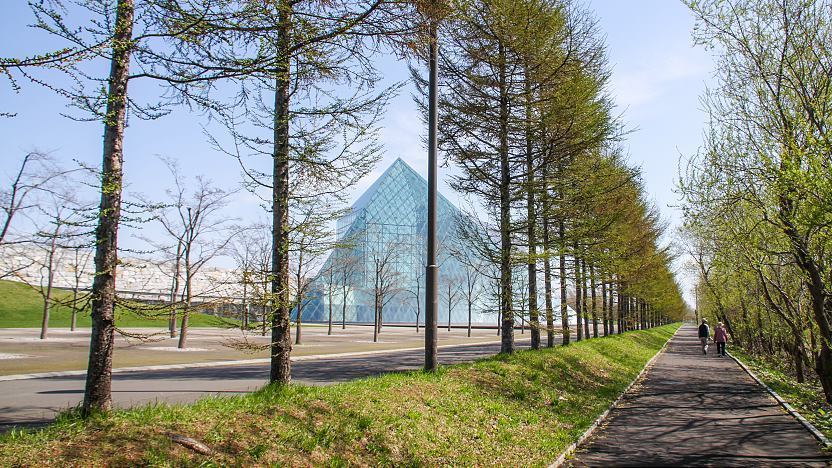 Source: Japan Guide
A beautiful municipal park in Sapporo, the Moerenuma Park was designed by Japanese American artist Isamu Noguchi and has won numerous awards over the years for its design and architecture. Taking a slow stroll through the park can be a perfect relaxation activity in your holiday itinerary with elderly loved ones. Explore the park's different attractions such as the 'Hidamari' pyramid, the Tetra Mound, or the Aqua Plaza as you take the day off! 
Hokkaido Jingu
The Hokkaido Jingu or Hokkaido Shrine is a Shinto shrine located in Sapporo's Maruyama Park. Beautiful and sacred, the shrine houses four deities or kami: Okunitama, Onamuchi, Sukunahikona, and Emperor Meiji himself. These local deities are dedicated to nature and the development and healing of the land. The Shrine also plays host to quite a number of festivals over the course of the year, so if you're keen to experience it yourself, you should check if your itinerary coincides with any of the festivals.  
3. Taipei, Taiwan
A metropolis with an exuberant mix of the modern and the traditional, Taipei is another great location to enjoy a holiday with your elderly loved ones. From hot springs to temples, there are plenty of fun activities to choose from depending on your preferences. 
Here are a few attractions you can consider including in your Taipei itinerary: 
National Palace Museum
The National Palace Museum houses nearly 700,000 Chinese artefacts and artworks in its permanent collection. Many of these items were moved from the Palace Museum in Beijing's Forbidden City and other institutions in mainland China during the Kuomintang's retreat to Taiwan. Spanning metalwork, ceramics, carvings, paintings, calligraphy, and rare books and documents, the museum's collection stands ready with something to dazzle the casual observer and intrigue the history buff. 
Longshan Temple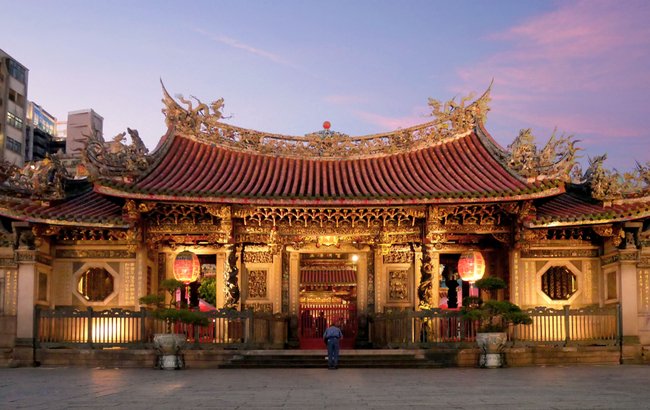 Source: Culture Trip
A famous old temple in Taiwan, Longshan Temple is dedicated to the worship of the Guanyin buddha and other deities such as Mazu and Guan Yu. First built in 1738, the temple has undergone a continual process of destruction and rebirth due to natural disasters and calamities like war. For elderly loved ones who are practising Buddhists or adherents of the Chinese folk religion, this temple is well worth a holiday pilgrimage.
Yehliu Geopark
Source: Taiwan Everything
The Yehliu Geopark is a cape that stands at 1700 metres above sea level, formed by the geological forces that shaped the Datun Mountains. The park's hoodoo stones, or stones formed by erosion are famous for their beauty and together with the ocean view, make for a unique scenic spot. The different rock formations in the park have also been christened with various imaginative names based on their shapes. See if you can give them different names when you visit the park!
Cruises
If you're in the mood for luxuriating at sea, then you can also consider taking a cruise trip with your elderly loved ones. There are many cruises and cruise liners that operate from Singapore and they usually have elderly-friendly activities on board. Cruises are also much easier to manage logistically and plan for since there are already plenty of onboard options at your disposal. 
Here are some cruises that you can consider:
1. Royal Caribbean International's 3-Day Penang Cruise
Royal Caribbean's 3-day Penang Cruise takes place on one of the company's flagship cruise liners, the Spectrum of the Seas. Over the three days, you and your loved ones will get to explore the ship's extensive facilities and enjoy a day out in Penang, Malaysia. Not only does the ship have plenty of exquisite speciality restaurants and dining experiences to choose from, but it also has attractions such as the Solarium and North Star Observation Capsule. At night, you—and your loved ones—can also sneak off for a cheeky tipple at the ship's North Star Bar and Bionic Bar. 
2. Princess Cruises' 14-Day Malaysia, Thailand & Vietnam Cruise 
Another strong contender for your cruising needs is Princess Cruises' 14-Day Malaysia, Thailand & Vietnam Cruise, especially if you're looking for a longer vacation with your loved ones. Over the two-week cruise, you'll visit numerous ports of call in the three countries including Penang, Langkawi, Phuket, Ko Samui, and Ho Chi Minh City. The cruise ship for your trip, the Diamond Princess, also has plenty of activities and attractions on board for you to explore. Your elderly loved ones can soak in the ship's signature Izumi Japanese Bath, dine at one of the specialty restaurants, or try their luck at the Vegas-style casino. For art and culture lovers, there's also the ship's art gallery and musical productions to indulge in. 
We hope that this guide proves to be useful for your holiday planning for the long weekends in 2023. Of course, we also recognise that sometimes as working professionals, it can be hard to spend time with your elderly parents or grandparents despite the best of intentions. At the same time, other than the occasional holiday, our seniors also deserve to spend quality time and enjoy companionship in their daily lives. Homage's caregiving services can help your elderly loved ones do so through regular companionship, tailored to their specific needs.