If you are a caregiver or perhaps have a family member with dementia, you may have faced difficulties trying to find activities that will stimulate their brain and keep them entertained at the same time.
But studies have shown that playing games and other engaging activities is a new form of therapy that can complement existing dementia treatments.
Benefits of Playing Games for People with Dementia
Playing games and engaging in various activities is an effective way of exercising the brain and hosts a variety of benefits for elderly persons with dementia.
It delays the decline of one's memory
Keeping seniors busy through games and activities helps to delay the onset of memory decline and other cognitive abilities. Since there are currently no medicinal drugs that can treat dementia, there has been a growing interest in lifestyle factors that can slow down the ageing process in the brain, which is linked to memory and thinking problems.
Playing games that have a strong focus on memory and cognitive associations can support the prefrontal cortex and hippocampus found in the brain, which are the first two areas affected in the early stages of dementia.
It is an important source of socialisation and interaction
Regular socialisation with fellow peers and participating in engaging activities can help seniors keep their minds sharp as they go through this vital transition in their lives. Many persons with dementia experience loneliness and social isolation, which can damage one's health as much as smoking 15 cigarettes a day.
The interaction through playing games with friends strengthens a person's sense of belonging and reduces feelings of isolation and loneliness. The process of interacting with other seniors, regardless of whether they have dementia or not, can stimulate a sense of personal worth and improve the overall quality of life of an elderly.
It creates a sense of normalcy and structure
Developing a routine is vital in the life of a person with dementia. As dementia progresses, individuals may begin to feel increasingly frustrated with the gradual loss of their cognitive abilities. This may cause undesirable behaviours such as restlessness, agitation, and even aggression in some cases.
By scheduling a specific time in the day for play and other generic daily activities, routines can give seniors a sense of security and familiarity. Having structure in the day also gives them much needed stability when they are feeling confused or disoriented. However, do keep in mind that these routines don't have to be set in stone. Focus more on consistency than stringency.
While most forms of dementia are irreversible, these are some ways that games can slow down the decline of one's cognitive functions.
Get Your Free Dementia E-Book Today
Do you have a loved one recently diagnosed with dementia?
We've curated a caregiver's guide which covers useful tips on how to care for a loved one with dementia and the different caregiving options that you may wish to consider.
Access our FREE guide today!
> Download Dementia E-Book Now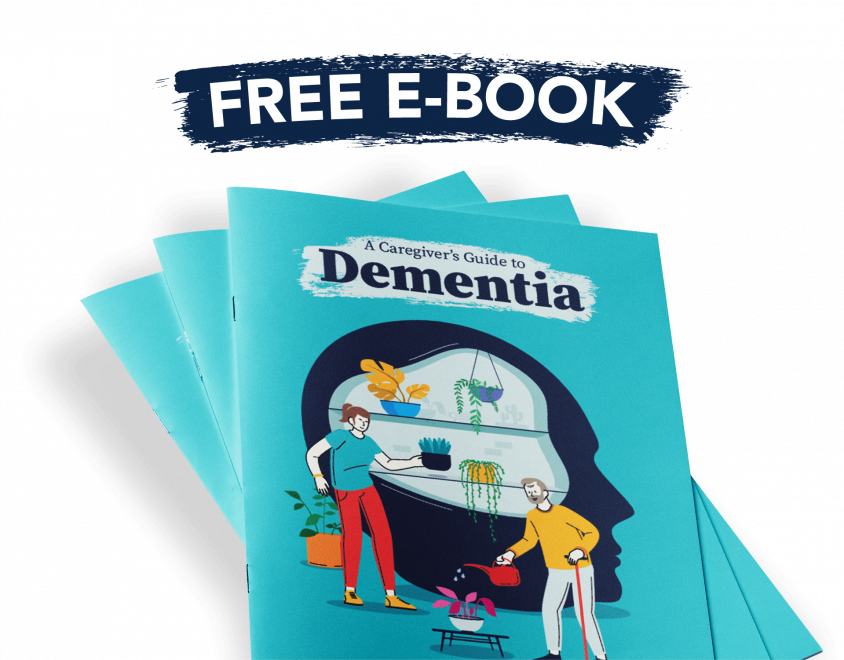 Top 15 Games and Activities for People with Dementia
Thinking Games
Thinking games focus more on mental stimulation, practising one's reasoning skills and exercising the brain.
Jigsaw Puzzles
At any stage of dementia, puzzles are always a great way to stimulate the mind. Compared to highly competitive games, puzzles provide mental stimulation in a more contemplative way. Since most puzzles have no time limit, this allows elderly persons to complete the activity at their own pace. Custom photo puzzles can also act as a catalyst for reminiscing and reawakening past memories for some individuals.
When choosing a puzzle, it is necessary to consider the capabilities of each senior and whether they are facing any physical or cognitive difficulties.
Dominoes
Another game that can be played while exercising the brain is dominoes. The rules are relatively simple and the distinct black and white design of the tiles makes it easy for elderly patients to understand and use. The sizes of the tiles are also easy to hold and move around the table.
Despite the simplicity of the game, the challenging factor of having to colours and numbers allows seniors to tap into their reasoning and thinking skills.
Sudoku
Along with other puzzle games, sudoku is a popular activity among seniors as it is a fun and stimulating "brain game" that uses parts of the brain that you may not always utilise in everyday activities. It trains seniors to actively use their abstract reasoning skills and pattern recognition simultaneously to solve the puzzles.
While it hosts a plethora of cognitive benefits, sudoku also gives a sense of accomplishment in a person, that is especially significant for dementia patients.
Chess
While some may be intimidated by the complex nature of a chess game, it is actually an effective brain builder that can be played by anyone, even seniors. Since chess is all about strategy and planning, it strengthens one's cognitive functions and encourages you to think outside of the box. Furthermore, it also has the added benefit of increasing focus in seniors who may be struggling with concentration.
If you want to opt for a simpler alternative, you may consider playing checkers as well.
Trivia Games
The best thing about trivia games is its versatility—there are a multitude of categories to choose from and can be played with a few people or a much larger group. The range of trivia topics can include everything from history, geography, music, films, sports, and even literature.
Playing trivia games not only exercises the brain, but it can also allow dementia patients to remember historical events in the past, aspects of popular culture from their youth, as well as famous movies and celebrities once they are prompted with a question.
Physical Activities
Naturally, our bodies will begin to gradually deteriorate with age. But through elderly-friendly physical activities and exercises, seniors can continue to live active lifestyles and age gracefully.
Parachute Game
The parachute game is a common activity that is played in most elderly care facilities and nursing homes as a way to get seniors up on their feet. In a small circle, each person would need to grab a handle on their end and start to create wave-like motions with the parachute. A ball will then be thrown onto the parachute and the objective is to keep it moving without dropping.
This game allows the elderly to practice movement, especially in their arms and increases mobility in the upper body. Since this is a group activity, the parachute game also encourages teamwork and interaction as well.
Gardening
Something as simple as gardening is an effective way to engage in mild physical activity in the great outdoors. Depending on a person's abilities, the activity level can be modified. It can range from something that requires minimal effort such as pruning and weeding, or tasks that are slightly more difficult like mowing or raking.
Not only is it a great way to work out while getting your daily dose of Vitamin C, but it also gives you a sense of accomplishment once you see the fruits of your labour.
Dancing
For older adults who are still active and are looking for something a little more fun, dancing can be a healthy physical activity for them. Besides improving your physical health, it is also a therapeutic pastime that increases relaxation and reduces social isolation.
On top of that, it challenges the brain as you learn new steps and attempt to remember the routine while moving to the timing of the music—proving to be both a physical and mental activity that can benefit seniors with dementia.
Tai Chi
Based on a study conducted by Bournemouth University, tai chi provides several health benefits to older people with dementia. This includes improving lower body and leg strength, relieving arthritis pain and enhancing one's concentration and mental capacity.
Since it is a form of martial arts that takes on a much slower pace, focusing on moving slowly and breathing deeply, tai chi can also prevent falls in elderly people by improving their balance through the practice.
Walking
Looking for something absolutely free of charge that can be done anywhere? Then walking is the answer. Walking is an easy yet effective physical activity that is suitable for seniors of all ages and fitness levels. If you are conducting a group walk, the distance and time spent walking can be adjusted to cater to the needs of each one.
Even if your elderly loved one is physically disabled or has difficulty walking, they can still enjoy the benefits of being outdoors with the help of movable devices like walkers or wheelchairs.
Social Games
Generally, social games don't require as much focus and attention as thinking games and are more centred on the socialisation aspect of the activity.
Bingo
Bingo is one of the most common and inclusive games for elderly people that provides opportunities for socialisation with fellow seniors. Being involved in social activities like bingo can help older adults experiencing isolation and/or depression.
The benefits of bingo also go beyond socialising. Since the game requires a certain level of hand-eye coordination, bingo trains one's alertness and responsiveness as well.
Card Games
The beauty of card games is how versatile they can be. From Snap, Go Fish, to Solitaire, there are tons of variations that persons with dementia can enjoy playing in a group—all you need is a deck of cards.
Before choosing a card game, it is vital to consider the challenges someone with dementia might face. Keep it simple by avoiding card games that have a long list of rules or involve lying or tricking an opponent such as poker.
Board Games
There are a wide variety of board games available from traditional board games like Monopoly, to more dementia-friendly options such as Call to Mind. Based on a French study that analysed the relation between cognitive decline and board games, it revealed that the risk of dementia was 15% lower in board game players than in non-players.
Apart from supporting cognition and memory, board games are also a simple way to practice one's social skills and are a fun activity to bring people together and encourage interaction.
Charades
Charades is a wonderful game full of laughter that puts your acting skills to the test. It is usually played in two teams and promotes friendly competition that seniors may enjoy. Participants will be given a card with a specific word and they'll have to act it out with no sounds, props or clues. While it is a useful workout for the brain, it can strengthen a person's interpersonal skills as well.
One way to modify the game to make it more inclusive for older adults with dementia is to eliminate the time limit to give participants more leeway.
Arts & Crafts
Engaging in arts and crafts activities is an excellent way to promote creativity and tap into the artistic side of an elderly person. By participating in creative arts, seniors can have a sense of competence and achievement, which ultimately leads to increased self-esteem knowing that they created something on their own. Furthermore, doing it in a group also creates an encouraging environment.
Art can also be a form of therapy, which can enhance communication and brain function in persons with dementia.
If you are looking for more fun activities to do with your elderly loved ones, here's a list of indoor and outdoor senior-friendly activities that can help to keep them both physically and mentally engaged.
Things to Avoid
While it may seem like all fun and games, there are still a few things you need to avoid when organising games and activities for elderly persons with dementia.
Steer clear of time-based games
Games should be enjoyed at a leisurely pace and shouldn't have too much pressure for the participants, especially when playing with seniors with dementia. Time-based games may cause stress and give way for negative feelings to arise such as frustration, irritation and restlessness. Opt for games with no time limits which allows seniors to take their time and complete the task at hand at a comfortable pace. Rather than thinking about the aspect of achievement, focus on enjoyment instead.
Avoid pointing out what they can no longer do
When planning different activities for dementia, it is important to take their physical and cognitive limitations into consideration without pointing out what they can no longer do. You can organise games and other leisurely activities that respect their limitations and uphold their dignity as an ageing person at the same time.
Holistic Care for Seniors with Dementia
By playing the right games that are best suited for their needs, seniors with dementia can keep their brain strong and healthy while enjoying hours of fun all at once. But playing games and activities are only one aspect involved in dementia treatment.
With Homage's Dementia Care Programme, older adults can receive the help that they need at every stage through different pathways like companionship, games and activities, nursing care, and home therapy. Together with our Care Specialists, care plans will be specifically designed for your elderly loved one based on their health status, care needs and preferences, ensuring that they are paired with the most suitable nurse or caregiver.
---
If you or someone you know need support in caring for a loved one with dementia, we can help. Reach out to our Care Advisors at 6100 0055 for a free care consultation.