Falling sick is never a pleasant experience. Not only is it extremely taxing on your body, but also puts a burden on your finances as well. With doctor's consultations, medication, and even surgical procedures, these little details can add up to a significant sum. 
Fortunately, there are plenty of financial assistance programmes in Singapore to help locals alleviate some of the cost of medical bills. One of these programmes is the Community Health Assist Scheme (CHAS). 
What is the Community Health Assist Scheme (CHAS)?
The Community Health Assist Scheme, better known as CHAS, was set up by the Ministry of Health (MOH) back in 2000 to enable all Singapore Citizens to receive financial subsidies for medical and dental care at participating General Practitioners (GP) and dental clinics located near their homes. 
Compared to other schemes that specifically cater to a particular need or demographic such as the Seniors' Mobility and Enabling Fund (SMF) and the Home Caregiving Grant, CHAS covers a wider demographic and a much wider range of medical services.
2023 Update: Greater benefits for CHAS cardholders under Healthier SG 
The Ministry of Health has announced that from early 2024, CHAS cardholders with high medication requirements and bills can opt for the Healthier SG Chronic Tier, which subsidises up to 87.5% of the cost of whitelist chronic medications, depending on your income level.
You may refer to the table below for more details on these subsidies.
Source: Healthier SG
Enrolment into the Healthier SG programme begins on 5 July 2023, and you will qualify for the programme if you are a Singapore resident and above 60 years old. You will receive an SMS invitation to enrol with a Healthier SG clinic or polyclinic. Invitations will also be sent out progressively to those aged 40 to 59 years old.
Learn more about the scheme and the process for enrolment via the Healthier SG Website.
Why are there three different CHAS cards and what do they mean? 
If you have ever considered applying for the CHAS card, you'll know that there are three different types of cards that vary by colour: blue, green, and orange. These three colours indicate the different levels of subsidies that cardholders are entitled to. 
Merdeka and Pioneer Generation card holders are also eligible for the subsidies provided under CHAS. 
Are you eligible for a CHAS card?
All Singapore Citizens can apply for this scheme. The CHAS card was specifically introduced to help lower-income Singaporeans and seniors alleviate some of the costs when it comes to their medical bills. 
In order to qualify and enroll in the CHAS programme, individuals will be assessed according to their household monthly income per person or the Annual Value (AV) of their home, as shown in the table below: 
If you are unsure of how to go about with the calculation process, there is a Household Monthly Income Per Person Calculator available on the CHAS website. 
Services and health conditions covered by CHAS
CHAS covers three main services and health condition tiers: Common Illnesses, Chronic Conditions, and Dental Services. 
Common Illnesses
Common illnesses are occasional acute conditions that do not require long-term follow-up and can be resolved easily with rest and medication.
Chronic Conditions
Chronic conditions are progressive illnesses or diseases that require long-term care and medication, which include both physical and mental illnesses. 

Dental Services
Dental services are rather straightforward, and include everything from consultations to x-ray appointments.
Here is a comprehensive table that shows all the different conditions that CHAS covers according to their respective categories: 
CHAS subsidies 
Once you've determined which tier you fall under based on the eligibility criteria, it's time to find out the amount of subsidies you are entitled to. 
The table below shows the subsidies given based on the colour of the card: 
How do I apply for a CHAS card?
Once you have met the eligibility criteria for the CHAS card, you can proceed with the application process. There are two ways in which one can apply for this scheme: via online or physical application. 
Online application
For online applications, all you have to do is apply directly on the CHAS website with your SingPass account to log into the e-Service site. From there, you will be guided through the various steps to fulfill the application process. 
Physical application
Despite living in this digital age, there are those who still prefer getting things done the traditional way. To submit a physical application, you can pick up a CHAS application form at any Community Centre (CC), Public Hospital, Polyclinic, or Community Development Council (CDC). If you are unable to come down physically, you may also download the application form here.
Once the form has been completed and signed, you can proceed to send it to P.O. Box 680, Bukit Merah Central Post Office, Singapore 911536. 
What happens after my application? 
Applications are typically processed within 15 working days from the date of receipt of the completed application. 
Once the application has been deemed successful, applicants and members of the household will receive their CHAS card in the mail along with a welcome pack containing important information on the use of the card. It is only then that they will know the subsidy tier that they fall under. 
Typically, CHAS cards are valid for a period of 2 years, unless otherwise stated. 
How do I receive subsidies at a CHAS clinic?
There are over 1,000 CHAS clinics all over Singapore, making it incredibly accessible to receive medical help for all your healthcare needs. To receive subsidies for your treatment, you will need to bring along your NRIC and CHAS, Merdeka Generation (MG), or Pioneer Generation (PG) card during your scheduled visit. 
Alternatively, you can use your digital CHAS card, which you can access via the Singpass mobile application. You can find your digital CHAS card under the "my cards" section of your Singpass app, which will also contain your digital NRIC and driving license.
If you ever receive a referral to a specialist outpatient clinic at a public hospital or the National Dental Centre, you can still use your CHAS card to get a subsidy per visit. 
Click here to view the full list of participating GPs and find a clinic near you. 
Participating clinics will also have the CHAS sticker pasted outside, making it easy to identify. 
Can I use MediSave after CHAS subsidies?
Applicants often ask if they can still use their MediSave even after CHAS subsidies have been deducted. Fortunately, MediSave can still be used to co-pay the remaining bill after the deduction has been made. 
After both MediSave and CHAS subsidies have been deducted from the total bill, you will only need to pay 15% of the remaining bill in cash. 
Individuals can use up to the withdrawal limit of S$500 per year on their own or their immediate family members' MediSave account for chronic conditions or outpatient treatment. 
Receive treatment with the CHAS Card today 
The Community Health Assistance Scheme is just one of the many financial assistance programmes that Singaporeans can tap into for additional help for their medical needs. From simple health concerns like the common cold all the way to more complex ones such as treatment for chronic conditions, you no longer have to bear the cost all on your own. 
Besides this scheme, find out more about the various other financial assistance programmes available in Singapore from our extensive financial guide to assistance schemes.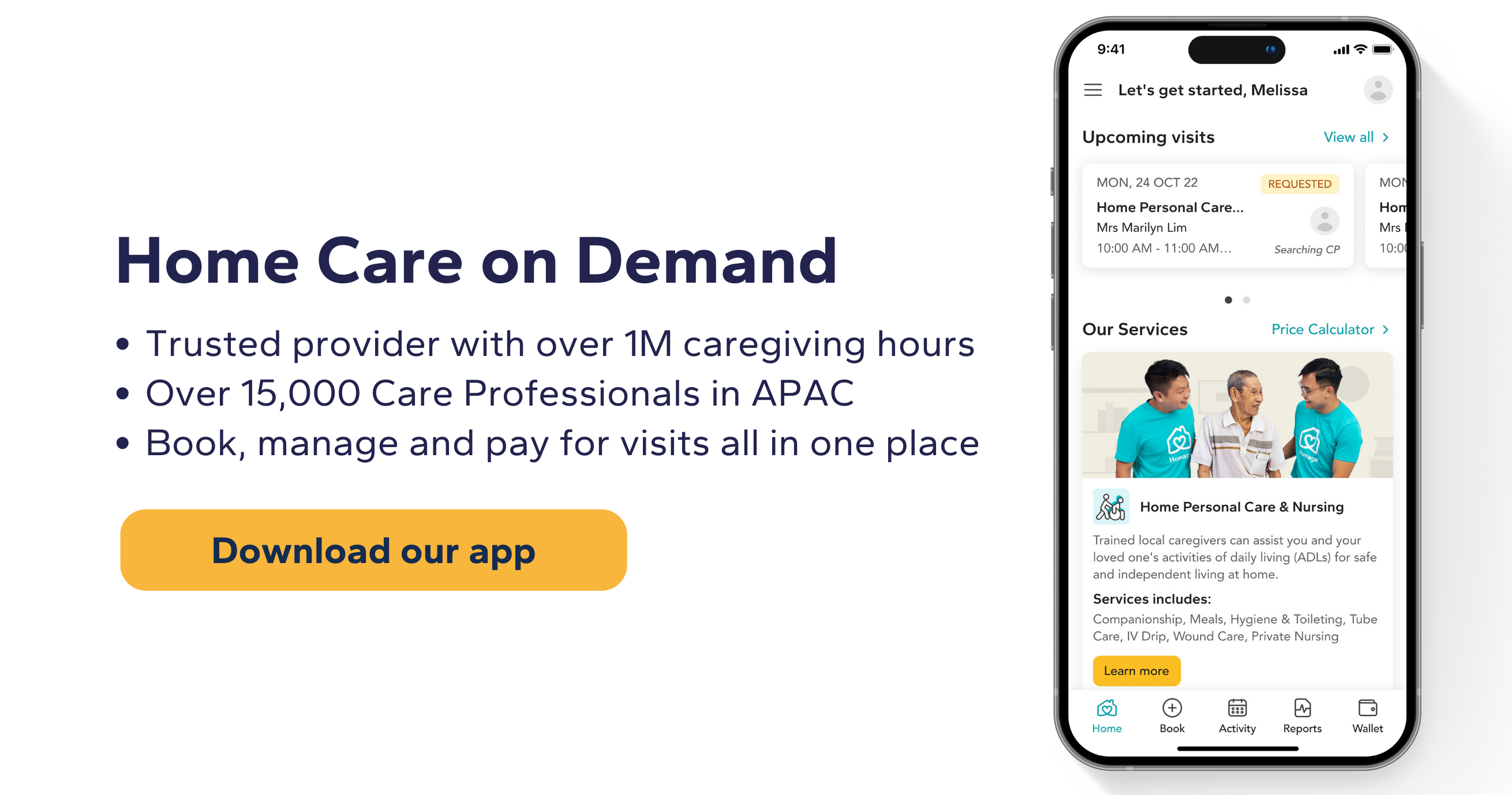 Homage provides a range of home care services to support your loved one in diabetes management, including home care, home nursing, and home therapy.
References
Grey, H. (2021, January 18). A guide to seniors' mobility and enabling fund (smf). Retrieved February 02, 2021, from

https://www.homage.sg/resources/seniors-mobility-and-enabling-fund/

 

Grey, H. (2021, January 18). Home caregiving grant: All you need to know. Retrieved February 02, 2021, from

https://www.homage.sg/resources/home-caregiving-grant/

 

Hui, T. (2021, February 01). Financial assistance for elderly & Caregiver Grants. Retrieved February 02, 2021, from

https://www.homage.sg/resources/financial-assistance-for-elderly-and-caregiver-grants-singapore/

 

Shafeeq, S. (2022, February 10). Free HPV jab for women with blue or orange Chas cards in fight against cervical cancer. Retrieved from https://www.straitstimes.com/singapore/free-hpv-jab-for-women-with-blue-or-orange-chas-cards-in-fight-against-cervical-cancer