Caregiving looks different for everyone, and there are a multitude of resources when it comes to caregiver support in Singapore.
For Nora, when her father was diagnosed with prostate cancer and became partially paralysed, she had to quickly step in to provide care for him. While becoming a caregiver came earlier than expected, and adjusting to the role took some time, she has not looked back since. 
You may have found yourself in a similar situation, but if you currently fall into the group of non-caregivers, odds are that you will find yourself in a similar position someday. So what should you know about caregiving and where should you start? 
Are you already a caregiver?
You may not realise that you're already one. Caregiving often starts small such as helping to buy groceries or accompanying them to a medical appointment and the expectations build over time. So what exactly is a caregiver? A caregiver is one who takes on the responsibility of looking after someone who cannot fully care for themselves due to an illness, disability or chronic condition like dementia.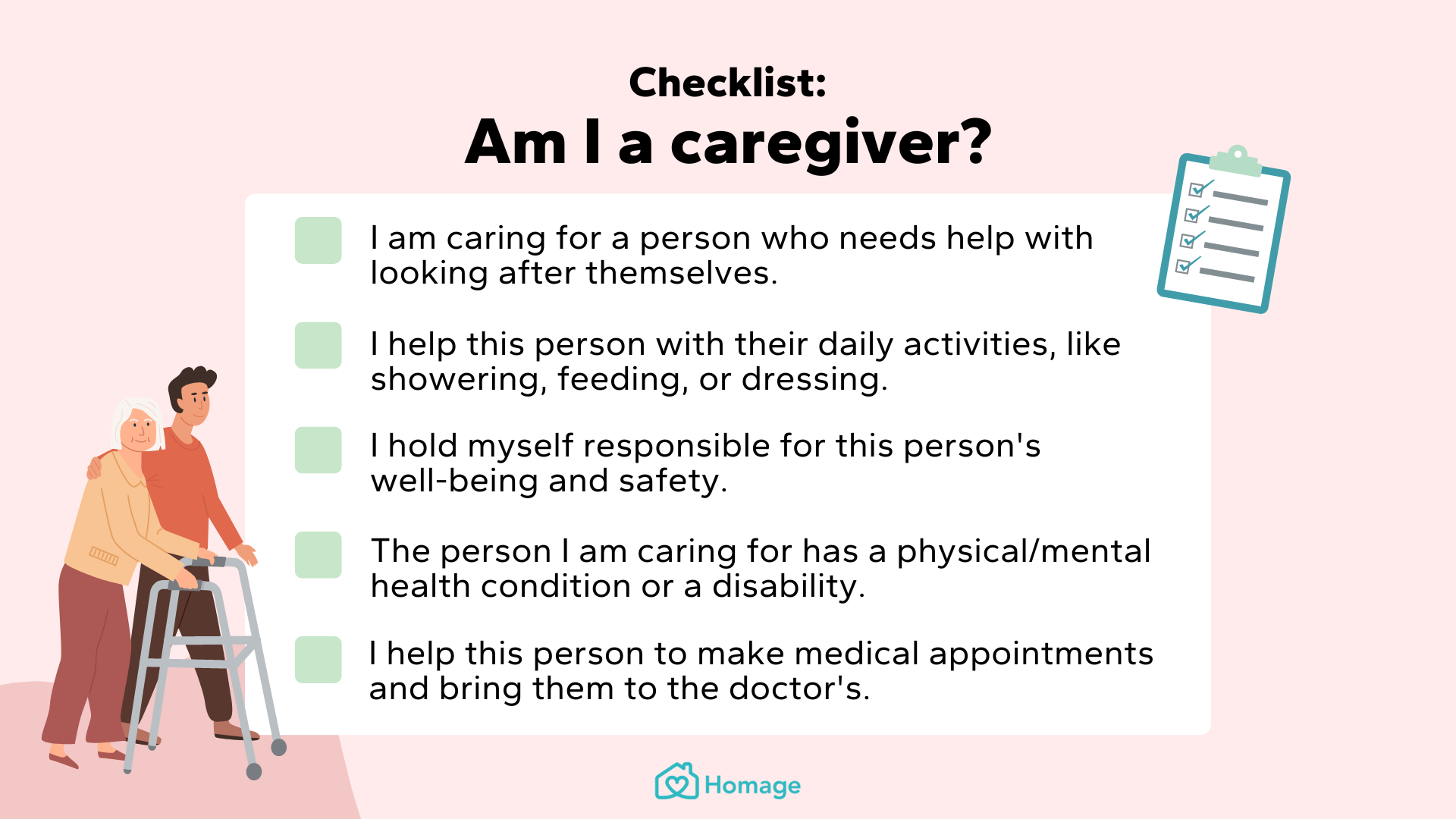 Whether you're doing it solo or in a team, you'll likely wear multiple hats. Beyond attending to your personal responsibilities like work and social activities, you're possibly a nurse, driver and chef all rolled into one. Acknowledging your role can help you manage expectations and identify resources that can support you. 
Now that you've identified your role, what can you expect? While not a catch-all, caregivers often care for your loved one in these ways: 
Physical needs:

Helping with activities of daily living 

Medical needs:

Ensuring they are taking their medication and going for medical appointments 

Emotional needs:

Showing love and support beyond just their physical needs 

Spiritual needs:

If relevant, helping them continue religious practices 

Financial needs:

Managing the cost of care while planning for their own future and retirement 

Physical needs: ADLs and why they matter 
If you're a new caregiver, this is likely the first time you're reading about ADLs. For an experienced caregiver, ADLs are all too familiar. So why do the 6 most basic activities of daily living – washing, toileting, dressing, feeding, mobility and transferring matter? 
As these activities are learnt from young and carried out on a daily basis, ADLs are used to gauge an individual's independence. Formal ADL assessments like a Functional Assessment Report and Severe Disability Assessment evaluate one's cognitive and physical functions, and helps identify the type of care support they need. They are often required if you intend to apply or access financial grants like CareShield Life and MediSave Care. 
Caring for an individual that requires support in one or more ADLs can be challenging. For instance, safely transferring someone from the bed to the wheelchair and doing a bed bath is not as simple as it seems. There are different techniques to manually transfer someone and hygiene tips to reduce the occurrence of bed sores. While you can learn on the go, and improve through trial and error, going for basic caregiving training can help build confidence. 
Being prepared for your new role and starting on the right foot can help alleviate stress. If you're thinking of attending courses to pick up tips, but are hesitant due to the cost, you can consider tapping on the Caregivers Training Grant. With the annual $200 subsidy, you can attend AIC-approved courses and learn basic personal care techniques to help you provide the right care from the get-go! 
Staying on track with their medical schedule 
As someone new to the caregiving role, it's important to be organised. You'll find that you may have quite a lot on your plate and whether you're helping a loved one with their post-surgery recuperation, a bad accident or a serious illness, there may also be medical jargon you're unfamiliar with. Tasks relating to their medical needs include: 
Scheduling medical appointments:

Part of your role may involve bringing your loved one to the doctor or therapist. Do take note that even if you have an appointment, it is common that you will have to wait to see the doctor. So remember to factor the waiting time into your calendar! If you're unable to accompany them, there are services such as "

medical escorts

" available. Keeping a detailed calendar can help you manage your time and stay updated with any changes.

Managing medicines:

Making a list indicating the name, dosage and frequency of the medication is an easy way to keep track of what your loved one is taking. Ideally, it should also include over-the-counter or non-prescription medications like vitamins. Also, remember to note down if they have allergies to medication! 
Meal planning:

Apart from their medical needs, nutritional needs play a big role in their health and recovery. With certain conditions, they may need to change their diet and take supplements to cater to any vitamin deficiencies. Their doctor may suggest speaking to a nutritionist or dietician if necessary. 
These are some tasks you will likely be in charge of. When it feels overwhelming, remember that there is always help around – be it medical expertise from doctors and nurses, or support from medical social workers or family members! 
Adopting a holistic approach to caregiving 
There comes a point in time when we may think about our mortality and have questions about the meaning and purpose of life. For those living with an illness, or chronic condition or are in palliative care, these are topics they might be frequently grappling with. Apart from the physical symptoms, they may experience heightened emotions and learning how to navigate such situations is a valuable skill. Emotions they may experience include: 
Anxiety:

They may experience apprehension and fear about their condition. For instance, they may be doubtful of the efficacy of their treatment or are struggling with the loss of independence. This can manifest into physical symptoms including nausea, dizziness and shortness of breath. 

Loneliness:

This is often experienced by individuals who are bedridden or have limited mobility, or have little social contact with others. However, individuals can still feel alone even in the presence of others. They may withdraw from others or have less of a desire to talk with others. 

Anger:

For those who feel like they do not have sufficient information about their condition, or a lack of control over their circumstances, anger and frustration is common. They may feel "unheard" and as a result, struggle to keep their cool. 
Besides providing medical attention, caregivers also play an important role in providing emotional support. By meeting these needs, it also helps with the healing process and creates an environment where your loved one can feel more empowered in their own health journey. Here are some general guidelines that can help you handle the situation!
Identify the emotion:

Whether it's anger, sadness or fear, it is key to identify what emotion they are experiencing as this will help you respond accordingly. If you're struggling to pinpoint it, ask them to describe how they are feeling as well as the intensity of what they're feeling. It's as simple as starting the day with

"How are you feeling today?"  

Acknowledge their feelings:

Don't hesitate to ask questions. Find out how they want to be supported emotionally – are they asking for advice, or just want someone to lend a listening ear? While you may disagree with them, try your best to listen to their concerns, regardless of how you perceive the situation and know that you can't always "fix" it. 

Connect them with others:

While you may be the primary caregiver, you don't have to be in charge of everything. There are support groups available for care recipients or professional help who can provide a neutral perspective. 
While these strategies may not always work, often just listening to your loved one's concerns and displaying compassion can help to diffuse a tense situation. 
Navigating care options and the cost of care 
You may be feeling more settled now that you have a basic understanding of what to expect. But the most important question you might have is – how much does caregiving cost? Caregiving is costly and can range anywhere from $900 to $4,000 per month before subsidies. 
To start, have you thought of where the care will take place?
If they require a high level of care support, you might be thinking of sending them to a

nursing home

which could cost around $2,000 to $3,600 per month before subsidy. Bear in mind that there may be additional charges for emergency needs. 

If they rather stay at home, do you intend to hire a

live-in domestic helper?

While the costs might add up to $600 to $850 per month, have you factored in hidden costs such as the foreign worker levy, maid agency costs, and daily living expenses as you it would mean having an additional adult to feed.   

If you don't require round-the-clock care,

home-based care services

might be more cost-effective. Depending on the type of care you need, the cost can start from $21 per hour for a caregiver up to $180 for a nurse or home medical services. 
Other cost considerations include hospitalisation and medical bills. Does your loved one have health insurance, such as hospitalisation and critical illness plans? If so, factor in your monthly or yearly premiums into the cost of care. If not, are government schemes such as MediShield Life and using MediSave sufficient? 
Over the years, the government has introduced more schemes and grants to alleviate the cost of care, such as CareShield Life, IDAPE and Home Caregiving Grant. While most of them have an eligibility criteria relating to age and an assessment of mobility levels, with Singapore's ageing population and a growing preference to age at home, we will likely see new and improved schemes that will bring about more affordable care. 
Whether it's end of life planning, retirement planning or managing the cost of cancer, it is important to be financially prepared for the hefty price you may have to pay.
Are there ways to receive caregiver support in Singapore? 
Source: Unsplash
Now that you have the basics covered, what else do you need to know? While caregiving is a noble role, it requires self-sacrifice and can take a toll on your well-being. 
Caregiver burnout can creep up on you without realisation as you get caught up in the day-to-day to-dos and forget to prioritise yourself. You might be figuring out how to balance work, family, your own needs, and caregiving duties. Some telltale signs of burnout include feeling constantly tired, being easily irritable and withdrawing from social activities. 
To take care of others, start by taking care of yourself. If you don't inculcate self-care routines in your new role as a caregiver, you'll likely suffer from burnout and compassion fatigue. This can in turn lead to lower levels of care for your loved one. 
Some self-care tips for family caregivers include: 
Prioritising your needs

:

Plan ahead and list out your personal to-do list. Are there any prior engagements that are non-negotiables? Maybe you have an upcoming wedding or work event that you need to work around? Knowing your schedule in advance can mitigate last minute stresses 

Keep physically and socially active:

If you like to go for walks, do yoga, or swim, stick to your workout routine. Keeping physically fit and incorporating stress-reduction techniques are important! Make your health a priority. Apart from this, also keep socially active and stay in touch with friends and family. 

Have self-compassion:

Don't be too hard on yourself. Allow yourself the space and grace to make mistakes, and if you feel like you're reaching your limit, take a step back. Ask for help, engage in

respite care

or speak to a counsellor if you need a space to express your concerns and challenges. 
Other avenues to receive caregiver support in Singapore include the likes of caregiver training, caregiver resources and support groups. No matter how busy your schedule may be, carve out time for yourself. Don't shy away from asking for help if you feel like you need it. Taking a break, whether it's a few hours, a few days or even a few weeks can help you recharge. 
Home care providers like Homage can step in to provide respite care whenever you need it. Our trained Homage Care Pros are able to assist with your loved one's care needs while you take a breather. All the best on your caregiving journey!