We all have a responsibility to keep our bodies healthy and well amidst our busy and bustling Singapore city lifestyle. What better way to do that than to sweat it out at a workout class? Exercise helps with both physical and mental health, and the endorphins released after a workout not only leaves you glowing, but helps to stimulate that 'feel-good' feeling in you too.
Singapore is nowhere short of exercise classes and studios – one quick internet search around and you are bound to find at least one exercise class near you. Which ones are pocket-friendly though? We look at some of the affordable exercise classes in our sunny little island that will help you save on both your money and calories at the same time! 
If you are a healthcare worker looking for the best gyms and fitness studios near your hospital, check this article out.
Most affordable fitness classes in Singapore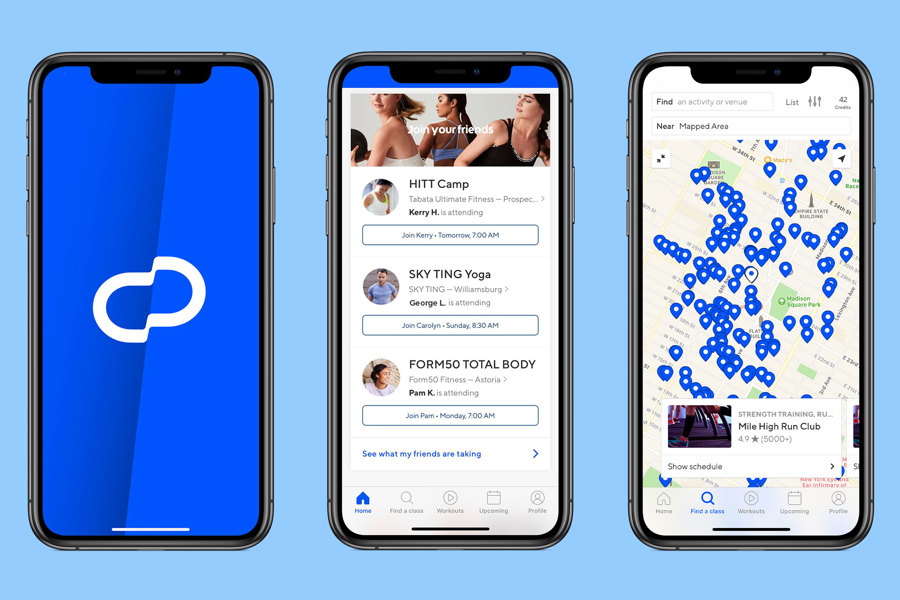 Source: Apax
With over 50 activities and classes to choose from, ClassPass is the perfect buffet for the individual who loves a little of every sport and activity. Want a strength training sesh or even a skateboarding class? Or a massage or manicure day for a self-care day? ClassPass has them all. Download the app from the App Store or Google Play, depending on your mobile phone's operating system, and simply select a fitness class of your picking and book a slot.
ClassPass works on a credit system – depending on the class you book and its popularity, credits can range from four credits up to 18 credits. If you want to get the most bang for your buck, choose classes at off-peak timings and look out for special offers in the different studios. 
Price:
There are various packages on ClassPass, all of which work on a monthly payment basis. Credits from the current month can be brought over to the next month. 
8 credits – $19/month

25 credits – $59/month

45 credits – $99/month

85 credits – $185/month

150 credits – $315/month
Location: Various locations around the island 
Contact: Click here to drop ClassPass a message
Source: Unsplash | Photo taken by Geert Pieters
LessonsGoWhere works like an online marketplace platform which boasts an array of activities and courses that you can dabble in for self-improvement and career advancement. The Fitness Classes section has several activities such as dance classes, yoga, and even parkour – all hosted by different studios and groups. You can find trial classes and packages here at a fairly affordable rate, starting from $25. 
Price: Cheapest class starts from $25
Location: Various locations around the island, click here to browse
Contact: Click here to drop Lessons Go Where a message 
💰 Earn over $5,000 per month as a Homage Care Professional
Are you interested in joining the private home care sector? Control your working hours with Homage by choosing between freelance, part-time and full-time opportunities — even if you have no experience, there are also paid opportunities for you to assist the elderly with their
daily living activities
.
Find out more about our various roles below:
Source: Smart Nation Singapore
In a bid to encourage an active lifestyle, the Healthy 365 app by Health Promotion Board offers many events and classes which are free of charge to attend. Burn off your energy at a High Intensity Interval Training session available across many places in the island, or get moving in a fun way by shaking your hips and twisting your legs at KpopX Fitness and Zumba classes. Simply download theHealthy 365 app and register for an account, if you haven't done so already. 
Price: Free
Location: Various locations around the island
Contact: 6435 3500 | [email protected]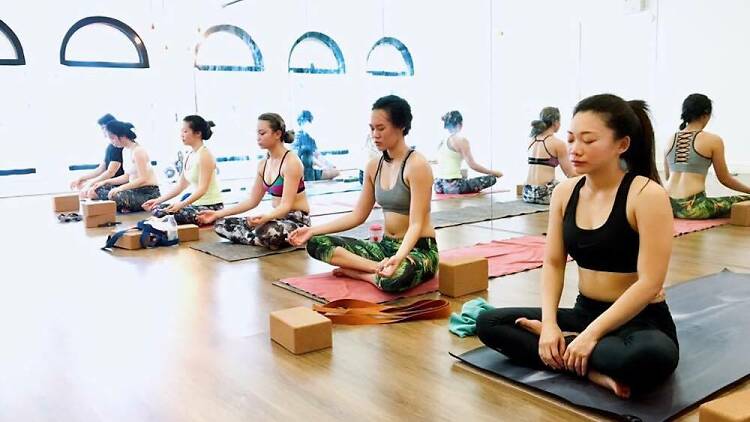 Source: Time Out
Get your zen on at Yoga Mandala, a studio focused on the practice of yoga. There are a range of classes to choose from, such as core to vinyasa and power yoga. The benefits of yoga are not only physical, but mental as well with its meditative element. What's more, Yoga Mandala is located in the heart of The Central Business District area at Telok Ayer – convenient for the city-dwellers and CBD warriors. 
Price:
Trial sessions (for first timers only) 
Single class – $25

4 classes (valid for 30 days) – $60

6 classes (valid for 14 days) – $60
Regular packages 
Single class – $30 

10 class package (valid for 5 months) – $220

20 class package (valid for 8 months) – $380

30 class package (valid for 12 months) – $450
Location: 134B Telok Ayer Street
Contact: 6221 6683 / 8268 2880 | [email protected]
Source: Crossfit Urban Edge
For those looking to push their bodily limits and improve your body all around, Crossfit is the sport for you. Crossfit is able to condition your body to improve across areas of strength, power, endurance, and speed. It usually mixes a combination of different exercises, from metabolic conditioning, to gymnastics and weightlifting. There are various Crossfit gyms across the island, with Crossfit Urban Edge being one of them. The gym has a Foundation programme which you can attend to learn the basics of Crossfit movements and lifts, to prepare you towards attending their Workout of the Day (WOD) sessions. There are also Bootcamp sessions, which are High Intensity Interval Training (HIIT) sessions focused on fat burn and lean muscle mass gain. Personal Training sessions are also available.  
Price:
Single class – $30

10 class pack (valid for 3 months) – $300

1 month drop in – $280/month 

6 months membership – $1,500 ($250/month)

12 months membership – $2,820 ($235/month)

Urban Foundation (Unlimited Urban Bootcamp classes + 2 x 1-hour personal training sessions) – $300/month 
Location: 12 Bukit Pasoh Rd Singapore 089826
Contact: Click here to contact Crossfit Urban Edge
Source: Legacy Dance Co
Dance is not only a way of self expression, but is also a fun way to keep fit and active. At Legacy Dance Co, there are free trial classes for those thinking of trying out dance but are not sure on whether you're able to commit. You can choose from fixed courses to hone your popping or your b-boy dance moves, or simply go for an open class and groove along with the instructor's pick of the day. If you are serious about establishing a potential career in dance, consider their The Legacy Experience programme, a 4.5 years programme that offers consistent and progressive training across a variety of dance styles. Not only that, The Legacy Experience programmes offer exposure to performing on stage during the studio's annual recitals. Worried that you may not be able to commit to the programme? The studio offers a Taster pack, which is a 6-week programme where you can experience classes before signing up.
Price:
Trial class – Free

Open classes 

Single class (valid 3 months from purchase) – $16

5 class package (valid 6 months from purchase) – $75

10 class package (valid 6 months from purchase) – $140 

The Legacy Experience program 

Taster classes – $180 for 6 sessions
Location: Marina Square, 6 Raffles Blvd, #03-03, 039594
Contact: Click here to contact Legacy Dance Co
Source: The Ring Boxing Community
For those into punching bags and Muhammad Ali, The Ring Boxing may interest you. The gym serves a range of classes, from foundational classes and interval-based boxing to Muay Thai and HIIT with sparring sessions in the mix. Perfect for a well rounded workout. What's more, the gym offers classes for children as well, ensuring a perfect way to work out together with the kids – or at least to spend their energy in a healthy and productive way. The gym works on credits, whereby you purchase credits and use them to sign up for classes or to buy merchandise or F&B products.
Price:
First timers 1 week trial with unlimited classes – $39

50 credits (valid for a month) – $160

100 credits (valid for 2 months) – $290

200 credits (valid for 4 months and shareable with a friend) – $524

400 credits (valid for 6 months and shareable with 2 friends) – $948

Children – 1 free trial boxing class 
Classes range from 4-12 credits each. For schedule of classes and how many credits is required for each class, click here.
Locations: 
Kim Yam: 58 Kim Yam Rd #01-01 

Orchard: 1 Claymore Drive, 229594, #01-01A
Contact: Click here to contact The Ring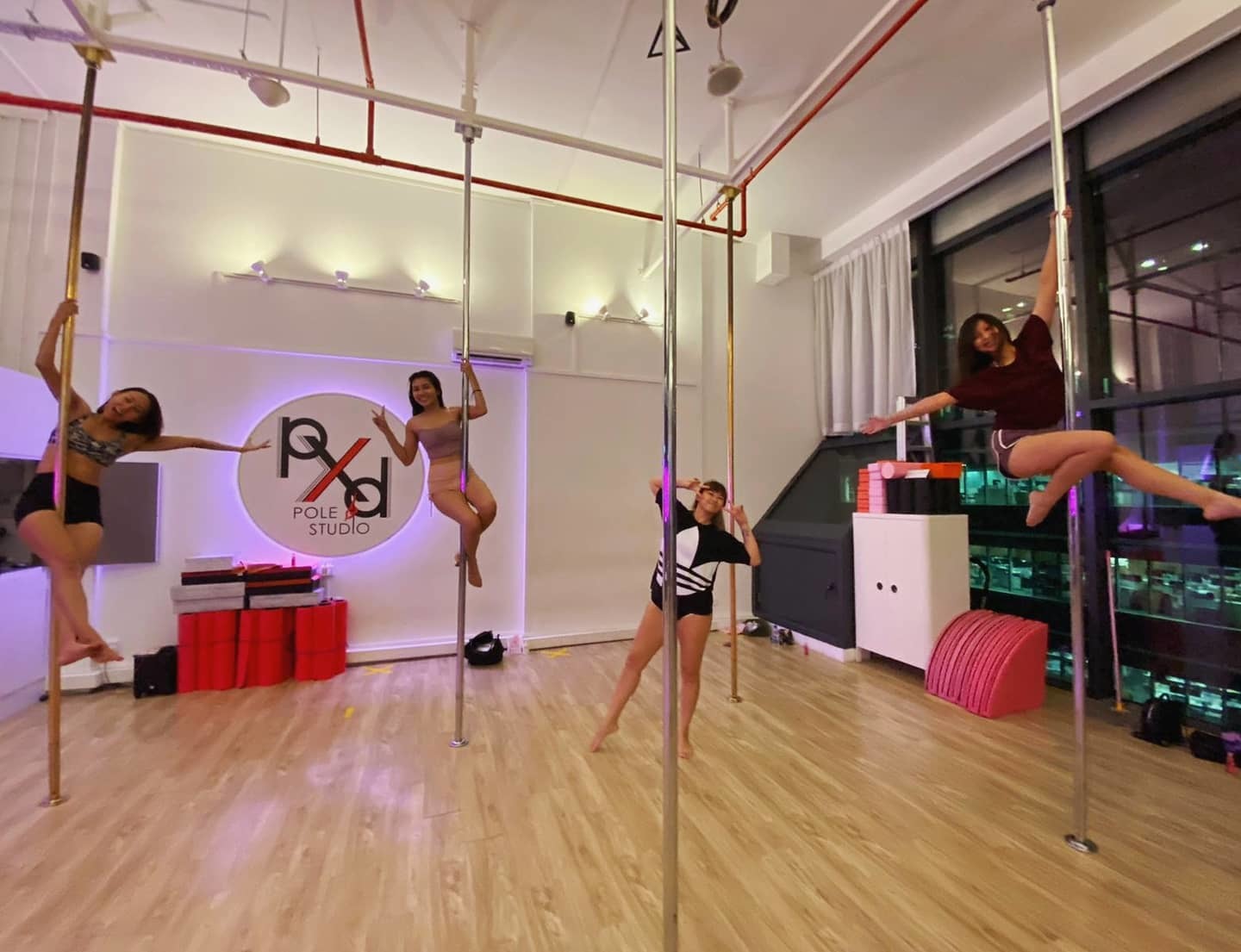 Source: Time Out
Pole dancing has been gaining traction in our sunny island. Ever admired the gracefulness of pole dancers and their gravity defying stunts? PXD Pole Studio offers lessons for those interested to try out this sassy sport. If you like structure, PXD Pole Studio offers a Beginner to Intermediate Level Syllabus (known as Mythic Syllabus Level Classes) which comprises eight levels of different tricks to learn, and are named after mythical creatures like angels, basilisk and so on. Students who complete and graduate from the Mythic Syllabus Level Classes can move on to advance their skills with the Masters Syllabus level classes, which consists of three different levels. If you prefer flexibility and like to drop in for classes, PXD Pole Studio offers a variety of pole classes focusing on technique, dance, heels, and tricks as well. Unsure about pole still? Drop in for a trial class at $10 per class. 
Price:
Level Classes:

Mythic Syllabus (Level 1 to 4) – $190 for 8 weeks

Mythic Syllabus (Level 5 to 8) – $195 per 8 weeks

Masters Syllabus (Level 1 and 2) – $200 to $240 per 8 Weeks

Masters Syllabus (Level 3) – $250 per 8 Weeks

Open classes (Tricks / Techniques / Dance & Heels / Strength & Flexy): $25 to $45 per class

Privates:

Beginner-Intermediate Private classes (based on 60 mins duration)

1 pax    = $100 / hr

2-3 pax = $150 / hr (total)

Additional pax = $45 / pax / hr (Maximum up to 6 pax only)

Advance Private classes (based on 60 mins duration):

1 pax    = $120 / hr

2-3 pax = $180 / hr (total) 

Additional pax = $55 / pax / hr (Maximum up to 6 pax only)

Trial classes: $10 per session
Location: 137 Cecil Street, Cecil Building, #11-02 to 05, Singapore 069537
Contact: e[email protected]
Source: Lab Studios
If you like a little of everything, barre is the workout for you. It is the perfect harmony of yoga, dance and pilates, to tone up your body overall. Lab Studios offers barre classes among other options like pilates and yoga. What's more, barre doesn't quite feel like traditional exercise with weights and intimidating gym equipment – you are likely to have a ball of a time with the variety of moves in the session. Homebodies who prefer to work out at home, you can rejoice as Lab Studios offers a virtual option for classes as well. 
Price:
Drop in: $49 / class 

10 class pack (4 months validity): $400 

15 class pack (5 months validity): $570

25 class pack (6 months validity, shareable with one other person): $875

Virtual drop in (1 time): $20

Virtual on demand subscription: $29 / month
Locations:
East Coast: 135 East Coast Road 428820

Joo Chiat: 437 Joo Chiat Road 427650

Duxton: 60B Duxton Road 089524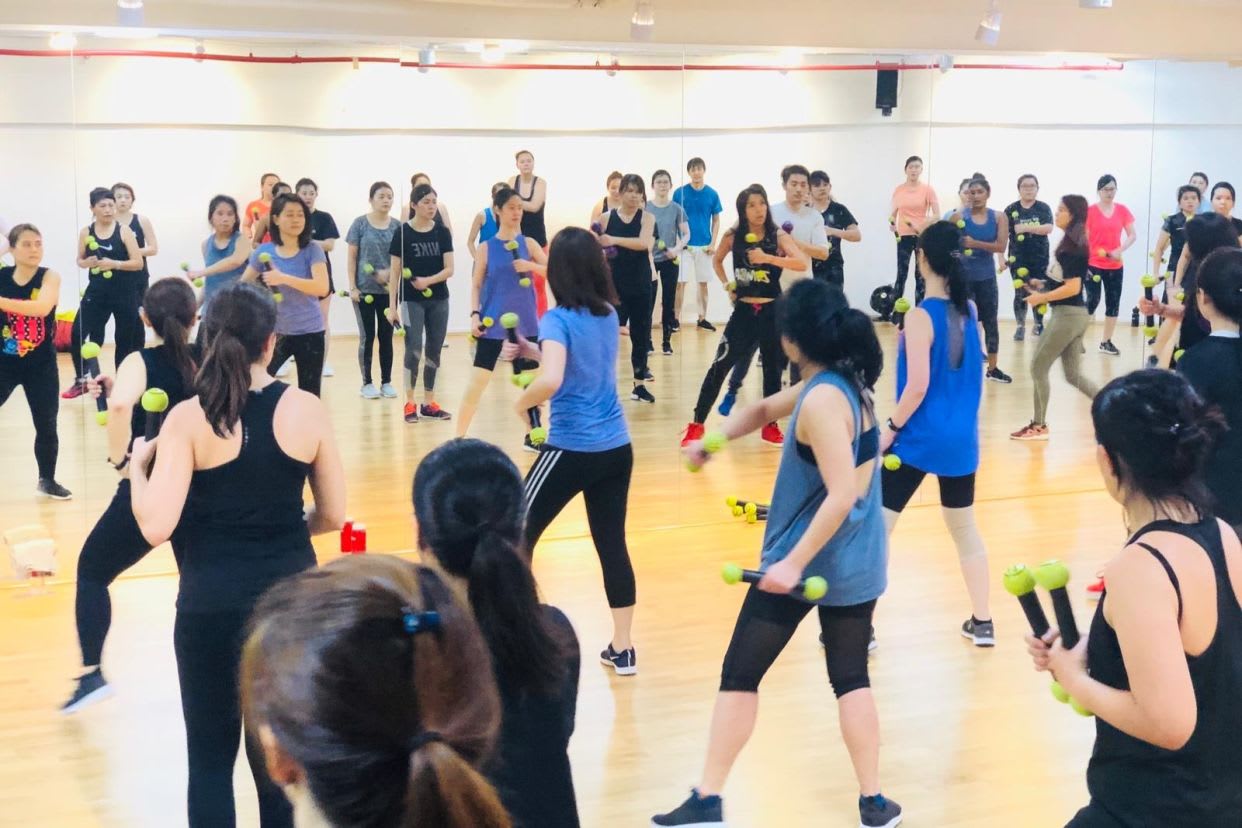 Source: ClassPass
JR Fitness puts the fun in fitness with a mix of affordable classes like piloxing, Les Mills series from BodyCombat to BodyPump, yoga and even variations of Zumba. The classes are accessible to all ages, and are usually held in the evening. There are online options to work out with JR Fitness as well. Get your friends and family grooving along to power-packed tunes in KpopX Fitness, or lifting weights to the beat of the music at BodyPump. With three locations, simply pick the outlet nearest to you and start exercising! 
Price:
4 class pack (valid 1 month): $80

10 class pack (valid 3 months): $180 

20 class pack (valid 6 months): $330

32 class pack (valid 8 months): $480

Virtual Class Package (10 sessions, valid 8 weeks): $100
Location:
City Hall:

1 Coleman Street, #B1-19, The Adelphi, Singapore 179803
Bugis: 9 Tan Quee Lan Street, #02-02 Tan Quee Lan Suites, Singapore 188098
Novena: 55 Newton Road, #05-02, Singapore 307987
Contact: 6909 5382 | [email protected]
---
Are you interested in a meaningful job that offers an attractive salary and flexible hours?
Learn more about our careers as a Homage Caregiver or Nurse and apply to be a Care Pro with us today!
References
ClassPass | Book Fitness Classes & Salon Appointments

. (n.d.). Classpass. https://classpass.com

Crossfit Urban Edge | Fitness, Weightloss and Crossfit Gym – Singapore

. (n.d.). CrossFit Urban Edge. https://www.crossfiturbanedge.com/

Dance Class Singapore Guide – 7 Affordable Studios For Open Classes

. (2019, April 4). Dance Class Singapore Guide – 7 Affordable Studios For Open Classes. https://sg.finance.yahoo.com/news/dance-class-singapore-guide-7-160000187.html

Fitness Classes, Lessons and Courses in Singapore – LessonsGoWhere

. (n.d.). Lessons Go Where. https://lessonsgowhere.com.sg/fitness-classes

Healthy 365

. (n.d.). Health Promotion Board. https://www.hpb.gov.sg/healthy-living/healthy-365

Heok, T. J. (2021, August 30).

10 Boxing Gyms In Singapore With Classes From $20 To Work On Your Jabs, Hooks & Uppercuts

. TheSmartLocal – Singapore's Leading Travel and Lifestyle Portal. https://thesmartlocal.com/read/boxing-gyms-singapore/

JR Fitness – Workout Studio | Zumba Dance Singapore

. (2022, January 10). JR Fitness | Singapore. https://www.jrfitness.com.sg/

Legacy Dance Co

. (n.d.). Legacy Dance Co. https://www.legacydanceco.com.sg/

Nithiyah, N. (2022, March 25).

From dance to boxing to yoga, keeping fit is no sweat at affordable fitness classes in Singapore

. Honeycombers Singapore. https://thehoneycombers.com/singapore/affordable-fitness-classes-gyms-singapore/

PXD Pole Studio Singapore

. (n.d.). PXD POLE SG. https://www.pxdpolestudio.com.sg/

The Ring. (2022, April 25).

Boxing Singapore

. The Ring Boxing Community Singapore. https://thering.sg/

Welcome to Lab Studios

. (n.d.). Lab Studios. https://www.labstudios.com

The Yoga Mandala

. (n.d.). The Yoga Mandala. https://www.theyogamandala.com.sg/