Have you always felt difficulty in paying attention, or have you experienced unexplained restlessness or impulsiveness? Attention-Deficit Hyperactivity Disorder (ADHD) can go undiagnosed well into adulthood. Read our Homage guide to finding out how to get tested for ADHD as an adult in Singapore.
What is ADHD?
Source: Pexels
Attention-Deficit Hyperactivity Disorder (ADHD) is one of the most common neurodevelopmental disorders associated with childhood. Common symptoms associated with ADHD include impulsiveness, a short attention span, poor time management, and difficulty in concentration. 
ADHD in adults, however, can often go unnoticed. 
Types of ADHD
There are generally three different forms that ADHD presents itself in:
Hyperactive

Inattentive

Hyperactive-Inattentive Combination 
1. Hyperactive ADHD
People with hyperactive ADHD typically feel like they are constantly moving. Fidgeting, squirming, and struggling to stay seated are common experiences. In children, this can appear like they are being "driven by a motor" and excessive running. Broadly across all age groups, hyperactive ADHD individuals may talk excessively, interrupt others during conversation, blurt answers out, and have trouble exercising self-control. This ADHD subtype is most recognisable and most often diagnosed in younger children, especially boys. 
2. Inattentive ADHD
Inattentive ADHD individuals instead have difficulty with sustaining their attention, following complicated or detailed instructions, and organizing activities and tasks in general. As a result, making careless mistakes are common in those with inattentive type ADHD. These symptoms are caused by a weak working memory and an inclination to be distracted by stimuli. Inattentive ADHD individuals may also tend to lose their belongings, such as their mobile phone, wallets, and kets easily. While hyperactive ADHD is most often diagnosed in men and boys, inattentive ADHD is more commonly diagnosed in adults and girls. 
3. Hyperactive-Inattentive Combination ADHD 
Hyper-Inattentive Combination individuals exhibit six or more symptoms of hyperactive ADHD and six or more symptoms of inattentive ADHD at the same time. 
Symptoms of adult ADHD
Here are common symptoms of ADHD:
Carelessness and inattention to detail

Continually starting new tasks before finishing old ones

Poor organisational skills

Difficulty in focusing or prioritising

Being scatter-brained

Forgetfulness 

Restlessness and edginess

Difficulty keeping quiet, and speaking out of turn

Blurting out responses and often interrupting others

Mood swings, irritability and a quick temper

Inability to deal with stress

Extreme impatience

Taking risks in activities, often with little or no regard for personal safety or the safety of others – for example, driving dangerously.
Although ADHD symptoms in children tend to be easily recognizable, adult ADHD symptoms can differ significantly in presentation and can manifest practically in a variety of ways that are most noticeable in work settings.
Generally, adult ADHD presents itself much more subtly than childhood ADHD. ADHD in adults is likely to manifest in an inattentive presentation rather than a hyperactive presentation as the pressures of adulthood encroach.
Plus, those who remain undiagnosed until adulthood may have also developed coping and compensation strategies, including imposing structured and detailed checklists that they rely heavily on, so that they do not miss out on critical steps while working.
On a practical level, inattentive and hyperactive ADHD symptoms can present differently for adults in the following ways:
For inattentive ADHD, differences in presentation between children and adults are usually not as noticeable. Careless mistakes and an inability to finish what one has started or pay attention to details are common to both children and adults with inattentive ADHD. While this can present in children as sloppy schoolwork, or difficulty with chores and projects, things are different at the workplace. Adults with ADHD may find themselves bouncing between different job tasks without being able to finish them or have difficulty prioritising important tasks over trivial tasks. Chronic multitasking inevitably leads to lowered work performance as a result.
For hyperactive ADHD, differences in presentation between children and adults are starker. While children with hyperactive ADHD may be impatient and impulsive by skipping turns, blurting out responses to questions or attempting dangerous stunts without thinking things through, these have magnified repercussions for adults in social and work settings. Adults with hyperactive ADHD may similarly have difficulty controlling their instinctive responses during work meetings but more worryingly, may also be impulsive in spending patterns and engage in other risky behaviours such as speeding. In social settings, they may also interrupt conversations and end up monopolising them to the annoyance of others. 
How ADHD manifests in women
While women and girls experience the same symptoms as men and boys, they are often expressed differently in behaviours than those observed in men and boys. These differences have traditionally led to the underdiagnosis of women and girls with ADHD. While medical practitioners often look for hyperactive ADHD symptoms in men and boys, they tend to overlook inattentive ADHD symptoms in women and girls, attributing them to other causes or cultural and social norms, due to gender bias. 
Yet research and lived experience indicate that it is precisely inattentive ADHD symptoms that women and girls most often present with. These include: 
Failure to pay close attention to detail and being prone to careless mistakes 

Difficulty with maintaining sustained attention and listening — 

Struggling with following instructions

Difficulty with organization — this can manifest in difficulties with paperwork, paying bills on time, managing money, and so forth

Avoidance and dislike of mentally taxing tasks

Being easily scatter-brained

Easily distracted and forgetful when it comes to tasks and daily activities

Overspending in adulthood
And when women and girls do display 'internalised' hyperactive ADHD symptoms and behaviours, they are mistaken for behaviours that have been culturally associated with female socialisation:
Excessive talking

Fidgeting and restlessness

Impulsive acts and speaking

Frantic thoughts internally and difficulty staying on track on one topic mentally

Easily makes friends but has difficulty sustaining friendships

Self-harming activities, or activities that require extreme and unhealthy self-discipline

Working twice or thrice as hard as others to compensate for symptoms 
Women therefore often don't realise that they have ADHD themselves until others surface it to them, as seen in this report by ChannelNewsAsia.
How and where you can get an ADHD diagnosis in Singapore
If you suspect that you or your loved ones may have Adult ADHD, you can consider the following routes for getting a diagnosis:
Government-based

Get a referral from a polyclinic or a general practitioner (GP) or
Get a direct consultation at IMH or NUS

Private Clinics
How can you get help from a government-based hospital or clinic?
1. Get a Referral
For an immediate first step, you should head to your neighbourhood Polyclinic or General Practitioner to be evaluated and obtain a referral to a specialist at a restructured hospital or private healthcare institution if further diagnostic procedures are deemed necessary. 
2. Direct Consultation
You may also choose to opt for direct consultation at IMH or NUH. However, you may not be provided subsidised rates. For example, IMH patients need to have been referred by a polyclinic or a Community Health Assist Scheme (CHAS) GP clinic in order to receive treatment at subsidised rates. 
On the upside, non-subsidised patients generally have shorter waiting times to get an appointment. This may be a good option if you are not keen on waiting for your first visit. 
What about getting help from private clinics?
Private patients will have shorter waiting times for appointments, where you are able to choose your own doctor without requiring any referrals. A first consultation with a private specialist, however, can set you back by an estimated $200 to $300. Additional tests to confirm your ADHD diagnosis may also be charged separately. 
Here are some private clinics that you can consider: 
Name of private clinic
Opening hours
Contact number
Address
Private Space Medical
Mon – Sun: 9am – 5pm.

Closed on public holidays.

69797886
1 Farrer Park Station Road, Farrer Park Medical Centre, #11-09, Singapore 217562
Dr. BL Lim Centre for Psychological Wellness
Mon, Tue, Wed, and Fri: 8.30 am – 5.30 pm

Thu and Sat: 8.30 am – 1.00 pm

64796456
6 Napier Road, #09-09, Gleneagles Medical Centre, Singapore 258499
Promises Healthcare (Psychiatry & Psychology Clinic)
Mon – Fri: 9am – 6pm

Sat: 9am – 3pm (Clinical Services Only)

63977309
#09-22/23, Novena Medical Center, 10 Sinaran Drive, Singapore 307506
Scott Psychological Centre
Mon - Fri: 9 am – 6pm

Sat: 9 am – 3 pm

Closed on Sundays and Public Holidays.

67338919
360 Orchard Rd, #10-10 International Building, Singapore 238869
Psychology Blossom
Mon – Fri: 7.30am – 9pm

Sat: 7.30am – 6pm

Sun: 10am – 2pm (Online only)

88000554
308 Tanglin Rd, #02-15, Singapore 247974
Treatment options for adult ADHD in Singapore
While ADHD cannot be cured, it can be managed in various ways. With medication, behavioural therapy, or a combination of the two, your ADHD symptoms can become less severe and disruptive.
Your doctor may advise you to start cognitive behavioural therapy (CBT), which can help you to identify negative behaviours and coping strategies that you may have developed as a part of ADHD and help you to learn positive strategies to do so.
Apart from professional medical help, these methods can also be useful in managing your ADHD symptoms:
Stay physically active through exercise
Eat a balanced diet
Get sufficient rest at night
Develop a day-to-day routine that you can fall back on
Are there subsidies or financial assistance for ADHD treatments?
Unfortunately, there are generally no subsidies and financial assistance for ADHD treatment in Singapore. Schemes that are available are often targeted towards children. 
Subsidies for consultation and diagnosis are available if you seek treatment at a public hospital via referral from a polyclinic or general practitioner. 
We hope that this guide to adult ADHD has been useful for you.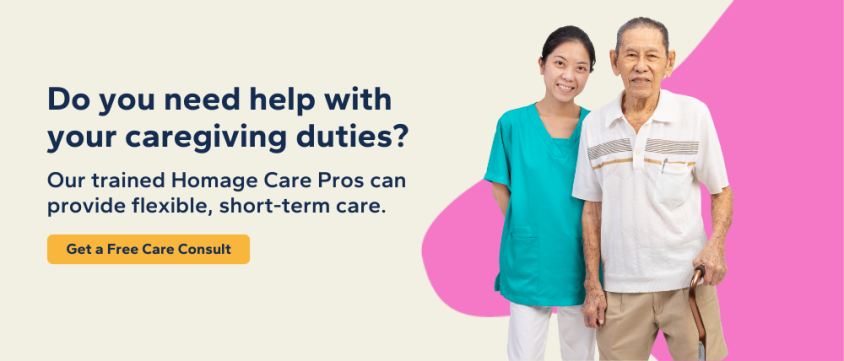 When coupled with the responsibilities and obligations you have to take on for your family and loved ones, as well as your duties at home and at work, being a caretaker to a loved one can be challenging if you have ADHD.
If you need help with taking care of a loved one, Homage Care Pros are here for you. Our range of home care services covers personal, respite and night care, allowing you to hire flexible, short-term care that can be tailored to your elderly loved ones' needs and giving you more time and energy to cope with your other responsibilities.
To find out more, approach our friendly Homage Care Advisors at 6100 0055, make a Care Plan together, and start your Care Plan today!