Freelance Nursing Jobs for Enrolled Nurses
Enjoy flexibility and competitive payouts when you join us as a freelance enrolled nurse at Homage!
Apply Here
Freelance Nursing Jobs for Enrolled Nurses
Suitable for those who want full control over their schedule, the Homage freelance nurse role allows individuals to choose only the cases that fit their schedule. Besides flexible hours, freelance nurses also get to enjoy the following benefits:
No minimum commitment

Competitive payouts

Deliver care in various settings, including homes
As a freelance nurse at Homage, you will have more personal one-to-one interactions with your patients, as you deliver care to them in the comforts of their homes.
Homage freelance nurses can choose to apply for cases that fit their schedule. No shift work is required, and home care visits can range from 1 hour to 12 hours, with breaks in between.
As an enrolled nurse, you can get competitive payouts of up to $23/hour. Rates differ depending on the time of day (day or night), and whether the visit is on a weekday or weekend.
On top of flexible schedules and competitive payouts, you will also get to tap on various training and upskilling opportunities! Through the Homage Academy platform from our Homage Care Pro app, you will get to learn best practices in home care and nursing. You may also receive specialised training for specific medical conditions through our partnerships with different organisations, such as the Alzheimer's Disease Association.
Interested to join us as a freelance enrolled nurse?  You can find out more about our freelance nursing job opportunities below.
Job Description 
Location: Singapore
Type: Freelance 
About Homage
Homage is a care platform that combines qualified caregivers, nurses, doctors, and healthcare organisations with technology: enabling care, wellness and recovery wherever you are. The work that we do and technology we build transforms lives every hour, every day. We're looking for talented nurses who are passionate in providing quality, personalised care to the people in our community. 
Job Description 
Homage nurses provide both medical and non-medical home care services to the families in various care settings, ranging from homes and community care facilities to hospitals.
Responsibilities 
As an enrolled nurse with Homage, you are expected to provide the following services to Homage and our clients.
Assistance with Activities of Daily Living:
Vital signs monitoring

I'm Oral medication reminder

Companionship and facilitating recreational activities

Grocery shopping & meal preparation

Light housekeeping for seniors

Supervise physical exercises and activities

Medical appointment escort
Personal hygiene care (showering / bed bath)

Night caregiving

Check-in visits


Personal grooming (e.g. hair cut)
Skilled Nursing Care:
Oral/Tracheostomy suctioning

Tracheostomy dressing

Stoma drainage/change of bag and/or wafer

Urine catheter draining and change of bag

Insertion and removal of IDC

Wound dressing

Phlebotomy

NGT feeding

NGT insertion

Application of urosheath


Blood glucose check
Benefits
Up to $23 per hour

Choose a fixed or flexible schedule

Guaranteed bi-monthly payout

Great career growth and learning opportunities

Quality, specialised training provided 

Competitive salary, health insurance & staff benefits 
Qualifications & Requirements
At least 2 years of hospital ward experience

Valid Singapore Nursing Board (SNB) license

Valid Basic Cardiac Life Support + Automated External Defibrillator (BCLS + AED) certificate

Singapore Citizen or Permanent Resident (PR) preferred
Relevant Skills
Home personal & nursing care, Tube Care, Medication Administration, Stoma Care, Respiratory Care, Nutrition and Wound Care
Additional Information 
Years of Experience
Minimum 2 years working experience
Job Type
Freelance
Seniority Level
Associate – Senior 
Qualifications
Singapore Nursing Board (SNB) license
Basic Cardiac Life Support + Automated External Defibrillator (BCLS + AED) certificate
Working Location
Islandwide

Top Questions Asked by Freelance Nurses at Homage
What are the payout rates?
For freelance nurses, you can expect competitive rates as stated below:
Enrolled Nurses: Up to $23
Registered Nurses: Up to $27
For nursing procedures, how do we get the requisites?
For freelance nurses, requisites will usually be provided by the Care Owner. In the event that any requisites needs to be purchase for the visit, our in-house Care Specialists will let you know. All expenses related to the purchase including a one-way cab for you to travel from pharmacy to visit location will be claimable.
How are the flexible hours like as freelance nurse?
There is no fixed commitment for freelance nurses. You can take up assignments as and when you are available.
What attire should nurses wear when reporting to our care visits?
For freelance nurses, you can wear a Homage t-shirt or scrub to your visits. Alternatively, you may also wear a shirt and comfortable pants to your appointments.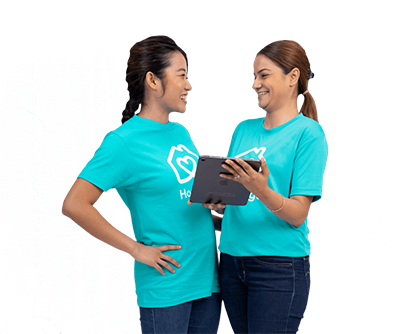 Join us as a Homage Care Pro today!
Deliver dedicated home care, nursing care and therapy to more in the community.
Become a Care Pro