With our rapidly greying population, the demand for healthcare services is set to rise as well. However, many health complications that seniors are getting treated for could have been prevented if their chronic ailments were well-controlled in the first place. 
Shifting our focus from acute to preventive care in recent years, Singaporeans are encouraged to go for regular health screenings and follow-up consultations. The government has also been providing subsidies and grants to make health screenings accessible to all. 
Unfortunately, 25% of those who went for health screening never returned for their doctor's follow-up even after a year. Many did not see their results as being serious enough to see a doctor or just did not want to be placed on medication. Others are simply too busy, which is understandable given our hectic lifestyles. 
Thankfully, with the advancement of technology, we now have easier access to medical information and a wider range of care options. People are increasingly turning to online resources for their medical care needs to avoid the hassle of visiting a clinic. From googling symptoms and scheduling appointments at a polyclinic, to calling a house call doctor and getting a teleconsultation, medical care is more accessible and convenient now than ever before.
With home medical services, certified medical professionals will deliver medical care services to your doorstep, allowing us to get the care we need in the comfort of our homes.
Who should engage home medical services?
There could be various reasons why people engage home medical services. For those with limited mobility, travelling can be an arduous task. Many even miss medical appointments due to mobility constraints. In the scenario where one is unwilling or unable to leave home to get the care they need, home medical services could be a viable solution.
For instance, a person with dementia may not be comfortable leaving the familiarity of their homes. It can take a lot of time and effort to convince them to leave their homes to get the care they need. Find out more about some of the challenges one may face when caring for someone with dementia here.
Besides mobility concerns, home medical services can simply be a convenient option to get medical care. From doctor's consultations to simple surgical procedures, home medical is an option that allows you or your loved one the comfort of resting at home while receiving care. In the unfortunate incident of a passing of a loved one at home, the issuance of death certification can also be done at home by a house call doctor.
Anyone can engage in-home medical services. It is simply an option for those who want to get professional medical care at home.
Types of home medical services
Here are some ways home medical services can help you and your loved ones:
Doctor's Consultation
The next time you seek medical advice, consider a house call doctor instead. These doctors conduct house visits, where you will be able to receive comprehensive care assessments and continuous management of chronic conditions, right from the comfort of your home. 
For common ailments or those who need repeat prescriptions for chronic conditions, a simple teleconsultation may be sufficient. 
Through a video call, the doctor on the other side of the line will be able to give you the medical advice you need. This is especially useful for the diagnosis of common medical problems, post-treatment check-ins and follow-up for chronic care.
Medication Delivery
When we feel unwell, making our way to the pharmacy may feel like an impossible task. In such situations, it would be great to have medicine delivered to our doorstep.
With a valid prescription, medication can be dispensed and delivered to your home. This is especially useful for persons on acute and chronic medication, saving them from having to make repeated trips to the pharmacy.
Health Screening and Medical Check-Up
Prevention is better than cure. For those who are not looking for a consultation but hope to do a simple health screening, you may be delighted to know that some of the tests can be conducted in your homes as well! This includes stool test, urine test, liver profile, cardiac profile and more. 
Keep you and your loved ones healthy and detect potential health issues early to prevent further health complications from developing.
Simple Surgical Procedures
If you or your loved ones require surgical procedures, you can opt to have them done in the comfort of your home, if they are simple enough. Some examples of the procedures that are safe to be performed at home include draining, sutures, stitching, cyst or bump removal, and male catheterisation.
Having these procedures done at home could save you and your loved one the trouble and discomfort of travelling home from the hospital or clinic post-surgery.
Death Certification
In the event of an unfortunate passing in the home, a house call doctor can be available on short notice for the issuance of a Certificate of Cause of Death (CCOD).
Get Access to Home Medical Care
Home medical services are suitable for everyone, regardless of mobility, age, and other factors. You and/or your loved ones can receive personalised medical care in the comfort of your home. No more crowds and long queues!
No matter what stage of the home care journey you or your loved ones are in — whether or not you are currently getting personal care, nursing care or therapy at home — home medical can fit right into your care plan. 
Explore our services via the Homage mobile app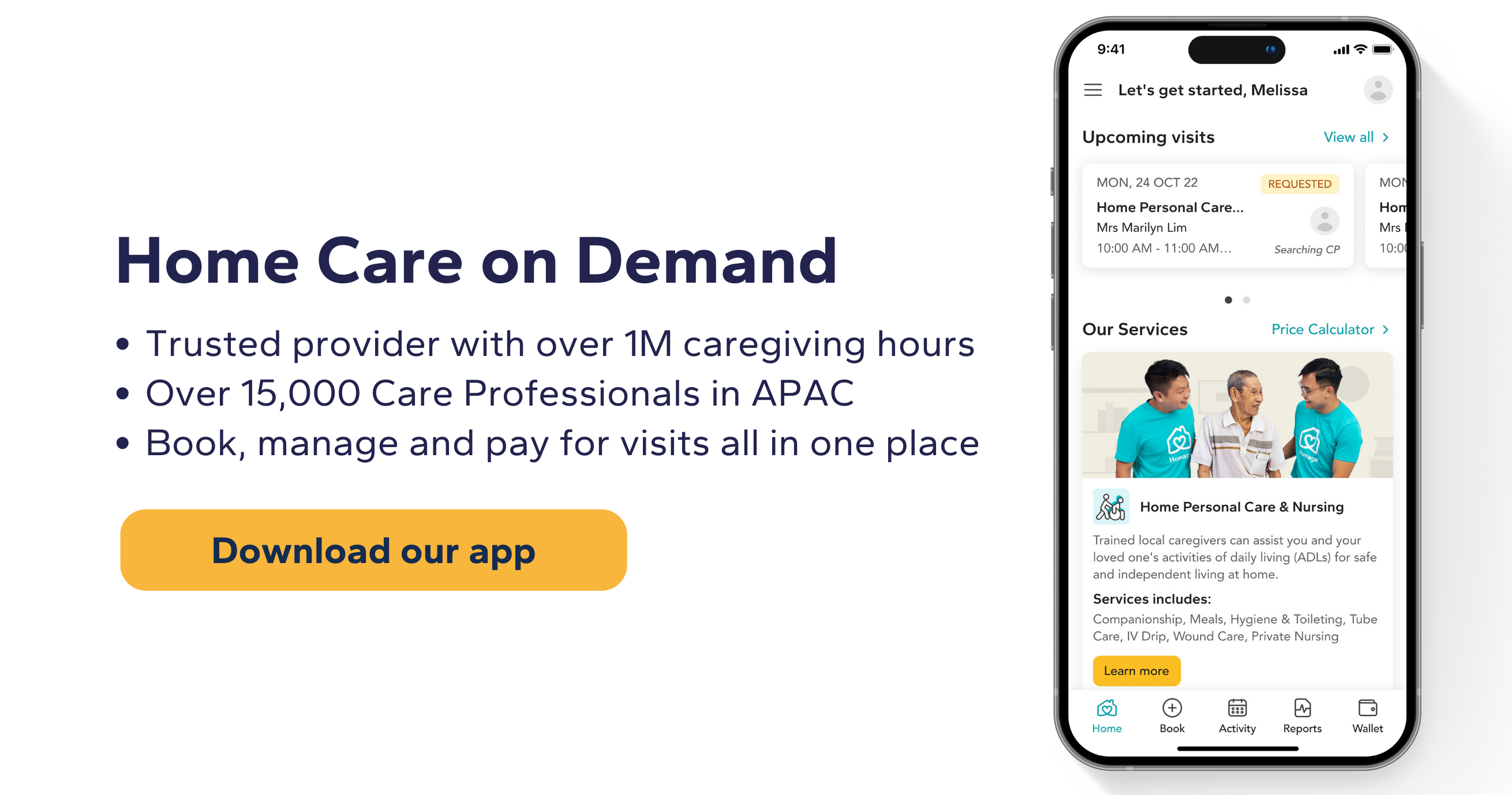 Download our app today to explore our services.