Chinese New Year is often associated with delicious festive treats. However, many of these snacks can be high in calories and sugar content. This means that many Chinese New Year snacks may not be suitable for someone with diabetes who is watching their diet. 
Diabetes is a condition that happens when our bodies cannot produce enough insulin or use it efficiently. For someone with diabetes, eating foods that are high in sugar can raise your blood sugar levels beyond the level of insulin available to reduce it. This can damage the blood vessels and increase the risk of other health problems like stroke, kidney disease and nerve problems.
Wondering which snacks you can eat or should avoid this Chinese New Year? Unsure what snacks you should recommend to a family member or loved one on a diabetic diet? 
At Homage, we want to help you enjoy Chinese New Year while taking care of your health. Below, we will share more about the foods that are good for individuals with diabetes and which foods should be avoided on a diabetic diet.
Watch your calorie intake during Chinese New Year
Watching one's calorie intake is important for someone on a diabetic diet because an unhealthy weight can make it more difficult to control diabetes. 
Calories are units of energy found in food that we need for our bodies to function. Carbohydrates are the largest source of calories which can make us gain weight if we consume too much of it. The average recommended daily intake of calories for adults is 2200 calories for men and 1800 calories for women.
It can be tempting to snack a lot during Chinese New Year, causing us to overeat and gain body fat when we take in more calories than the recommended amount. This makes weight gain more likely to happen during Chinese New Year. For people with diabetes, even short-term snacking can cause a dangerous spike in blood sugar levels. 
Here's a table showing you the number of calories, fat content, and sugar content of some common Chinese New Year snacks.
Chinese New Year goodies sugar and calories chart
15 Diabetic-friendly Chinese New Year goodies
Having diabetes does not mean that you have to avoid Chinese New Year goodies altogether. Here, we have compiled a list of healthier snacks that are relatively lower in calories for those with diabetes to savour. Regardless, do take note that it's important to consume in moderation.
1. Almonds
Source: Unsplash
Almonds are a healthier alternative to the common Chinese New Year snack of roasted peanuts. Rich in vitamin E, almonds can help to reduce "bad" cholesterol which clogs the arteries, reducing our risk of heart diseases. As high blood sugar can cause arteries to narrow, almonds and other nuts are especially good for a diabetic diet.
2. Cranberries
Whether fresh, dried, or in juice form, cranberries are a nutritious snack for anyone with diabetes to add to their diet. Cranberries contain polyphenols which can reduce the risk of heart disease and stroke. Polyphenols also help the body to manage blood sugar levels, which makes cranberries especially good for managing diabetes.
3. Kueh Bangkit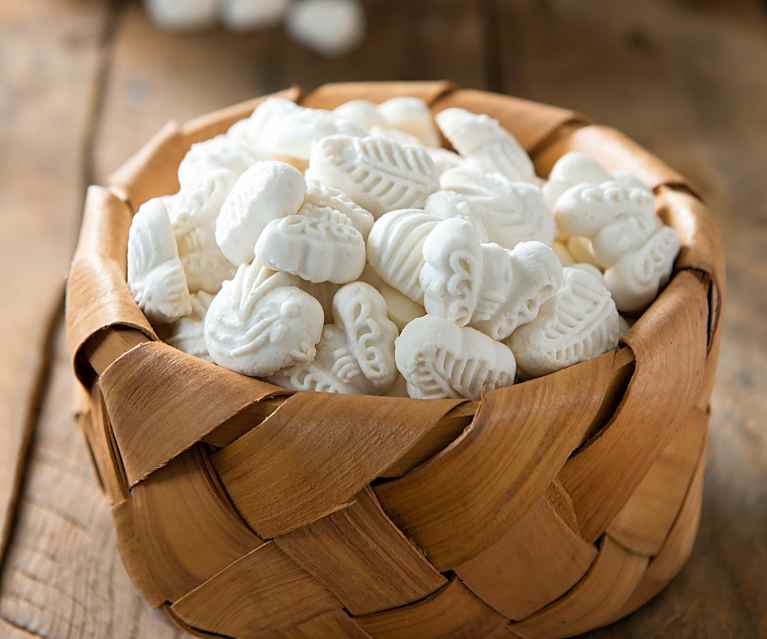 Source: Cookidoo 
Low in calories, kueh bangkit is a good snack for people with diabetes to nibble on while visiting relatives. Each piece of these iconic white coconut cookies contains 0.9g of sugar, making it less sweet and lower in calories than other traditional Chinese New Year snacks.
4. Emping
These Indonesian fried crackers are made from the ground-up seeds of the Gnetum gnemon tree, commonly known as belinjo or paddy oats. Belinjo contains a helpful chemical called trans-resveratrol which can help to fight diabetes by making our bodies more sensitive to insulin.
5. Oranges
Mandarin oranges are not just useful as gifts to relatives during Chinese New Year, but also as a nutritious snack for someone with diabetes. Like other citrus fruits, oranges are full of vitamin C, fiber, and potassium. Oranges are also good for a diabetic diet because they have a low glycaemic index, which means that they will not cause blood sugar levels to increase quickly after eating them. 
6. Watermelon Seeds
Melon seeds might be small, but they are jam-packed with nutrients. Watermelon seeds are high in antioxidants and minerals like potassium, copper, and zinc. While melon seeds can be found in different flavours on the market, we recommend eating them unflavoured to enjoy more of their natural health benefits.
Besides Chinese New Year snacks that you can find in supermarkets and at home, we also recommend these healthy baked treats from local bakeries in Singapore:
7. Almond Butter Cookies by Nuttier
Source: Nuttier
Nuttier's organic handmade artisan cookies are a healthier snack alternative for Chinese New Year. Handmade from nothing but the finest all-natural, 100% plant-based ingredients, people on a diabetic diet can savour these cookies which contain no refined sugars, synthetic oils, preservatives, or artificial flavours. Plus, their Almond Butter Cookies come in a variety of flavours, including Chocolate Chip, Earl Grey Lavender and Matcha. Other healthy snacks, like granola clusters and brownies, can also be purchased from their website.
8. Dark Chocolate Melts by Bud of Joy
Source: Bud of Joy
Stone-ground wholemeal flour, organic raw honey and organic raw cacao are the highlights of these dark chocolate cookies that you can buy from Bud of Joy. Raw honey doesn't have any added sugar and is generally safer for people with diabetes to snack on.
9. Flourless Black Sesame Cookies by The Clean Addicts
Source: The Clean Addicts
The Clean Addicts' Flourless Black Sesame Cookies are low in unrefined sugars, nut-free, and contain no cholesterol and added flour. If you would like to buy some for yourself or your loved ones, do order yours early. 
10. Hazelnut Crunch by Bakening
Bakening's best-selling hazelnut crunch cookies are made with organic coconut sugar, which is a better alternative for people on a diabetic diet. 
11. Lower Sugar Cookies and Crisps by Delcie's Desserts and Cakes
Source: Delcie's Desserts and Cakes
Finding traditional Chinese New Year goodies for our loved ones with diabetes can often be a challenge, but Delcie's Desserts and Cakes' selection of Pineapple Tarts is a great option. Though it does contain fructose, the cookies are made with gluten-free flour. For those who aren't a fan of traditional pineapple goodies, their Sesame Cookies, Nuts and Seed Crisps and Cashew Cookies can be purchased individually or as part of their GF Lower Sugar Hamper Set.
While Delcie's has closed preorders for many of its goodies, you can still purchase them in-store. More information as well as recommended serving sizes can be found on their website.
12. Low-carb Basque Burnt Cheesecake by LOCABA
Source: LOCABA
LOCABA's basque burnt cheesecakes may look creamy but contain just 130.5 kcal of calories per 100g. The low calories and the bakery's use of an in-house sweetener blend as a replacement for common sugar makes the cake a sweet treat that people on a diabetic diet can still enjoy. You can order them on LOCABA's website in three different sizes ranging from 16 to 24cm. 
13. Organic Chick Kwa Strips by Kee Song 
"Chick kwa" is the poultry company Kee Song's unique version of bak kwa. The bite-size snacks are made using organically farmed chickens that have not been fed any growth hormones or antibiotics. They contain less fat and cholesterol, making them diabetic-friendly. 
14. Shiitake Mushroom Chips by Boxgreen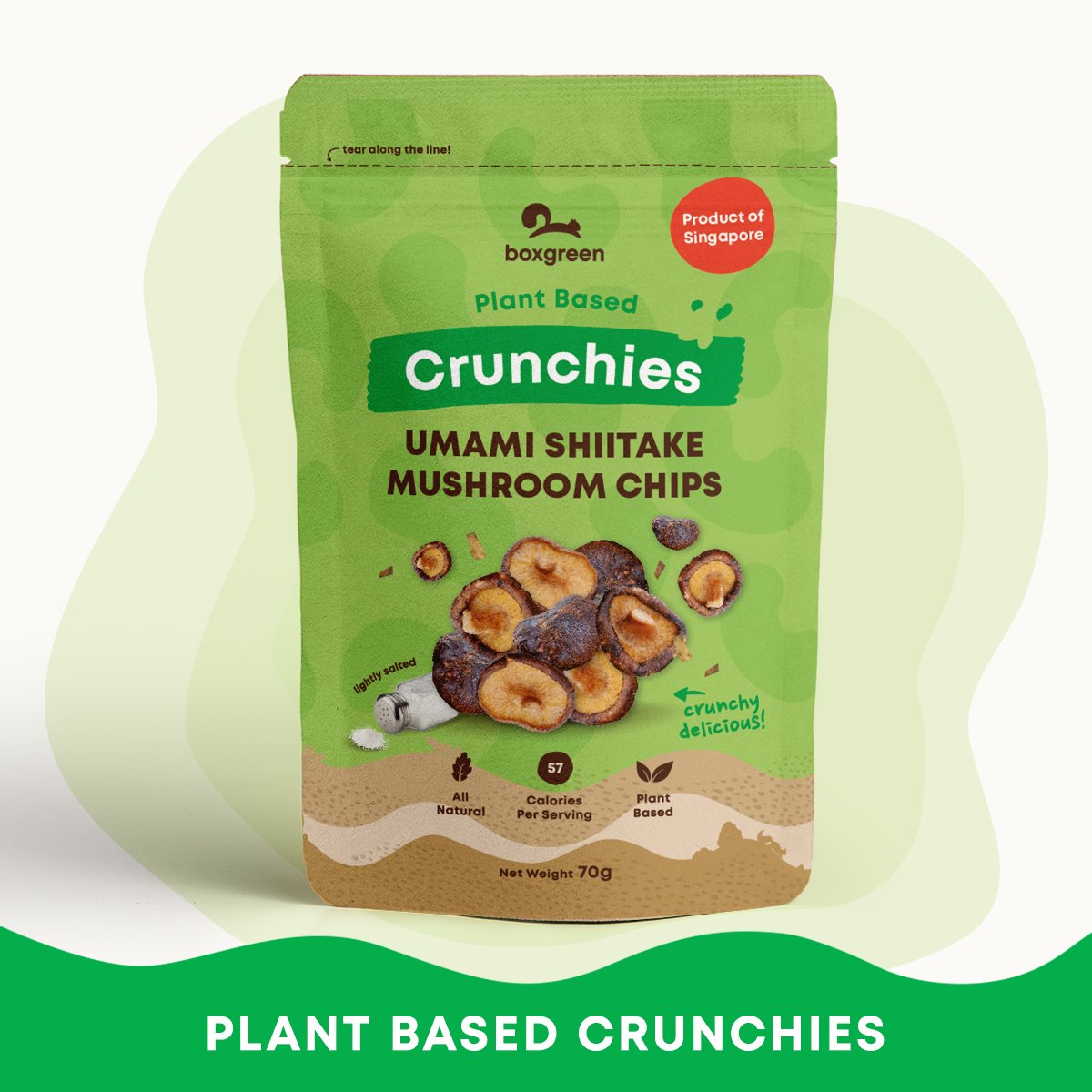 Source: Boxgreen
Boxgreen's popular mushroom chips are vacuum fried using just three ingredients: shiitake mushrooms, white pepper and vegetable oil. Free of preservatives, cholesterol and added sugars, they make a good diabetic-friendly snack. For Chinese New Year, you can find these packed with other healthy plant-based snacks in "A Bag Full of Snacks" on Boxgreen's website. 
15. Signature Pineapple Tarts by Edith Patisserie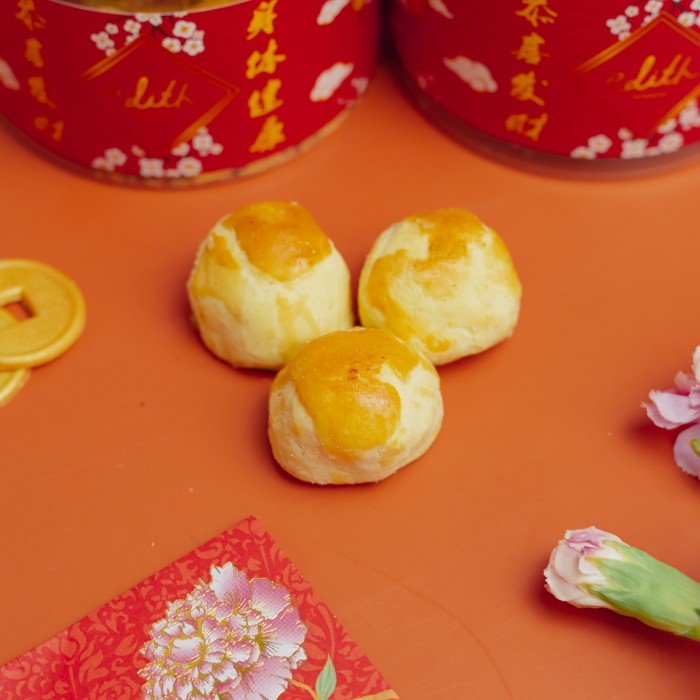 Source: Edith Patisserie
Edith Patisserie's Signature Pineapple Tarts are made with zero added sugar. Instead, these goodies are made with natural monkfruit sweetener extracted from the luo han guo fruit, which does not increase blood sugar levels when consumed. 
Tips to reduce calories and sugar intake during Chinese New Year
Even the healthiest snacks can be bad for your health if you eat them in excess. Here are some extra steps you can take to watch your sugar and calorie intake this Chinese New Year:
Divide snacks into smaller portions
Instead of letting guests grab snacks straight from the jar, you can divide Chinese New Year snacks into smaller portions for each guest. This prevents overeating and can help you reduce the calories you consume.  
Exercise a few hours after indulging
You can burn calories with intensive physical activity, like cardio and strength training. These exercises can be done in between or after house visits. Even household chores like vacuuming or cleaning the bathroom can be useful in burning extra calories. The best time to do these exercises is between eight to ten hours after you eat. 
Limit the times at which you snack
You can stop yourself from consuming too many sugar and calories by limiting your snacking to certain times in the festive period. For example, you can choose to snack only during certain days of the Chinese New Year. You can also choose to snack only when visiting and refrain from snacking at home.
Having diabetes doesn't mean you cannot enjoy Chinese New Year goodies. Choosing diabetic-friendly snacks, avoiding foods high in sugar and calories, and being conscious about how much you eat are ways that people on diabetic diets can continue to have a happy and healthy Chinese New Year. 
If you need care over the holidays, we can help. Our Care Pros can help you or your loved ones with diabetes to monitor vital signs, perform simple medical procedures and care for wounds, anywhere, anytime. 
With that, Homage would like to wish you a Happy Chinese New Year!
References
Diabetes Superfoods | ADA. (n.d.). American Diabetes Association. Retrieved February 7, 2021, from https://www.diabetes.org/healthy-living/recipes-nutrition/eating-well/diabetes-superfoods
Diabetes.co.uk. (2019, January 15). Nuts and Diabetes. https://www.diabetes.co.uk/food/nuts-and-diabetes.html

FatSecret. (n.d.). Calories in Bee Cheng Hiang Bak Kwa and Nutrition Facts. Retrieved February 7, 2021, from https://www.fatsecret.com.sg/calories-nutrition/bee-cheng-hiang/bak-kwa/1-slice#:%7E:text=There%20are%20179%20calories%20in,Bee%20Cheng%20Hiang%20Bak%20Kwa.

Gan, E. (2018, February 15). What is the caloric damage of your favourite CNY snacks? CNA. https://www.channelnewsasia.com/news/health/chinese-new-year-snacks-what-is-the-caloric-damage-diet-9945162

Harvard Health Publishing. (2012, March). Cutting calories to control diabetes. Harvard Health.

https://www.health.harvard.edu/healthbeat/cutting-calories-to-control-diabetes

Harvard Health Publishing. (2015, February). Glycemic index for 60+ foods. Harvard Health. https://www.health.harvard.edu/diseases-and-conditions/glycemic-index-and-glycemic-load-for-100-foods

How, M., & Lay, B. (2018, February 12). Calories in these Chinese New Year snacks are equivalent to 1 bowl of white rice. Mothership.SG – News from Singapore, Asia and around the World. https://mothership.sg/2018/02/chinese-new-year-snacks-calories/

Ng, D. (2010, February 11). Calorie attack: CNY snacks. HungryGoWhere. https://www.hungrygowhere.com/dining-guide/n-a/calorie-attack-cny-snacks-*aid-4d1a0b00/#:%7E:text=Peanut%20puff&text=3%20pieces%20(20g)%20contains%20120%20calories.

O'Brien, D. (2016, May 4). Cranberry Juice Can Boost Heart Health : USDA ARS. U.S. Department of Agriculture.

https://www.ars.usda.gov/news-events/news/research-news/2016/cranberry-juice-can-boost-heart-health/

Searing, L. (2020, May 24). Calories burned in boring household chores can help fight stay-at-home weight gain. Washington Post. https://www.washingtonpost.com/health/calories-burned-in-boring-household-chores-can-help-fight-stay-at-home-weight-gain/2020/05/22/a7ddf47c-9b72-11ea-ad09-8da7ec214672_story.html
Siswoyo, T. A., Ardyati, T., & Hosokawa, K. (2017). Fermentation-induced changes in antioxidant activities and oxidative DNA damage protection of melinjo (Gnetum gnemon) flour. Journal of Food Biochemistry, 41(4), e12382. https://doi.org/10.1111/jfbc.12382
Szalay, J. (2015, November 14). What Are Calories? Livescience.Com. https://www.livescience.com/52802-what-is-a-calorie.html
Tabiri, B. (2016). Watermelon Seeds as Food: Nutrient Composition, Phytochemicals and Antioxidant Activity. International Journal of Nutrition and Food Sciences, 5(2), 139. https://doi.org/10.11648/j.ijnfs.20160502.18

What is the nutritional information for your snacks? (2020, July 24). IRVINS Salted Egg. https://support.irvinsaltedegg.com/hc/en-us/articles/360051832613-What-is-the-nutritional-information-for-your-snacks/

Yip, J. (2016, November 27). Salted egg fish skin most fattening CNY snack, say A*STAR nutrition researchers. 8 Days. https://www.8days.sg/eatanddrink/newsandopening/salted-egg-fish-skin-most-fattening-cny-snack-say-a-star-14119740