Care Where You Are
Enabling wellness and recovery through holistic personal care.
About Homage
Homage is a caregiving and health solution that combines curated and trained Care Professionals with technology to provide on-demand holistic home and community-based care to seniors and adults, allowing them to age and recover with grace, dignity and control. 
Operating in Singapore, Malaysia and Australia, our pool of over 15,000 Care Professionals work with care recipients with a range of mobility and medical conditions, including chronic and terminal illnesses such as Dementia, Stroke, Parkinson's and cancer. 
Homage's core services include Care Assessments, Activities of Daily Living (ADL) assistance, Home Nursing Procedures, and Home Rehabilitation services, including Physiotherapy, Speech Therapy and Occupational Therapy.
We work with an expansive client base of government, health and financial organisations to deliver home and community caregiving services.
Our Awards
Our Mission: To enable wellness and recovery through holistic personal care.
We believe in:
Mission-driven
At our core, we are driven by our mission and impact of care. Homagers are willing to go the extra mile for our care recipients, providers and partners.
Growth Mindset
We are committed to innovation and constant improvement. We're resilient in the midst of challenges and are not afraid to question the status quo. We're open to new data points and ideas, embodying humility in our blind spots. We embrace learning and translate them into action and growth.
20/80 Focused
Homagers subscribe to the principle where 20% of focus and input drive 80% of the outcome. We are highly selective with what we channel our time and efforts towards and execute with strong clarity and focus. We drive results by mapping efforts directly to intended outcomes and impact.
Bias for Action
Homagers recognise the importance of acting fast and strive to create environments free of bureaucracy. With a strong bias against waiting, Homagers mobilise into action with a sense of urgency to solve problems and drive improvements.
Obsessed with Customer Experience
True to our mission, Homage starts with our people – our care recipients, providers, partners, and last but not least, our internal users! Homagers work vigorously to deliver personalised, value-based care, earn and keep stakeholder trust. While we pay attention to market dynamics and competitors, we obsess over people experiences first and foremost.
Ownership
Homagers have a fierce ethic of personal responsibility and are committed to 'make things happen'. We place a strong emphasis on driving outcomes and taking ownership of both shortfalls and victories, while constantly improving on our processes. Everything for the goal of providing a better care solution and experience for our customers.
Find out why thousands of Singaporean families use Homage
Have peace of mind when you leave the care of your loved ones in the hands of our Care Professionals.
Our diverse team of professional nurses, qualified therapists and trained caregivers come from all walks of life, but have one thing in common: the passion and dedication to deliver the best care to families in our community.
Ensuring the delivery of quality care is our topmost priority, which is why all our Care Professionals undergo thorough reference, background and qualification checks, and a one-to-one interview, before joining Homage. With a pool of over 15,000 Care Professionals, each with a unique set of skills, experiences and specialisations, let us know your care needs and we will match you with one that best fits your care needs.
Hear from one of our Care Pros, Mathilda Ho, in this video.
Homage gave many seniors and their families peace of mind...
PM Lee Hsien Loong, National Day Rally
In partnership with
Hospitals

Community Providers


Government Organisations

Corporates

Great work homage
Right from the start from signing up for an account, to making a booking on the app, to the confirmation of a Care Asst and to the whole visit concluding, its all a seamless and worry free process. Loved this service and would recommend it to anyone who requires the extra pair of hands and legs
Ben See, Google Review
Wonderful app wonderful service
Have been using this for a year to help my grandfather who frequently gets aspiration pneumonia and has difficulty leaving the house. The app is so easy to use, and the cherry on top is the wonderful service behind the app. Had some difficulty finding a doctor recently and Hakim called me back personally twice to ensure a doctor was found. Thank you so much, cannot recommend this app more.
Ichannie, App Store
Responsive App
Very responsive app, with options to chat with caregiver, review reports and contact support team for assistance.
Nizam Mohd, App Store
Great help to me in my time of need
My mum's helper was hospitalised suddenly and I needed urgent help to take care of my mum who has advanced dementia. Homage was able able to find caregivers for my mum within a very short notice. The caregivers possessed the skill sets that I had requested and were of great help to me in my time of need. Thank you Homage!
Bernice Loh, Google review
Professional service
Homage CP render their professional service to my dad who is a dialysis patient. CP assigned to wheel my dad to & fro from Dialysis Center within 300m walking distance. They are capable to load & unload my dad from wheelchair independently. They are friendly too. I'm looking forward to their next visit.
James, Google review
Doctor is qualified, friendly
Had a good experience with Homage's teleconsultation. The doctor is qualified, friendly and guided me on examination. She also explained my symptoms to me in detail, which is useful. The report provided has detailed information, and medicine was delivered to me on the same day even though my appointment was in the evening.
Victoria Chwa, Google review
Physiotherapist assigned is professional
Response from Homage is fast. And the physiotherapist assigned is professional in assessing and guiding my mom in her session.
Brenda Koh, Facebook review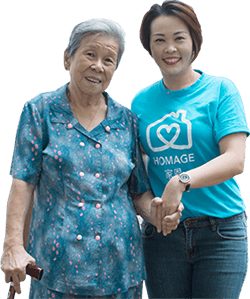 Make Home Care Personal To Your Loved One
Get started with a free consultation today, and learn why thousands of Singaporeans trust Homage to deliver the best care in their homes.
Get Care Now